Introduction to the Mongoose Beast
Mongoose is known for its unique bicycles. Well, it has done it again. This time, it has produced a bike most suitable for rough trails and one that keeps its rider relaxed throughout the journey. I will give you a mongoose beast review, to shade more light on how great the cycle is.
The bike has a 26" steel frame, carefully designed to provide comfort. The big wheels and tires serve the purpose of absorbing shocks and trailing small obstacles on the trail. Moreover, the rear coaster breaks make it possible for you to be in control of this bike.
It is easy to set it up, once purchased. You will not go wrong on this. As if that is not enough, this bike is affordable. It has impressive features and a good bargain. What else could you ask for than a tandem that serves its purpose to the maximum and remains friendly to your pocket?
Overview of Mongoose Beast Bicycle for Men's Rider
| | |
| --- | --- |
| Frame Size | 18 Inches / Medium |
| Frame Material | Steel Frame |
| Bike Type | Fat Mountain Bike |
| Speed | 7 speed |
| Brakes | Dual Mechanical Disc Brakes |
| Wheel Size | 26″ |
| Rating | 9.1/10 |
| Brand | Mongoose |
| Pros | 4″ wide wheels, Fat tire, Shimano components. |
| Cons | Quite heavy, Only 1 size, Uncomfortable saddle |
| Summary | Perfect Bike for Riding on Mountain, Sand, and Snow |
| Where to Buy | Click for more information |
Who is the Mongoose Beast designed for?
The size 26" bike is an excellent choice for rough and rocky ground. Its design withstands harsh roads, with the rider still at ease.
It is good for strong people, especially men due to its heavyweight and the design of the saddle.
It has a 26" frame, with a wheelset of 4" width. The 4.25" tires do the work of rolling over rough roads.
The Mongoose beast weight is approximately 56lbs and can accommodate a maximum bulk of 250lbs as stipulated.
It is best used on flat surfaces; hilly places will require you to put in more energy on the single-speed bicycle.
Main features of the Mongoose Beast
Supersized tires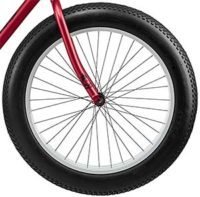 It has supersized tires of 4-1/4" width. These are big and wide to keep the rider stable on the terrain. Its 26" diameter wheels and 4" wide wheelset make it look big, hence the name 'fat tire bike.' It is quite a monster on the road.
These tires enable you to ride on uneven terrains effortlessly. They have the power to absorb most of the impact of bumps and rocks. You will not feel it directly. There is a massive difference felt when using this Mongoose Beast and when using a bike with narrower wheels. The former is very stable even when riding at an accelerated speed.
Comfortable frame
Mongoose beast fat bike has a rigid frame made of steel. It has a cruiser design, and the physical outlook is just appealing. The common colors availed are black, red and green. Besides the looks, this frame serves the purpose of giving you that convenient ride.
The design is such that you have enough clearance and space to journey like an athlete. It is also strong; this is steel. Thus, it lasts longer. When on that bike you will feel refreshed and comfy, considering the saddle is also strategically positioned. The male-friendly colors of these frames also make you look good on it. You will love it.
Great construction
Have you seen the design of this bike? It is so inviting. The saddle is at a position a little lower than that of other bikes. The ATB handlebars, on the other hand, are slightly raised. The low-rise posture you take once seated is ideal for a cruise.
To top it up, you get to brake instantly because of the strategic position of the rear coaster foot brakes. You have a comfortable biking position as well as the monster in control. It is a simple task pedaling. I bet neither your back nor your thigh will ache due to strained pedaling and uncomfortable sitting position: these were factored in during construction.
Easy to ride
Mongoose beast specs make it easy to ride. The fat tires that roll over any rough roads and the solid frames are an assurance of the hustle-free jaunt. Despite being heavy, its geometry just makes this outing a simple expedition to engage in.
The beach cruiser pedals are not complicated. With easy pedaling and operational 3-piece cranks, so how about the brakes? It has foot brakes. You can slow down or stop using these rear coaster brakes. You have your riding space, single-speed gear and foot brakes to use. There is nothing to make this ride complicated.
Good at absorbing shocks
The good thing about this Mongoose Beast is that you are not restricted to a particular type of terrain. In fact, you can choose to ride it or rough roads and wet places. You will still have a good ride, without worrying about inconveniencing bumps.
This is attributed to the humongous tires and wheels. They tramp on just about anything and absorb almost all the shocks. If you feel any bumps, it is such a mild feeling compared to the actual impact. The sturdy steel frames also contribute to this. When you get home, you will say this was not a bumpy ride, such a calm road!
Easy to assemble
It takes a short time to put together parts of this cycle. If you do not mind greasing your hands and getting a little dirty, you are yet to spend very little time on this. The simplicity is terrific because you do not need too many tools.
The bike has a guide on how to go about this. As for amateurs, the guide will see you through the whole process. If, however, you do not want to risk doing the wrong thing or get some dirt on you, then relax. You can have your shop bike nearby do this for you. It will not cost them too much time or resources since everything was simplified during construction.
Pocket-friendly
So many people are reluctant to buy a good bicycle because it goes way beyond their budget. Most end up purchasing a regular mediocre one to save money. If this is you, do not need to worry anymore. Mongoose beast bike has a grand bargain, especially when you compare it to others of similar tires and specifications. It has an affordable price, and the features are fantastic.
Pros & Cons of Mongoose Beast Fat Bike
Pros
The bike is very easy to ride and control, considering it has foot brakes and cruiser pedals.
Its cruiser design frames and low-rise handlebars add a ton to your biking comfort.
The buying price is very affordable and beats all the features it has.
Assembling it is an easy process and made simpler when done by an expert around.
The bicycle with components made of steel and aluminum lasts long, still conquering the rough road.
The enormous tires, in conjunction with the rigid frame, absorb shocks from the trail.
Cons
It is heavy, hence not a good option for hilly landscapes.
The saddle is relatively small.
Mongoose Beast Features at a glance
Mongoose beast fat tire bike has a cruiser design frame made from rigid steel and comes in red, black or green color.
It features huge 4-1/4" knobby tires along with an alloy 4" wide wheelset.
The frame size is 26" for adults, with wheels having a diameter of 26" and a maximum weight limit of 250 lbs.
It has a padded saddle and low-rise ATB handlebars to enhance comfort and stability when cruising.
This tandem has a geometry offering an athletic riding position and a very strong kickstand to ensure appropriate bike packing.
Has 3-piece cranks of the Mongoose Beast and beach cruiser pedals for safe pedaling on any terrain.
https://youtu.be/5K_28Z-3lTI
FAQs & Answer
Questions:

Is it good for racing?
Answer: Well, no. The mongoose beast's weight does not allow it. This is a big and slow bike and is mainly used when out on adventures or a regular keeping-fit ride.
Questions:

Are the pedals plastic or metallic?
Answer: They are plastic and work well. If you prefer metallic ones, you can replace them at your convenience and cost too.
Questions:

Does it come assembled?
Answer: No, you have to do it. You can follow instructions in the guidebook or videos on YouTube to complete it. Seeking the services of an expert on this will also do you good.
Questions:

Can a woman ride it?
Answer: It is meant for men because of its features. However, if a woman can change some of these specs and manage the weight, why not! A woman can do it.
Questions:

What frame does it have?
Answer: It has a cruiser design frame made from rigid steel. It is a 26" frame available in red, black or green colors.
Final Verdict on the Mongoose Beast
Talk of the mongoose beast. This is such an amazing trail bike! It is resilient, easy to control, comfortable and still reasonably priced! Furthermore, it is easy to ride, especially when on a flat surface and supporting weight that is less than 250lbs.
At first sight, the bike looks good. The different colors available are attractive. The design announces how tough it is and sturdy. If you are out there in a thorough search of a great agile bike, look no further, you found our beast!
Having basic knowledge of what you are about to ride is a wise choice. It keeps you knowledgeable on how to take care of it, utilize it right and customize it. It is unlikely that you will go wrong with your choices when your brain is loaded with correct info.
---
Relevant Reviews From BikesGuider