The Best Bike Racks For Cars – The Latest Full Review & Buying Guide in 2019
If you are like me, then I am sure you like tearing up the asphalt on an awesome road bike. But you surely like hitting off the road trails on a rugged MTB too. And at times, you may also wish to take some sights seeing at your leisure on a nice bicycle. But no matter what you like as a bike hobby, it comes a day where you really want to take it the next level.
And the only way to do this is by using your car. Obviously, you can find this combination a bit strange and weird. You are a fervent adept to cycling, and now you say that you need a car to enjoy riding your bike? That's really contradictory. Isn't it?
Why do I need a bike rack for a car?
Well, let's at it from a different angle. After a couple of months of cycling in the vicinity of your house, you surely would have seen everything possible. You know the trails, the tracks, the on-road and off-roads around you. So, there is no more excitement for you really. You even know every single pot whole in the area. So much so that you are now losing interest in going out on your bike.
Losing interest is not an option and as such, there is an urgent need for you to rethink your way of life. And this is where a car becomes handy. It allows you to develop a friendly relationship between your bike and car.
The real reason why you need the best bike rack for car
Let me put it this way. If you use a car to take you to cycling places, then you are opening a whole lot of new options to support your bike-riding hobby. Your hobby will now become more like a way of life, a lifestyle, a love and NO hate fun, and a leisure sport type friendship for the rest of your life.
But to take your bike on the road, you really need something that supports your bike securely. This is why selecting one of the best bike racks for cars is so important. A bike rack is a device that attaches to your car and where you can fix your bikes to transport them with you. (1)
The most important criteria for a bike rack is that it must be light, easy to mount and dismount onto the car, avoid your bike to be damaged and that the bike does not damage the car either. That sounds like hard work.
Well not really. We are very lucky in our cycling hobby that there are many bike rack for cars that fall within this category. So no matter what type of vehicle you have, and no matter what size car you have, whether it is an SUV, a truck, or other, there will a set of bike racks for your cars.
In this guide, our team has selected at some of the best bike racks for cars available to you. We have summarized their most important features so that you can safely select the one that fits your needs.
The Best Bike Racks For Cars
I have selected 10 of the best bike rack for cars. My aim was to make it easy for you to choose one rack among hundreds of them available on the market.
Allen Sports Bike Rack Review
I think you need to know this. We selected allen sport bike rack not only because they are a well-known brand, but mainly because they have been designing and manufacturing these for more than 50 years.
It is Dick Allen that founded the company in his own garage even before I was born. And his first-ever rack was fairly simple, yet highly effective. Dick was an inventor. He managed to manufacture his first design using some electrical conduit material and an old fire hose. This may sound fairly basic, but in those days, I believe it was top notch. Obviously, today you have these racks manufactured with modern and well-tested materials.
I believe that you are like me. You want simplicity. Well, this is exactly what this product is all about. It is simple in design and yet very easy to use when you need it. You just need to slot the rack onto your trailer hitch. Note that you need a 2-inch hitch for it to work. Take your tape measure and check it out. This type of hitch is pretty standard nowadays, so I do not foresee you having any problem with it.
Now, that you've checked your hitch, and that it is the right one, you can safely stand the rack upright. It should take you 5 seconds to do this. Secure the rack with a bolt (provided with the device). That's it. You're done and ready to go.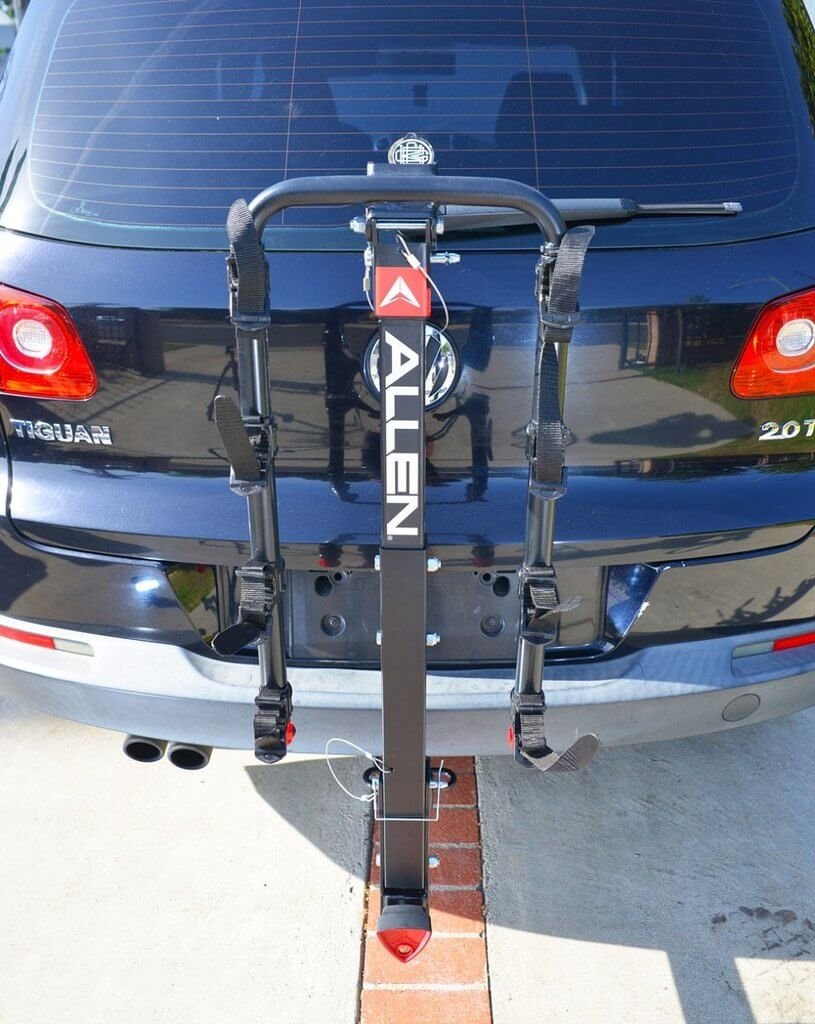 The rack has two carry arms to ensure that you can easily secure your bikes. These are 22-inches in length. With this length, they are pretty well suited for even larger bike frames. What I really like about the arms is that they fold out of the way when you are done with your travel.
The rack is unique in the world as it has a patented tie-down system. And again, the people who have designed this Allen's best hitch bike racks have thought of you. They know you are eager to fix your back on the rack and hit the road. As such, they made the tie-down system super easy to use. And on top of all of these things, they still managed to provide anti-wobble ties. Like this, you'll be able to drive while your bikes at the back of the vehicle will not wobble creating a lot of noise.
The manufacturer has put a lot of effort to ensure the device is of high quality. For instance, the rack is made with sturdy steel. If you buy it, you'll have a rack coated with black powder. Like this, you'll have a product that will last. Allen's sports are so confident about their product that they sell it with a lifetime warranty. You'll definitely enjoy this rack as it is pretty well designed, made to last, simple to use and manufactured by a company you can trust.
By the way, by buying this rack, you'll get a fantastic design with space for 4 bikes and a unique price tag of under than 100 bucks. If you are looking for value for money, then you have it with one.
2.

Saris Bones 2-Bike Trunk Rack
Saris Bones 2-Bike Trunk Rack Review
Saris is another well-known brand that manufacturer top-notch bicycle racks for your vehicle. There are fierce competitors to the Allen Sports one. That's why they are are the top of our list.
Their trademark is all about cutting edge design. And when it comes to car racks, we sometimes like to have something a little trendy. Think about it. I am sure you have a fantastic mountain bike. and your bike costs thousands of dollars. Would you really want to transport it on a cheap and cheerful rack that has no soul?
Or you want something a little trendy? I think you'd go for the trendy and you are right. The Saris Bones 2-Bike Trunk Rack is just fantastic. They are simply the cutting edge offer on the market when it comes to racks.
They are everything we all want in a rack. The Saris Bones 2-Bike Trunk Rack is probably the easiest rack you can have. It is easy to install, easy to adjust and easy to load your bike on it. Added to this the cutting edge design we spoke about, you have nothing to be worried about.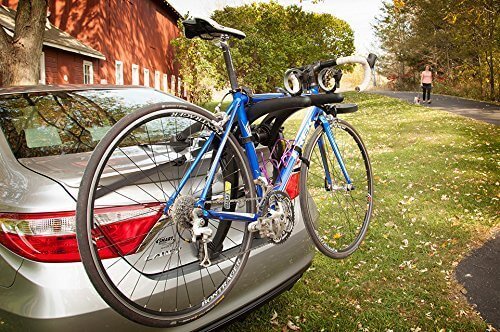 Probably the only downside that I can find for this product is that it is largely made of plastic. But the plastic quality is really good and strong, so again the manufacturer has taken care of that aspect. On the other side, the plastic ensures that you'll have a fairly low rack's weight. In fact, the rack weighs just about 10 pounds in total. I was taken back by the strength of plastic and lightness of the product.
Now, you'll be amazed about the price tag too. It is just around 150 bucks. That's not bad for a design type product and high-quality materials. If you are on a tight budget, you can always aim for a cheaper brand. By the way, the Saris Bones Trunk Rack that I am highlighting here is to load up two bikes. You can get the Sari Bones 3-bike rack one if you prefer.
To finish up with this rack, it is a well-designed product, light, and manufactured by one of the best companies in the market. Well worth the investment.
3.

Thule T2 Pro XT2 Bike Rack
Thule T2 Pro XT2 Bike Rack Review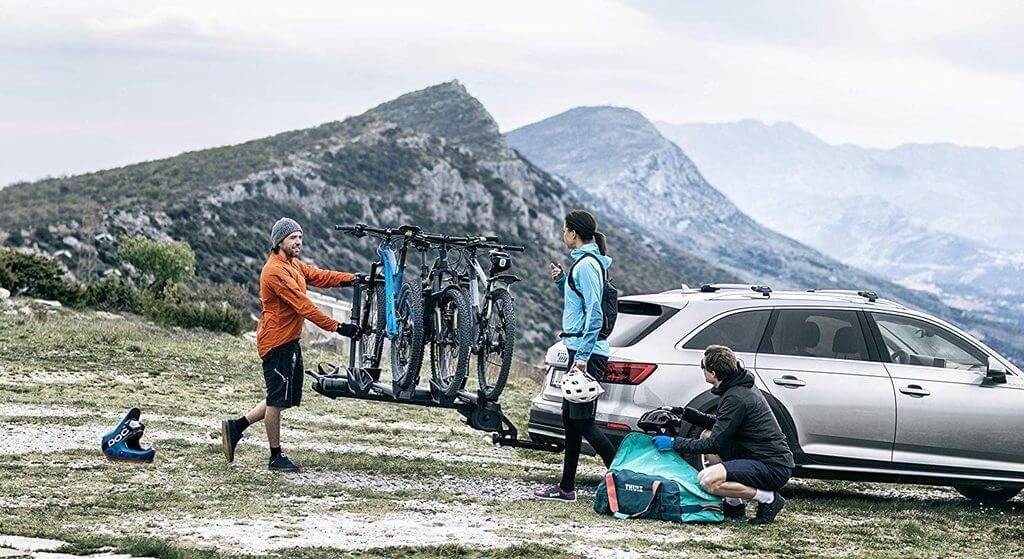 This is yet another great brand. Everyone that I know and that I speak to about this brand says that they have an outstanding pedigree. In fact, there are thousands of cyclists out there that have acquired the Thule T2 Pro XT2 Bike Rack. And they all recognize the Thule brand as a really good investment.
You need to note that the price for this rack is high. I would even go as far as expensive. You'll cry when you know it. It is around 500 bucks. The final price depends on some of the offered options and the size you want. Now you understand why everyone says it is expensive, but it is a good investment. I think I can easily say that this is probably one of the most expensive racks.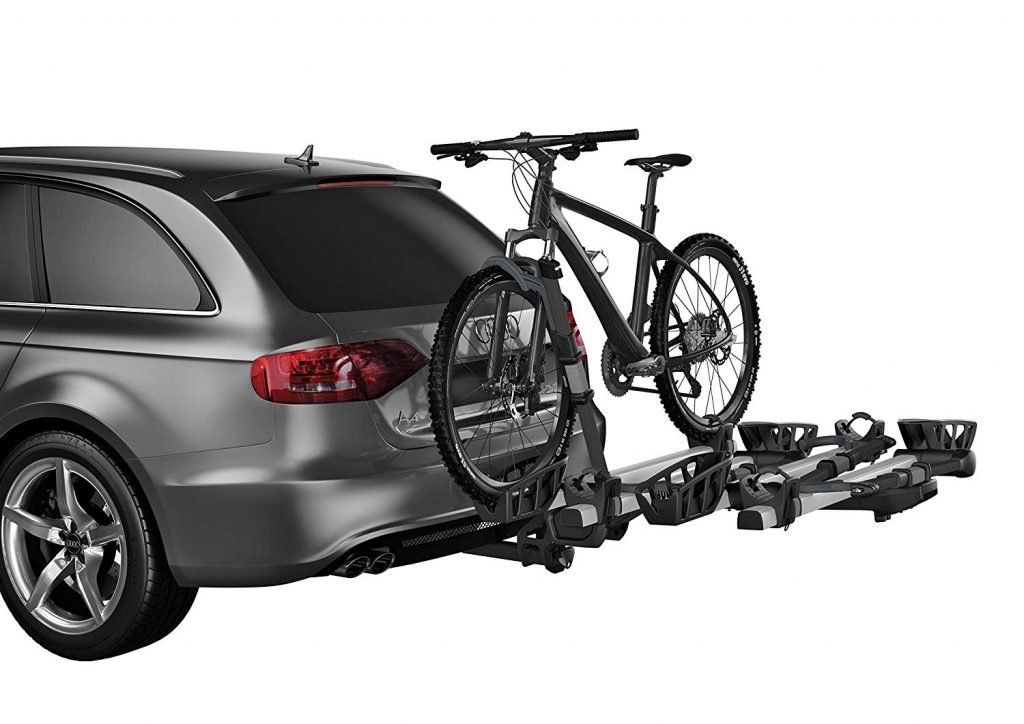 Ok, it is expensive. But what a nice piece of kit this is. It is an extremely well-designed bike. Made and thought by people who understand the biking community. And the manufacturer knows this. That's why he's putting such a high price tag. You can't avoid falling in love with the rack.
The Thule is nice, easy to attach and the good thing is that you do not need any tool for that. You can attach it on a 1.25 or 2-inch car tow hitch by hand. When you are done attaching the rack to your hitch, then it is a simple procedure to fix your bikes. And there is a good surprise with the rack too.
The designers have put together a simple hinged joint that leans outward. Like this, you have access to your trunk even when you have already loaded your bikes. This is pretty nit and quite unique in the rack industry. But this hinged joint allows you to fold up the rack easily out of your way when empty. This is brilliance at its optimum level.
This is a good example of a nice trunk-mounted rack. The rack is definitely better than any of the roof rack versions.  But even if it is better than the roof product, it takes the simplicity of any rack to the next level. You just need to slot your bikes at about a foot off the ground. Now, you set them on the nicely-designed ratchet arms. Finally, you lock your bikes and you are done. And they even added an integrated cable lock that you can use (and I advise you to do so) to lock your bikes to the rack. This adds an extra layer of security.
Let's summarise this rack. It is expensive. And that's a fact. But it is a rack that is easy to use, provides easy access to your truck even when your bikes are loaded, has a nice elegant design and full of useful features. You'll love it no matter the price tag.
4.

Swagman XC Cross Country 2-Bike Hitch Mount Rack
Swagman XC Cross Country 2-Bike Hitch Mount Rack Review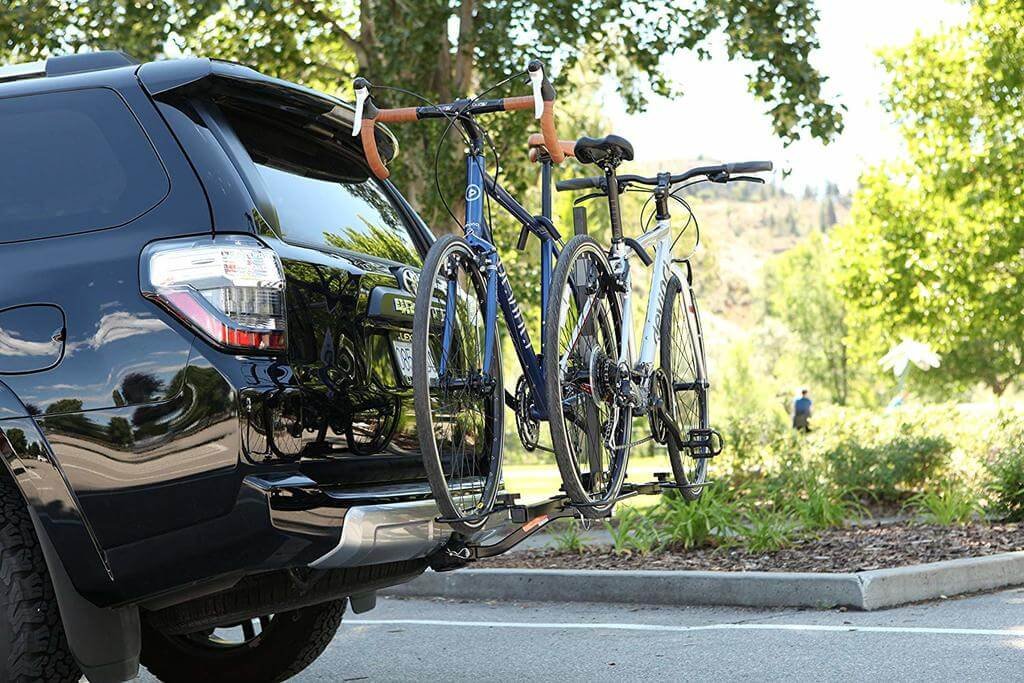 I am sure that you did like the fancy Thule Bike rack design. But when you'll look at the Swagman XC Cross Country 2 Bike Hitch Mount Rack, you'll understand what value for money means. The Swagman is a very basic, simple and easy to use a rack, with a cheap, cheap price as a bonus.
So, if you are looking for a cheap and cheerful solution, this one is definitely for you. To be more precise, the Thule is what I would call the Rolles-Royce of the car racks. And this model is more like a small car, that has all of the standard features of a car, but not a strong brand associated with it. Basically, this rack does the job without any fancy features.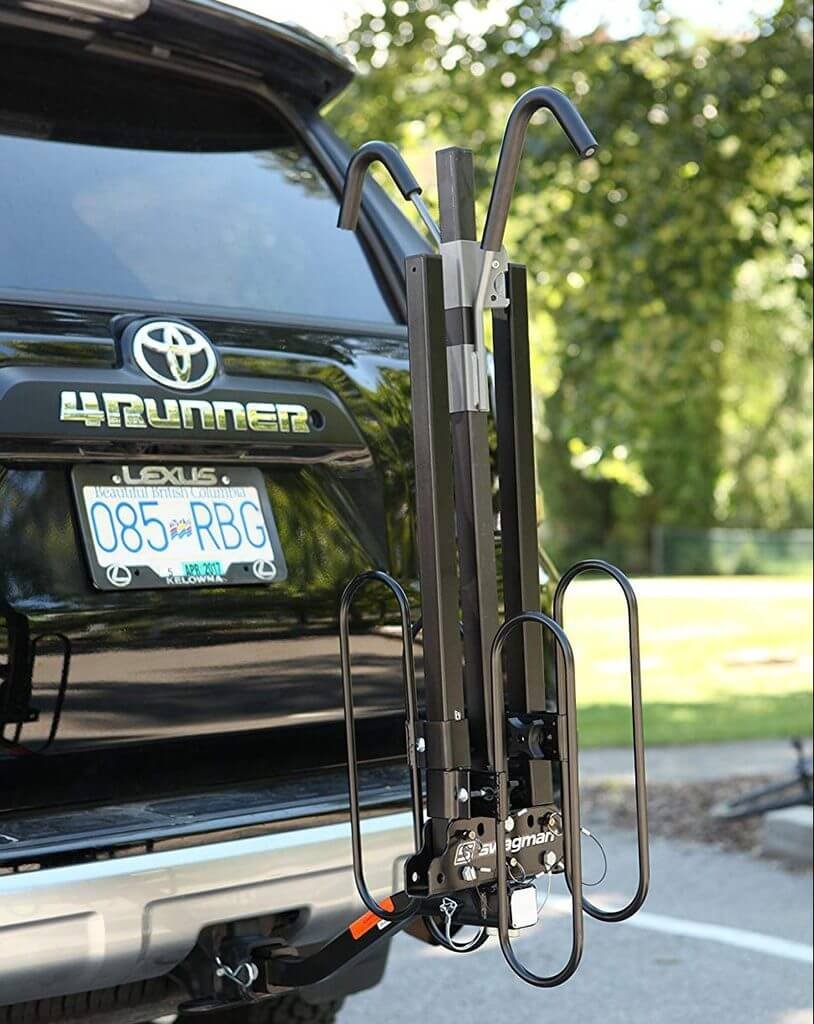 For instance, you won't find a hinge so that you can access your trunk. And you'll definitely not be allowed to fold-up the rack on itself so that you can easily store your luggage. Basically, you get what you are paying for. A rack that will lift your bikes and that's it really. And by the way, you'll get a cable that will lock your bike and hold it into place for the time you are traveling. Do not worry, this cable will definitely secure your bikes. The only downside is that you need to buy it separately. It told you it was cheap, and this is the reason. It feels like you are buying a cheap airline ticket, where you have to pay extra to get a given sit. 🙂
Never mind, you'll see that is very easy to use. You have one pair of ratchet arms that you can use to securely lock your bike during travel. The good news is that the Swagman rack accepts a pretty wide loading range. You can find different sizes with one of them able to accommodate up to 59cm frames. This product can also accept up to 35 pounds of load capacity per bike. This is much more than you need for the vast majority of bikes.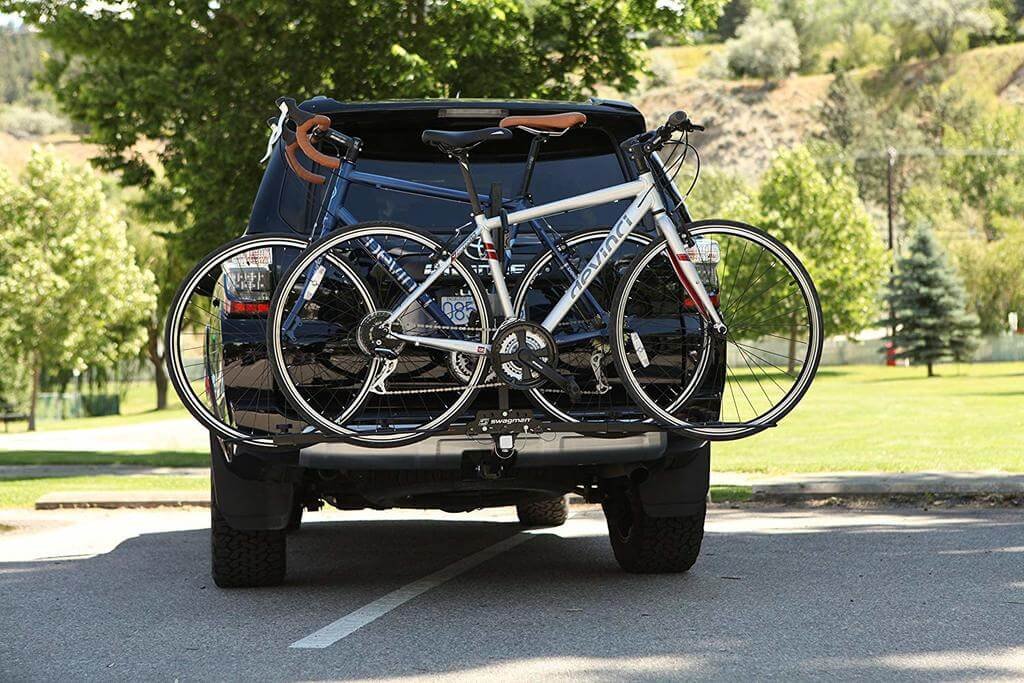 In summary, I like this rack because I can use it when I go for a day bike trail. If I need to travel far away for 6 to 8 hours drive and stay overnight, then I'll use another type such as the Thule version. The Swagman rack is a simple, cheap, and fairly decent product.
5.

Yakima Ridgeback 4 Bike Hitch Rack
Yakima Ridgeback 4 Bike Hitch Rack Review
This is a different hitch mounted type of rack. The company that manufactures these has a different philosophy to attach the bike. The Yakima ridgeback 4 bike hitch rack does not have a base mounted (i.e., there is nothing to put your bike wheels onto) carrying rack. Instead, this product has an extended arm where you can attach your bike tubes.
The Yakima rack shares some of the features of the two products discussed above. And again, it shares the most important feature, that is the ease of installing the device onto your car. What you need to do is to attach a SpeedKnob attaching point that is on your rack onto your car. You just need to insert the Knob onto your 1 and 1/4 or 2-inch hitch. And you're done. It's that simple.
There are many different Yakima models. And they all depend on the weight you need to carry.  You can find some racks that will carry 2, 3, 4 and finally 5 bikes. So, the Yakima is truly made for a family trip.
When you need to use them, you can easily load your bikes and secure them within minutes. There is a secure zip strip that you use to attach your bikes. An interesting development, which I am sure you'll like, is the presence of anti-sway cradles. These are meant to avoid your bikes to knock on each other while you are driving.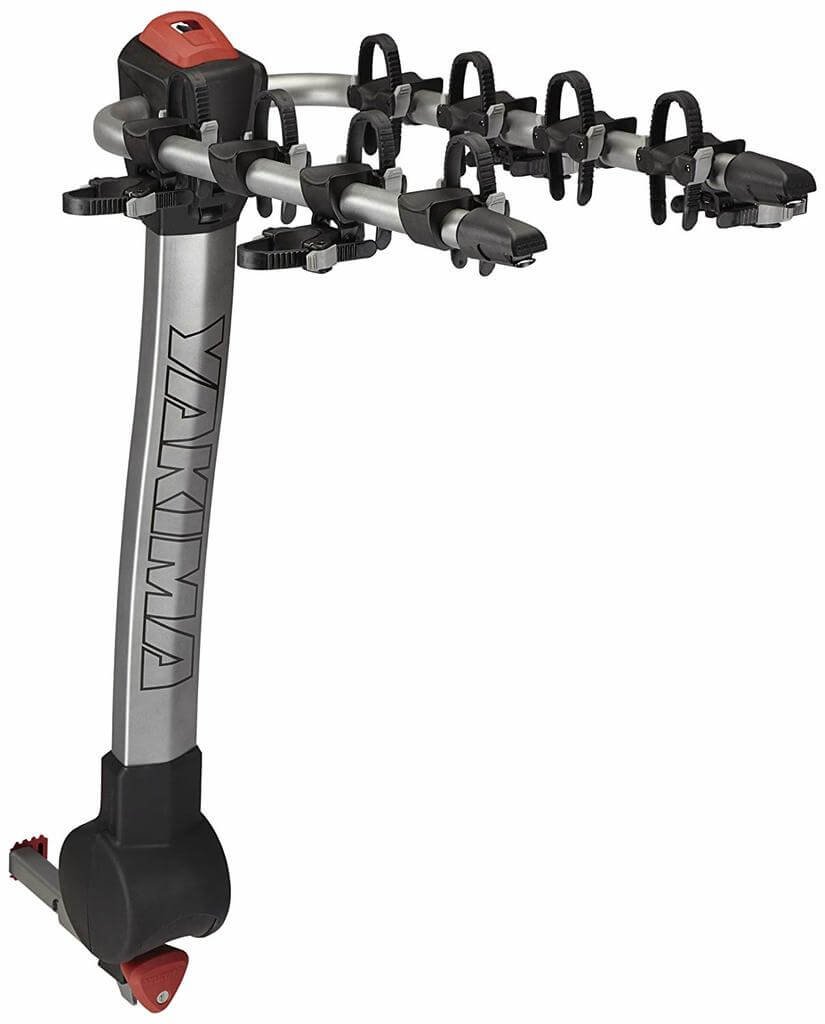 You may have to outlay a couple of hundred dollars. The price all depends on the model you need. I feel that these are affordable and carry all of the different points that you may be looking for in a rack. Easy of use, light and not too expensive.
6.

Allen Sports Deluxe Trunk Mounted Bike Rack
Allen Sports Deluxe Trunk Mounted Bike Rack Review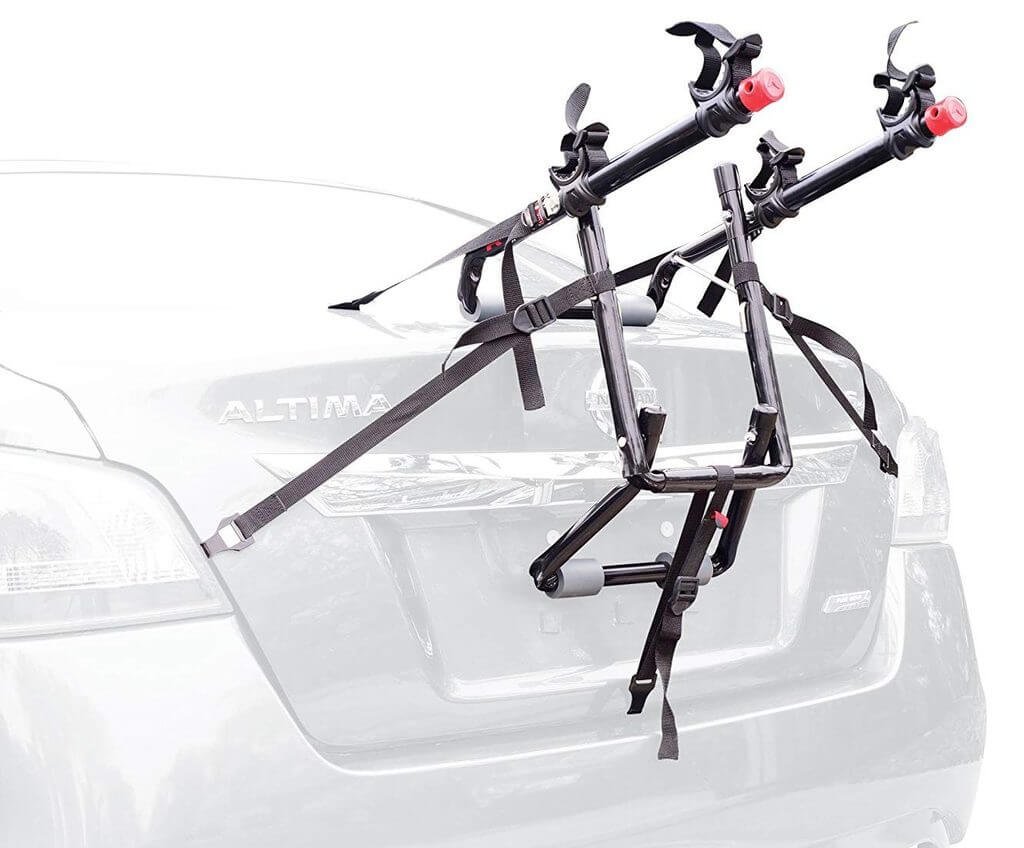 This is the second product from Allen Sports that we have selected for you. This is normal as Allen Sports are the leader in bicycle racks. And, I have to say that when I tried it, I found it really easy to use with a nice and flexible design. The interesting bit about this model is that it has been designed for people who do not have a hitch attach to their car. All of the other racks that I've discussed up to know must be attached to a hitch.
The good thing about this Allen Sports rack is that you can attach it to many different types of vehicles. You can attach it to Hatchbacks, Sedans and even to Minivan vehicles. That's why I like its design. I can use it for my car, but also I can secure it onto my wife's car. And even better, I can lend it to my friends without having to think if it'll fit. And I tried it on and SUV vehicle, and it was easy to fit. So, it is a good multi-vehicle solution if you need one.
As I said, it is fairly easy to mount it onto your vehicle. And it is even easier to secure it using a simple set of straps. I have to say that you need a little bit of time to get used to the straps. But, when you are used to them, you'll have no issue whatsoever to install the rack on any vehicle. What I like about this rack is that at all times the device rests onto the body of your car (without scratching it). If you buy it, you'll find some paddings that are made to avoid any paint scratch.
Now, the way you tie your bike to the rack via the tube (and not the wheels). As per the previous model, you can buy different sizes. For example, you can buy the Allen Sports Deluxe Trunk for or 2, 3 or even 4 bikes. In conclusion, this rack is well designed to avoid scratches onto your vehicle. It is from a reputable and well-known brand whose sole job is to make bike racks. So you can buy with faith.
7.

Thule Vertex XT Hitch Mount Bike Carrier
Thule Vertex XT Hitch Mount Bike Carrier Review
It is almost impossible to empower you with bike racks without having another Thule device. Like I have discussed two Allen Sports devices, the Thule equipment can be considered as the cream of cream of racks. They are simply top-notch, added with some nice design style. But this carrier is somehow different from the one we discussed above. In this model, your bike is secured via the top bar instead of the wheels.
So the design is completely different than the previous model, and less complicated too. Because it is of less complex nature, it is also cheaper. Obviously, you need to accept that you'll not have all of the fancy features either, but then you still have a nice brand.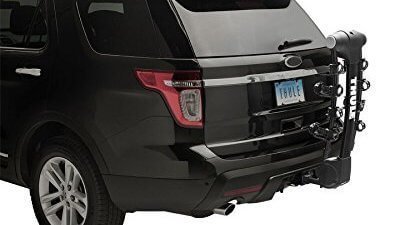 What you miss with this device is the complete hinged joint solution. It is a pity because I quite like the joint as it allows the rack to be moved out of the way from the trunk (so that you can access what's in the trunk without having to remove the rack). The downside of the low price is that the device cannot be folded to the full. So, you get what you pay for. Your trunk will be a little harder to access, but how many times do you really need to access your trunk when you are traveling? That's the question you need to answer.
If you feel that you'll not need to access your trunk, then this device is definitely for you. However, if you need access to your trunk often, then you'd better get the above Thule model. The goods news, and like many of the Thule family of racks, you can buy these for 2, 4 or 5 bikes. So it is for you and your wife alone, or for the whole family.
The manufacturer has provided what they call Hold Fast Cradles used to secure the bike. You'll have the locking cables provided with it when you purchase this model. The locking cables are really good to avoid your bikes being stolen by some unscrupulous thieve.
In summary, this rack is probably the most basic Thule model. However, I would not take anything away from it. It has all of the features you need to transport your bike from point A to point B without any issue. You just don't have the nice features of the other Thule models. An excellent and high-quality model that has nothing to envy from other racks.
8.

Tyger Auto Deluxe Carrier Rack
Tyger Auto Deluxe Carrier Rack Review
The Tyger racks and its associated brand are not that well known. I think people undermine them because they are a lot cheaper than the Thule and Allen Sports. It is like buying a standard car in comparison to a Ferrari. I need to say this. Yes, it is a simple, very basic, yet effective model. It does not share the brand recognition but does the job you need it to do. That is, it allows you to transport your bikes easily.
Note that the lower price tag does not mean that the rack is missing some of the features you are looking for in a rack. The device comes with really well-designed attaching points. And it is easy to secure your bikes onto it too. You have a really well-made hitch adaptor that you can use on most of the hitch receiver. For instance, you'll find the 1.25 and the 2-inch hitch versions (which are the most common hitches available on the market).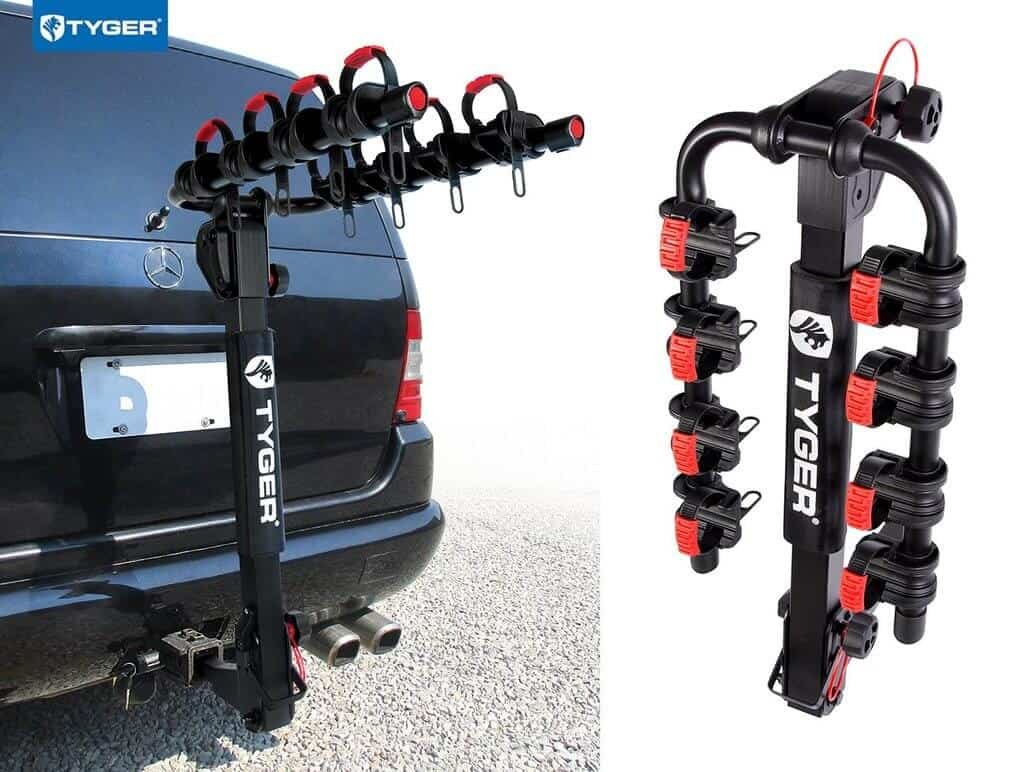 I like the fact that it can carry up to 4 bikes. Note that you'll have a hinge joint similar to the one you find on the Thule rack. What this means is that you'll be able to access your trunk easily. So who said cheap was not great?
I agree that it lacks some of the nice features found in the premium models. However, if you are on a budget, then there is nothing wrong with this rack. By the way, you'll get a free bike lock if you buy one of these. Not bad for a cheap rack.
9.

Yakima Top Car Bike Rack
Yakima Top Car Bike Rack Review
You already read about Yakima above with a model that was nice and of good quality. But you have not heard of the Yakima Top Car Bike Rack yet. It is probably the penultimate product of all the time in terms of a bike carrier. This rack is definitely something with a little bit of touch, something different, something that you'd love to have. And the beauty of it is that it a simple rack that is mounted on top of your vehicle, on the roof.
It is very easy to use with an outstanding design. Obviously, there are advantages and disadvantages like any of the rack discussed in this bike rack review.
Let me tell you about this model. You're is uniquely secured via a wheel hoop that you'll find at the front. And you have a strapping device for your rear wheel too. So, you get two safe points to secure your precious and very expensive bike. The way Yakima engineers have designed this rack is to ensure that you can easily load up your bike on the roof of your car, but also that it has the most secure solution out of all of the racks available on the market.
Basically, with this solution, you can fix your bike and lock it in a matter of minutes. And I am not joking here. I timed it, and it literally took me and my partner just 9 minutes. Obviously, we are used to doing this. So, it may take you a little longer the first time you do it, but when you get the hang of it, then you'll probably beat us.
The most important point here is about the environment. We are cyclists, so we should care about the environment. Because the bikes are installed on the roof, and that they are facing the direction of the car movement, they'll impose very little drag friction. This means that you'll minimize your fuel consumption. So, what you have lost as an initial investment for buying the Yakima rack, you'll make the money back through fuel savings.
Upright holders that we shared with you above increases dramatically the drag friction. This means that you need to spend much more fuel to drive at the allowed speed limit. As such, you'll consume more and spend more. So why not go for a better solution right at the beginning of your investment and ensure you have a lower environmental impact?
This solution is obviously really good for people like that do a lot of traveling (almost every weekend). If you are only traveling once a year, then maybe you should choose one of the above options.
If you buy the Yakima rooftop solution, you'll acquire a very sleek and nice rack. And did I tell you that it is cheaper than the model we described above? Not by much, but I want to leave this nice surprise last so that you can check it out. The only downside is that it holds up only one bike. You guessed it, we use this only for me to go on a trail. My partner is not a big fan of bikes, but she likes hill walking. So she walks around, while I go cycling. We meet at the end of the day.
Finally, this rack is stylish and has that little thing that other bike racks do not have. You'll enjoy it.
10.

Allen Sports Tension Bar Bicycle Cross-Bar Adaptor
Allen Sports Tension Bar Bicycle Cross-Bar Adaptor Review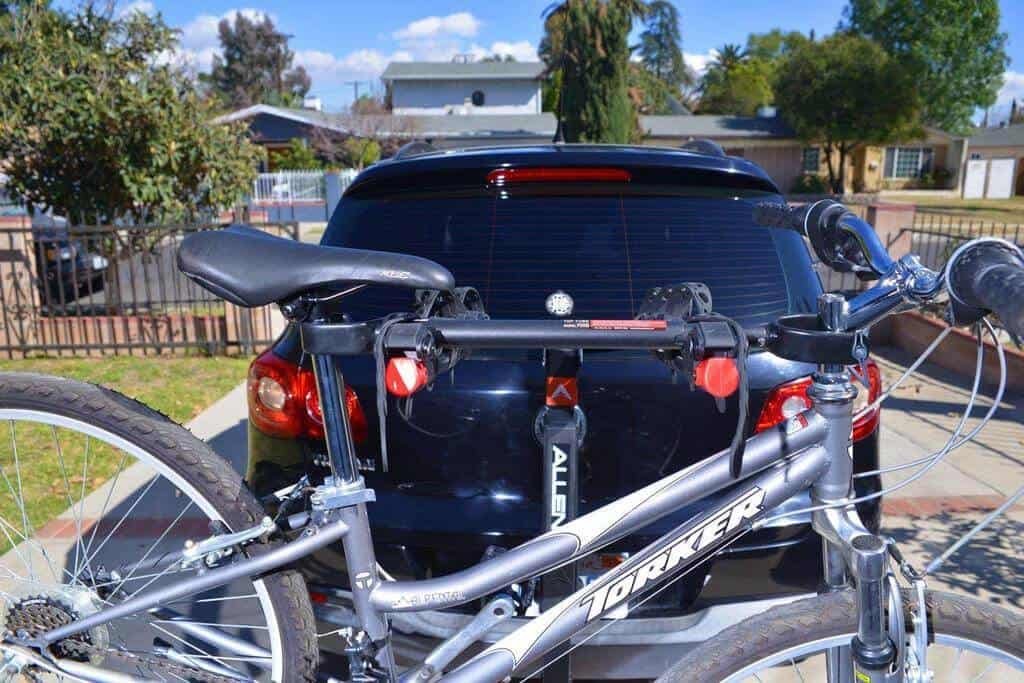 This is the third time we speak about Allen Sports here. As I said, they are the leader on the market. So there is no way we would avoid them. The last product we are going to describe is a little different than any of the product we ever discussed here. In fact, we would qualify it as being of an "oddity", "weird" solution, that is effective.
What you'll find is that we cannot qualify this product as a rack. Yes, it is a device that carries your bike when you travel in your car. But it is a solution to help you and your partner. If you look at our list, some of the solutions we highlighted were specifically designed for what I would call male bikes with a bar.
But what if you had a female bike to transport with you? You do not have a conventional top tube fixe on your bike. What do you do then? Same, what if you had a BMX type bike? In these cases, you may not use some of the models we described. If you have one of these models, then this product will solve your problem.
This product is not a rack. I repeat, it is not a rack. It is a simple device that hooks onto your bike frame and creates that missing top tube bar. I have to say that this is a very useful solution. By buying the Allen Sports Tension bar, you'll be able to travel with any type of racks available on the market.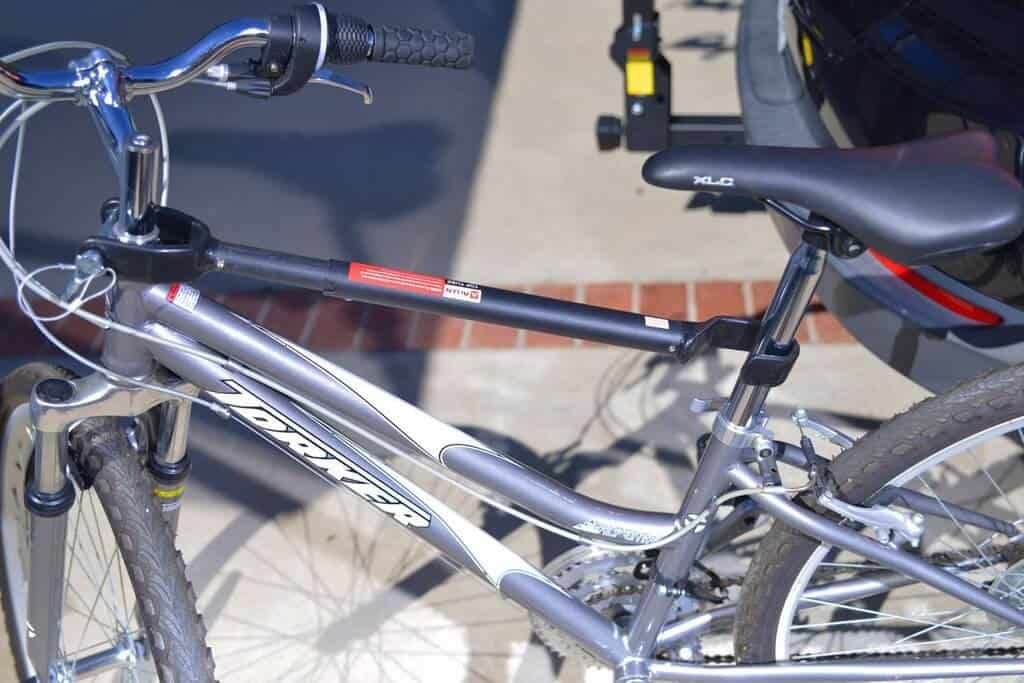 This is a very simple, yet cheap solution to the bike that does not have the top bar.
Best bike rack for cars Buying Guide & FAQ
Below is our short bike rack buying guide. What we want to share with you are some of the most important features to look for while selecting your favorite bike rack. What we also want is to empower you so that you know which rack to buy.
From the above list of racks, you now have a large variety of rack models to choose from. You find strap mounted, hitch mounted and upright models on this list. So what we will do is to look at the advantages and disadvantages of the different designs. Like this, you can select the right one for your needs. And you'll make your decisions based on facts.
Features to Consider when Buying Bike Racks for Cars
First, you need to accept that the more features you want, the more expensive your rack will be. So the first thing is to draw a list of things you really want, and then some of the options. Finally, set yourselves a budget and stick to it. I know, for the budget it is easier said than done, but you'll get there.
The below summarises some of the key features that you may want to consider. Most of the models propose a mixture of these. I am sure you'll remember that Allen Sports are the leader in the bike racks. This is not because they provide the best racks in the world. It is more because they provide most of the features at an affordable price, without compromising on quality.
If you want the optimum rack, then you'll need to buy a Thule rack. They are really the top of the range. But they are also offering a more expensive solution.
Locking Cables – These are made to secure your bike and lock it into place so that you can travel safely. The good thing about these locks is that you can stop at a pump or in a car park, have a coffee and not worry about your bikes. Any opportunistic thieves will have a hard time to unlock your expensive bikes and take them away from you. I think it is important to highlight this. My team and I at BikesGuider would not consider buying a rack without this feature. And the locking option is mostly included as standard on the premium models. Never mind, you can always buy a locking cable as a separate option for some of the models we reviewed. So checked as a top priority.
Strong Securing Points – That's the second point that we'd like you to take into account. You must ensure that your expensive bike must be secured onto the vehicle through the rack. You definitely do not want to find your expensive bike flying away on a highway. This is probably the most important point. You need to look that the solution offered by the manufacturer to secure your bike can hold the bumps, the air pressure, and your speed. But these points must also be gentle so that they do not damage your frame or other parts of your bike. Please don't underestimate this. And do not underestimate the holding power that is needed to keep your bike secure.
Padded Securing Points – In the case you choose to buy a rack that holds your bike via the top tube, then we would advise you to check the padding solution that is provided with the securing points. You may want to protect the paintwork while you are locking your bike on the rack.
Anti-Sway Cages – Minimising sway is also important. And you'll find that the most common way to deal with this is by using an anti-sway cage. You'll find the cage solution on the vast majority of rack designs that hold the top tube. They are times where you'll find some rear-mounted designs where the wheels are locked. These also benefit from built-in anti-sway solutions. What these do is to help to keep the bike stable in the rack when you are driving. Using an anti-sway cage benefits you in two ways. First, you are not going to be affected by the bike's air drag friction while you are driving (especially at high speed on the freeway). Second, it will avoid the bikes to knock on each other.
Car Attachment Points – You need to attach the rack to your car at some point. As much as attaching your bike to your rack is important to you, the same goes for the rack. The way you secure the rack onto your car depends on the model. But what you need to be sure of is that there is no way the rack will scratch your beloved car. So, check for what type of pads the manufacturer is offering you. You may want them in soft but strong plastic. And a little tip for you, do not leave any dust on these so that you do not get micro scratches that are almost not visible to the eye, but as time goes by, you'll start noticing these.
Why do you need one of the best bike racks for cars?
I think you know this. But I always like to be thorough in my reviews. So, if you think you want to travel with your bikes, then you'll need one. Otherwise, you can do without. At the end of the day, if you are reading this, then you are thinking of getting one and you want information on how to best select your rack.
You would need a bike carrier for probably two main reasons. One is to satisfy your biking hobby. And I already said above, instead of cycling locally, you'll open a whole new world of cycling by using a bike rack. If you buy a rack, you'll be able to enjoy bike trekking, bike trailing, and simply nice leisure cycling too.
The second reason is that you want to go on holiday and hate the idea of hiring a bicycle. You want your own bike with you. Then you need a bike rack. Now, if you are within of these two categories (holiday or cycling far from your home), and that you use your bike often, then you'll definitely enjoy having a top range model.
Types of Car Bike Racks
I think it would be easy to choose a bike rack if there was only one. But we all like to be different. We have different needs and definitely a different purse. As such, we have the choice to choose one of the thousands available rack. But the choice is so wide that we need to narrow it down to just a couple of options. This is what I have done for you in this bike rack guide review.
Now, to even simplify this process, my team has summarised the three most common bike carrier for you. They have even summarised the pros and cons of each type so that you are empowered to select the most appropriate one suited to your needs.
Hitch-Mounted – As the title says, these are mounted onto your hitch at the back of your vehicle. They are very rugged and strong. At the same time, they are stable. You'll find that all of the manufacturers will add many different features to these to attract your attention. But the only main benefit you need to focus on is that easier to secure and to fix your bike onto. This is especially true when you compare them to roof-mounted models. Many argue that because they are located at the back of the vehicle, they do not create an air dragging force. This has some truth attached to it. But still, the rooftop offers a lower drag. Nevertheless, using a hitch-mounted rack will provide a good compromise on the overall aerodynamic profile and therefore help minimize the impact on your fuel consumption. I think the only main negative is that when you use these, they can affect your rearview while driving. Some hitch mounted racks can also make your trunk access a misery. By the way, I need to warn you here. Remember that you have your bikes on a rack when you are reversing.
Strap Mounted – These have been designed where you do not want a hitch receiver. They are very easy to mount when compared to any other type of racks. They are really good if you just a rack once in a while. The reason is that you can install it quickly and remove it ever quicker. You'll find that they are quite cheap. If you need to drive for long, say for a couple of hundred miles, we would not advise you to use these racks. They do lack some nice and truly solid attaching points. So they are somehow not as secure as the other types. If you still want to buy one, then ensure that you have secured it onto your vehicle exactly as it should be. You do not want to be thinking about the rack while you are driving.
Upright – Or on top of the roof. What I like about these is that they hold the bike upright. It is probably the safest and most secure way to transporting your bike (apart from putting your bike in your boot). Some people argue that a couple of roof racks have a negative impact on your fuel consumption. This is true to some extent. But it is only true if your rack is large and creates a swirl type friction. The latest roof racks are not designed to keep this friction to minimal, though it is not possible to remove it completely. No matter what, your bike is in the direction of the movement, and as such these will create very little friction. It is the rack that can create friction. So, if you select this type of rack, ensure you go for the top end, as this factor would have been taken into consideration when designing it. Another point that I almost forgot to mention. It is usually a little bit harder to fix the rack onto the vehicle and then the bike on top of the rack. It is usually best to have two persons for that. This is especially true if you have a heavy bike.
Best bike rack for cars FAQ
Q:  Will I have to drill holes in my car?
A: No. All of the models that we reviewed in this post do not require any drilling. In fact, I do not know of any models in the world where you would be needed to drill a hole in your car. All of the models are attached to your vehicle through straps, to the roof rack or directly onto your hitch receiver.
Q:  My vehicle doesn't have rain gutters, can I still put a roof rack on it?
A: Yes, you can do this. It is very easy to install a roof rack on any type of vehicle. I do this with my partner and she is much faster than me for that.
Q:  What if I change vehicles?
A: There is no issue. A rack is a vehicle accessory, so it can be transposed onto another vehicle. Note that if you have a hitch rack, then make sure you buy a hitch vehicle.
Q:  Can I get replacement parts for my rack?
A: Normally, all manufacturers will provide you with a limited warranty. You'll find that you'll get a minimum of a 1-year warranty on parts. When the warranty is over, you need to contact the manufacturer, but the likes of Thule, Yakima or Allen Sports all have processes in place to deal with this.
Q:  Can I go through a car wash with my rack on the car?
A: We do not advise you to do this. Best to remove it and wash your car. You do not want to scratch your car or damage your rack.
Our Top Pick From The Above List
All of the products that we have listed are well known and have been used by thousands of people.  Some have stylish designed and some are just manufactured to perform their function, which is transporting your bikes while you are driving.
We have reviewed many different racks made by some of the leading companies in the field. Selecting the best pick from is fairly hard. Probably the one that we all fall for is the Allen Sports Deluxe Hitch Mounted Bike Rack.
For us, the decision was made between value for money and features attached to the product. Obviously, we have reviewed some models with many more features than this model, and some of the models are cheaper.
But this one provides a good compromise. Remember, it is easy to use, well designed, a very carefully built product and will do all you need it to do, that is secure your bike and take it to the next destination with no harm.
Sources for the best bike rack for cars
Aerodynamics & Fuel Consumption, Haynes