Diamondback Recoil 29er Mountain Bike Review: The Ultimate Riding Solution
Would you like to take your mountain biking to the next level this year? Well, the Diamondback Recoil 29er mountain bike is one of the best 29er mountain bikes available in the market today.
This great 29er mountain bike by Diamondback, a leading bicycle manufacturer that has been in business for more than 30 years now, is a simple, yet functional 29er bike.
As compared to other leading brands in this category, the 29er bike is renowned for its ability to tackle almost any challenging terrain with ease. Having tried the various 29er mountain bike brands available today? I can attest to the fact that no mountain bike, within this price range, handles the trails and overcomes obstacles with ease as the Recoil.
The growing popularity of this bike may be attributed to the many features and benefits it has to offer, most of which are discussed in this 29 mountain bike review.
Overview of Diamondback Bicycles Recoil 29er Bike
| | |
| --- | --- |
| Frame Size | S – 16″ / M – 18″ / L – 20″ |
| Frame Material | Hand-built 6061 T-6 aluminum frame |
| Bike Type | Full-Suspension |
| Speed | 24 Shimano speed |
| Brakes | Mechanical disc brake |
| Wheel Size | 29 Inches in size |
| Rating | 9.4/10 |
| Brand | Diamondback |
| Pros | 24 speed, Disc brake, Shimano drivetrain. |
| Cons | The saddle is not comfortable. No kickstand |
| Summary | Big strong dual suspension bike at a great price |
| Where to Buy | Check On Amazon |
Who is the Bike Meant For?
Is the mountain bicycle ideal for me? You may be wondering. This full-suspension bike is perfect for all riders. However, the convenient features offered by the bike makes it a great choice for beginners.
If you are a comparatively inexperienced rider, you will find this bike to be one of the best options for use off-road and in countryside terrain. While this is the case, this 29er mountain bike also has a lot to offer the advanced level cyclists, as Illustrated in this review.
---
What the Diamondback Recoil 29er Bike Offers Its Riders
Improved Gearing Experience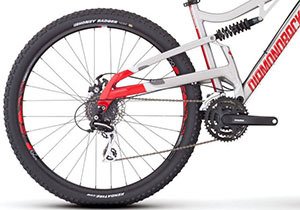 As compared to the 2015 Recoil off-road bicycle, the new version bike features an array of improvements in its braking and gearing mechanisms. This 29er full-suspension bike features an 8-speed drivetrain by Shimano, which includes an 8-speed rear derailleur by Shimano Acera and SR Suntour cranks.
The bike is also fitted with a dual pull front derailleur by Shimano Altus. Such features are designed to offer riders a comparatively smoother, more responsive and consistent shifting through its 24 Gears, regardless of the weather condition and terrain.
Remarkable Traction and Angular Momentum
Did you take the time to look at the tires? To begin with, you must have realized that all 29er mountain bikes are fitted with larger tires. Though often ignored, tires are a key consideration when shopping for the right bike. In this regard, the Diamondback 29er bike comes with 29 X2.25" tires by Kenda Honey Badger.
These tires are designed to offer incredible traction, even on more challenging terrains and allow for higher angular momentum. Let's explore the benefits of the relatively larger wheel diameters.
One of the benefits of the 29″ wheels on the bike is that they reduce rolling resistance. Being one of the latest inventions in the biking industry, this feature comes in handy when you are riding your bike around and over obstacles, such as rocks and logs.
Additionally, the larger wheel diameter also reduces the angle of attack, which increases angular momentum significantly. As a result, this 29er bike not only has a high angular momentum but is also very maneuverable. This is why you will experience less impact when riding this bike through challenging terrains.
You May Like
Interested to check more bikes from popular same series by DB? then see below.
How important is the frame material on a mountain bike? You may be wondering. Well, this is one of the most important parts of any bicycle, with regards to its structural integrity as well as durability. As such, you need to consider this aspect while looking for the right mountain bike.
The Diamondback 29er mountain bike comes with an aluminum full-suspension 29er frame. This not only improves the safety of the bike; but also enhances the comfort of the bike. Again, the aluminum construction makes the bike lightweight and easy to carry around. Since this is an off-road bicycle, the aluminum frame is comparatively more durable.
The 6061-T6 lightweight Framework on the bike is handmade, which is also the case for the SR Suntour XCT suspension attached to it. The fact that they are individually handmade means that they are of the highest quality durable and can withstand harsh riding conditions, without getting damaged.
Such a strong frame and improved suspension system, combined with the reduced rolling resistance offered by the large wheels make this bike easy and fun to ride through obstacles. As a result, you will be smiling all the way as you navigate through mud, root base, over big rock chunks and any other obstacles on your riding track.
Reliable Braking Capabilities
How safe is your 29er mountain bike? The safety aspect of mountain bikes is often overlooked by buyers, which should not be the case. While shopping for a new mountain bike, you need to ask yourself, is this bike safe for me? As you have seen in this review safety is not a concern with this remarkable bike. In this regard, this 29er diamondback bike is fitted with Aires Mechanical Disc brakes by Tektro.
This alone has been proven to improve the brake binding power significantly. You will realize that the braking system on this bike offers enough lever tension to stop it on its track, even when riding at high speeds. The brake discs on this bike are positioned on the wheel hub for a more efficient and reliable braking experience.
Another benefit associated with disk brakes is that they do not allow heat to build up, especially on long pitches. With this full-suspension 29er bike, it will be easy to ride at high speeds, navigate through tough terrains and still get the braking power you need to be safe while at it.
Pros
The bike is also aesthetically appealing.
Shimano Altus 24-speed to cycling at more speed
Excellent entry-level full suspension bike for a downhill ride
SR Suntour XCT fork to navigate the bike around obstacles
It comes with the ReadyRide feature which means 85% assembled.
Larger 29″ wheels for enhanced traction on challenging terrains.
Aluminum full suspension frame to make the bike more durable
Mechanical disc brakes (Tektro Aries brakes) to stop immediately
Fitted with Kindshock coil shock on its rear side for enhanced comfort
Triple Suntour XCC crank & drivetrain fitted on the bike make uphill riding effortless
Cons
Kickstand not included
Disc brakes are noisier but will offer the braking you desire.
With so many mountain bikes to choose from, you may be having a hard time choosing the right 29er mountain bike. So, what should you consider? While shopping for the best bike, you need to ensure that you get the best value for your money.
Therefore, you need to consider the features offered by the various brands within the 29er mountain bike category. As you can see in this 29er mountain bike review, this bike has some of the best features, including:
Frame: Handbuilt 6061 T-6 aluminum alloy 29er frame
Suspension Fork: Full suspension
Speed: Shimano 24 speed
Shifter: Shimano Altus M310 shifter
Drivetrain: Shimano rear & front derailleur
Brakes: Mechanical brake disks by Tektro Aries
Rotor: 180/160mm both rotors
Chain: KMC z51 chain to cover 24 speed
Cogset: Shimano cogset
Wheels: 29 Inches in size
Tires: 29X 2.2″ large Kenda Honey Badger Tires
Rims & Spokes: Double-wall alloy rims with 14g steel spokes
Saddle: DB Race Saddle
Pedals: DB4L Alloy Platform Pedals
Diamondback Recoil 29er weight: 10 pounds
Extras: Toolkit free. Manual & Assembly guide
FAQs and Answers
Question: Does the bike come assembled or in parts?
Answer:

just like some of the leading mountain bike brands, this bike is 95% assembled. This allows for easy and more convenient shipping of the product.
Question:

What is the stand overweight and height for each of the size options?
Answer:

Now that you have decided to buy this 29er dual-suspension mountain bike, you may be worried about which size is perfect for you. You should opt for a size that is on your preferred riding position. For instance, you should choose the larger size, if you prefer a more aggressive riding position.
Final Verdict
Are you looking for a durable, easy to ride, safer mountain bike you can rely on? The Diamondback Recoil 29er bike by is one of the best for mountain bikes under the $1,000 budget. The Recoil 29 full suspension bike offers a great experience for both beginners as well as for the more experienced, high-end users.
You may use your new 29er bike on an array of terrains, such as steep slopes, long trails, tracks with challenging obstacles, with ease. All in all, you will find this DB bike to be both safe and fun to ride, regardless of the weather and ground conditions.
---
You May Also Like To Read
Transport your bike safely using these racks
Diamondback Bicycles Recoil 29er Mountain Bike
COMPONENTS -

9.8/10

PRICE -

9.5/10

WEIGHT -

9.0/10

SPEED -

9.2/10

DURABILITY -

9.3/10