Introduction to the Allen deluxe 2-bike trunk rack
The Allen sports deluxe 2-bike trunk rack is safe, very versatile, and really easy to use.
To protect this rack from being copied and manufactured by its competitors, Allen has decided to patent most of its design and innovative configurations.
The reason behind the different patents is that the design Allen's have come up with is so unique. In fact, their particularities are that the rack can fit a wide range of vehicles. No other racks on the market can match this feature.
Note that this rack is most of the time referred to as the Allen sports 2 bike trunk mount rack.
And this trunk rack is probably the near-perfect way to get out there and take your bikes along without trouble. What I would say about these is that they are rugged. The racks have been tested thoroughly so much so that they are designed to deliver years of reliable use.
By the way, I put together a summary of some of the best bike racks. You can click here to find out more on this.
Deluxe 2 bike trunk features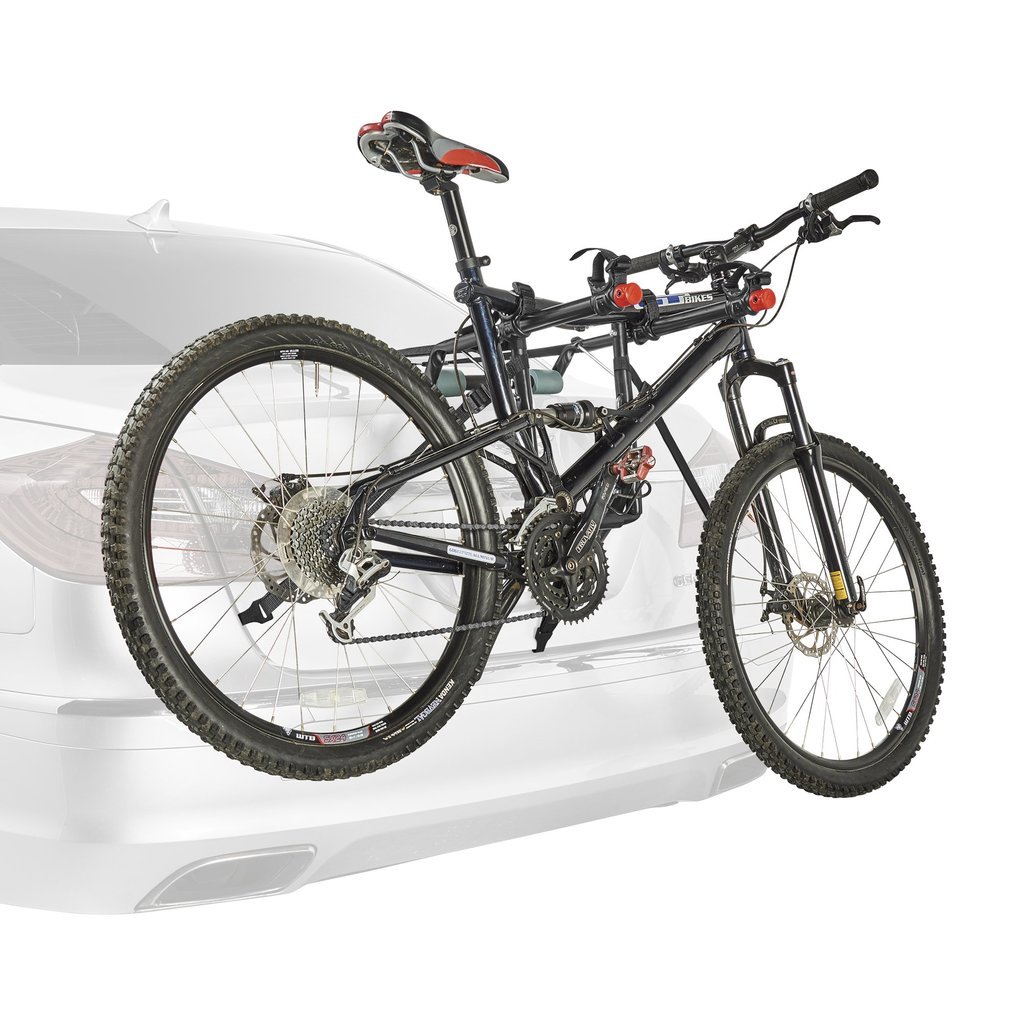 The Allen sports deluxe 2 bike trunk mount rack has many characteristics that are appealing to the end-user.  Allen's Deluxe Trunk Mounted Bike Carriers are perfect partners for long weekend biking trips. And they are really handy when you want to go out there with friends and family.
I have used these for long haul trips cross country from east to west and I have to say that they have not let me down. Their rugged designs and with Allen's decades of innovation, this rack is all that you need to fix your bike on your trunk wherever your adventure takes you.
Here are the features that need your attention:
A very simple, but sturdy design.
It fits most sedans, hatchbacks, minivans, and SUV's vehicles so you do not need to worry.
It has been manufactured to have a single configuration design. Like this, it eliminates any setup hassles and installation headaches that you may find with other rack types.
Allen's trunk racks are unique and protected by a patent. The patent protects Alle's technology with an ingenious individual tie-down system to secure and protects your bicycles. This is what makes the rack really unique.
The racks come with a nice little padded lower frame to protect your vehicle from being scratched by the bike. And they have added a set of left and right side straps for optimum lateral stability.
The one things that take it apart from some of its competitors is that the racks come fully assembled. So they are easy to install in seconds. I think it will take you a couple of minutes the first time, and then this will take a couple of seconds when you get the hang of it.
Another nice this is that it folds fully flat for easy storage in your boot or garage. That's real class.
A quick note on extended versions of the Allen sports deluxe 2 bike trunk mount rack
I think you need to know that you can also buy different versions of the Allen sports deluxe trunk mount 2-bike. For instance, there is a 3 bike rack version, an Allen 4 bike rack, and the Allen 5 bike rack solution.
These 3 different bike racks are exactly the same as the 2 bike rack, apart from the fact that they are a little bit heavier (not much) and can carry three MTBs, 4 and 5 MTBs.
In essence, these racks are just an extension of the 2 and 3-rack. See the below picture showing that you can have 4 bikes on your trunk rack.
Allen sports deluxe 2-bike trunk mount rack installation
Below is a video showing you how to mount the rack. Note that the video shows how to install the rack in the simplest way. What you really need to remember is not to leave any dust on the pads so that there are no scratches on your car at the end of the journey.
The only difference between the two racks and three, four and five bike racks is in the number of MTBs or road bikes the rack can carry. The installation is the same for all of the Allen trunk racks. Simple, yet effective. that's the essence of this design.
Conclusion
I hope that I managed to provide you with enough information about the Allen sports deluxe 2 bike trunk rack.
To summarise, the rack is simple to install, very strong, easy to fold, can be used on a multitude of vehicles, light, not expensive and finally can be stored in your garage quickly. See the below picture for proof on how easy it can be folded.
You can mount and dismantle the bike carrier in a matter of seconds.
The rack is patent protected for its unique design, showing how serious Allen's is on the manufacture of its racks.
All in all, the rack is great and as long as you do not leave dust on the pads, you should not have any issue with it.