The Car Rack Made for Electric Bikes
The Hollywood Racks Sport Rider Bike Rack for Electric Bikes has been specifically made for heavy-duty bikes.
And if you are reading this section, then you know that many new electric bikes can weigh more than 70 pounds.
Regardless of where you look, you should know that the vast majority of bike racks currently available on the market are designed with a maximum load capacity of only 50 pounds.
That's why you may want to consider the Hollywood Sport Rider for Electric Bikes. What you'll find interesting is that this rack has a load capacity of 2 bikes. And each bike can weigh up to 80 pounds. Another thing worth mentioning is that there are two rack versions.
The first version is for standard tires (up to 3″ wide). The second version is for fat tires (up to 5″ wide).
The Sport Rider for Electric Bikes
As I said above, this heavy-duty hitch rack will carry 2 electric bikes.
The other version is the extra heavy-duty electric wheel holders. This feature is for heavy load carrying capacity. It has an internally reinforced base system to support the extra weight.
What I really like about this rack, apart from the fact it carries heavy MTBs or road bikes is that it can fold up when not in use.
The other beauty about it is that it does tilt down for easy cargo access, I mean for easy access to your boot. Below are the full characteristics of the rack.
Characteristics of the Hollywood Racks Sport Rider Bike Rack for Electric Bikes
The Bike rack carries two electric bikes

A maximum of up to 5 inch wide tires

Overall maximum of up to a 60″ wheelbase

The maximum capacity 80lbs per bicycle

The racks have a locking bike frame hooks to avoid and deter thefts. It is provided with a keyed-alike locking hitch pin

Fits 2″ hitches only

The rack features patented no wobble-no tools hitch tightening system that allows a fast and secure installation – this is not to be used on any trailer, towed vehicle, or fifth wheel system

The rack can be folded flat against the vehicle when not in use

You can tilt it down for easy cargo access

Note that you need to remove the batteries on electric bikes before mounting and transporting bikes on the e-bike rack. This is a safety requirement

2″ Hitches only

The Fat Tire version is the model HR1455
Specifications of the Sport Rider Rack
This is a bolstered steel rack that is easy to use. It features some nice locking frame hooks.
It also has a heavy-duty wheel holder with welded gussets to reinforce the rack. With this feature, it can handle the extra weight of two electric bikes.
Note that the rack comes with a locking hitch pin with an anti-rattle system. This tightens the rack's shank to your hitch receiver.
Shank rise: 7″
Distance from the face of hitch to:

The closest part of the rack when folded down: 7-1/2″
Closest part of the rack when folded up: 5″
The farthest part of the rack when folded down: 27-1/2″
Farthest part of the rack when folded up: 16-1/4″

Carrier weight: 51 lbs
Limited lifetime warranty
Locking your bike with Ratcheting Hooks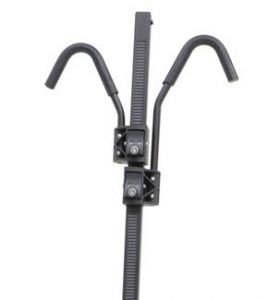 The Sport Rider SE2 has been manufactured using some of the highest quality rugged steel.
It is painted with a nice and sleek black powder coat finish and uses locking frame hooks to safely secure your bikes.
One of the nice characteristics of the rack is the ratcheting hooks. These are easily adjusted along the vertical mast and lock securely in place without any difficulty.
The manufacturer has thought about everything. It has added push buttons that allow the hooks to slide up the ratcheting system and permit easy bike removal.
Note that the hooks are of different sizes. Each and every hook functions independently. This means you can secure 2 bikes of the same or different heights on this Hollywood rack.
Here is the thing, the wheel holders allows you to transport bicycles with wheelbases up to 58″.
Note that you can adjust the wheel hoops too. You just need to slide these along the horizontal arms and you're done.
When you are done with adjusting your wheel hoops, you can secure them in place with hand knobs.
The manufacturer has provided Velcro-like hook-and-loop straps so that you can secure your bike's wheels to the holders with no pain at all. It so easy, you'll only need less than 5 minutes to secure your bike.
I like this feature quite a lot. Basically, the rack has been designed so it tilts so that you can access the rear of your vehicles' cargo area. Now, that's cool.
You do not need to unload your bikes and dismount the rack. Just tilt it and you get what you had stored in the cargo without any issue.
This is the fastest and easiest way to get your stuff.
You just need to remove the pivot pin, then pull the bottom quick-release spring pin, and finally, you can lower the rack. You're done.
The other cool thing is that the rack can fold up against the back of your vehicle when you're not using it.
To do so, just pull the upper quick-release spring pin and lift. Again, you're done.
Easy Installation with Locking Hitch Pin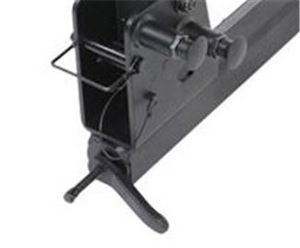 The Sport Rider SE can be easily installed in your hitch. You simply need to use the locking hitch pin. What you need to do is to slide the shank into your receiver, then insert the hitch pin.
I have to say that the frame hook locks and the hitch lock are both nicely keyed alike.
The rack includes an integrated anti-wobble handle on the front of the base unit.
This tightens the rack's shank to your hitch receiver. This feature prevents the rack from rattling around inside the receiver.
Add-On Wheel Hoop Adapters for Kid's SE Bikes

If you are transporting your kid's e-bike or standard bicycle, then you can use the wheel hoop adapters which are sold separately. These are referenced as HRSW-ADP-2.
Note that your kid's bike must have 16″ or 18″ wheels.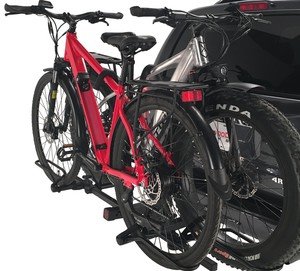 Hitch Bike Racks
Platform Rack
2 Bikes
Frame Mount
Bike and Hitch Lock
Fits 2 Inch Hitch
Class 3
Electric Bikes
Heavy Bikes
Tilt-Away Rack
Fold-Up Rack
Hollywood Racks
About Hollywood Racks Company
The Hollywood Racks firm was launched in 1973.
The owner began making trunk-mounted racks in the back of the bike shop in Hollywood, California. That's why we called it Hollywood Racks.
The main objective at the time is the same as of today: The aim is to manufacture high-quality racks and other products that are easy to use.
Now, with almost 50 operations, Hollywood Racks are still family-owned and operated. That's because they care about what they build and the owners want to ensure each product that comes out of their manufacture is of the best quality.
You can download the installation manual by clicking here.