The Best bike storage for Garages, Homes, and Appartments
If you are here, then you know the drill. You need to find one of the best bike storage for garages to solve your storage issue. And we have researched and then tested 10 of the most viable options. Then we shortlisted these to just 3 options.
As time goes by, we will continue testing bike storage racks for your homes, garages, apartments but also for your vehicles. You can read here two articles about bike storage ideas and vehicle racks.
When you'll finish reading this article, you'll be able to make an informed decision on which of the below garage bike storage idea you should go for and which rack you should buy.
Note that we have opted for the Delta Cycle Michelangelo and you'll get to understand why when you scroll down. In essence, we feel this is the best option to store your bike indoors. It does not matter if it is in a garage, apartment or home. The Michelangelo is what I called a stand (not a rack) that takes no effort whatsoever for installation. You do not need any expertise to install it either.
The rack is very light, quite strong and you have two versions. The two bike rack and the four bike rack. It takes any type of bikes such as road bike, MTB, hybrid and step-through cruisers.
Below I shall provide some key information so that you can create your own "bike storage garage" or for your home or apartment.
I believe this is the simplest rack to set up and take-down. So simple that anyone can do it. I like it so much that I usually give it as a gift to friends who love bikes but lack space in their homes.  I have to say that it is very graceful and yet sturdy where two-bikes can be parked. You can even park 4 bikes if you need them. Here is my delta cycle Michelangelo gravity storage review.
The MichelAngelo rack's Features
Lean against the wall – So, there's no attachment or drilling required during installation

Fastest and easiest installation – all of the required hardware is included and you also have an installation video

Can accommodate any type of bike with its unique adjustable arms

Nice finishing with the premium silver powder coating – It can go in any home, garage, apartment, work or storage environment

Avoid any marks on your wall with the rubber bumper protectors supplied with the product

The rubber arm sleeves are perfect to protect your bike finish and hold it securely on arms

Dimensions : 83 x 19.75 x 16 Inches
Maximum Load 80lbs (35kgs)

A best sellers rack

there is a USA service center
To prove to myself that the delta cycle Michelangelo 2 bike wall rack is easy to install, I got a few friends at home and got them to mount it. We had four guests for dinner and we made a challenge. Here is what I said to our guests:
Whoever built the rack the quickest would get the biggest cake's slice.
It worked wonders and we had great fun. Note that our guests are competitors, and they would always compete. So, I did not have to convince them.
Also, note that you only need a Phillips screwdriver and a small drill to assemble. And the good news is that you have a grand total of 1 screw to fix the rack against the wall (you are not obliged to screw the rack onto the wall – more about this below). So, all in all, the delta cycle Michelangelo gravity bike storage stand has a very low impact on your walls with one screw to fix the rack.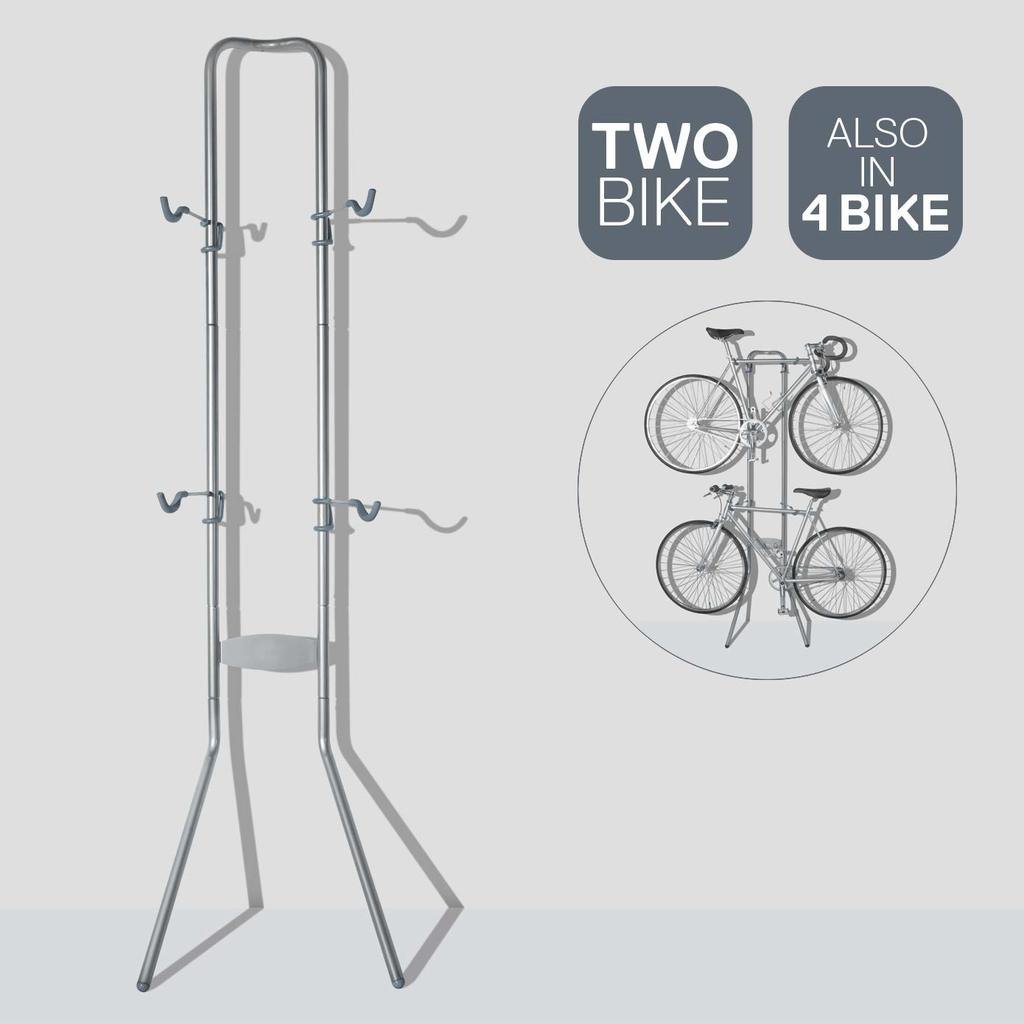 Now, the direction and instructions provided with the rack recommend attaching the stand to your wall. But most of the people I spoke to and have one of these racks say that they didn't bother with the screw.
They categorically said that they never had any issue with this bike rack garage storage stand. The only thing they mentioned is that they took care of when fixing the bike onto the rack.
What I particularly like is the support arms that hold your bike. These are movable. So you can fix any bike types onto the rack. For instance, it can withstand full-suspension frames or sloping top tubes bikes.
When you want to reposition the arms, you first need to remove the bikes from the rack. Then, you just need to twist the arms a little bit until they move freely. So, if you do not fix the rack to the wall, you do not really need a tool at all.
In summary, I provided a quick delta cycle Michelangelo 2 bike wall rack review. with my challenge, I showed you that is very easy to assemble and adjust. And you'll be pleased to find out that the rack comes with a couple of extra hooks to hang your accessories. Like this, you can hang your helmet onto it and not used your handlebars.
All in all, an easy to mount rack, not too expensive and fairly light so that anyone can handle it.
If you need to go vertical, then the steadyrack classic rack is perfect. It can hold a wide range of tires size and when not in used can fold-down. So it provides the optimum space-saving rack. I have to say that it was the easiest vertical rack to get a bike into and out of.
This rack is simply the Formula 1 of vertical bikes. You store your bike using your front wheel and as such, it can fit in the wall space behind a door or in a corner too. This rack is also known as the steadyrack classic on drywall.
Characteristics of the steadyrack classic rack bike rack
You can use it for road, hybrid and a wide variety of mountain bikes with tire diameters from 20" to 29" and widths up to 2.4"

It can support up to 35kg weight (It is tested up to 80kg)

The material used is first-class UV treated plastic

It folds away when you take your bike away (180-degree angle)

Very safe and easy to use

You have no heavy lifting 

Very stable and very easy to secure onto the wall

It helps to free up valuable floor space by using the innovative 160-degree side-to-side swivel

A very convenient storage solution around parked vehicles and congested home areas

It avoids any contact with the bike frame and rim reducing probable scratches

The rack stores flat against the wall in a closed position when you do not use it. It is out of the way, but still easily accessible when needed
The difference between the steadyrack classic 2 pack and the other racks available on the market is found in that you do not need to lift your bike off the ground to store it. This comes handy when you are tired. Most of the other vertical options require you to lift your bike well off the ground and at the same time you need to twite the wheel to get it into a hook.
That's not easy to perform. This is why the Steadyrack Classic bike Rack is great. When installed, you just need to unfold it from the wall like an old-fashioned ironing board.
And for you to secure your bike on this rack, you just need to tip it back on its rear wheel. Now, roll it forward. When the front wheel sits in the rack, you're done.
What I personally like about it is that the rack wide enough to accommodate most of the mountain-bike tires. And that's perfect as I have many mountain and road bikes.
Here is a quick feedback sports velo column review.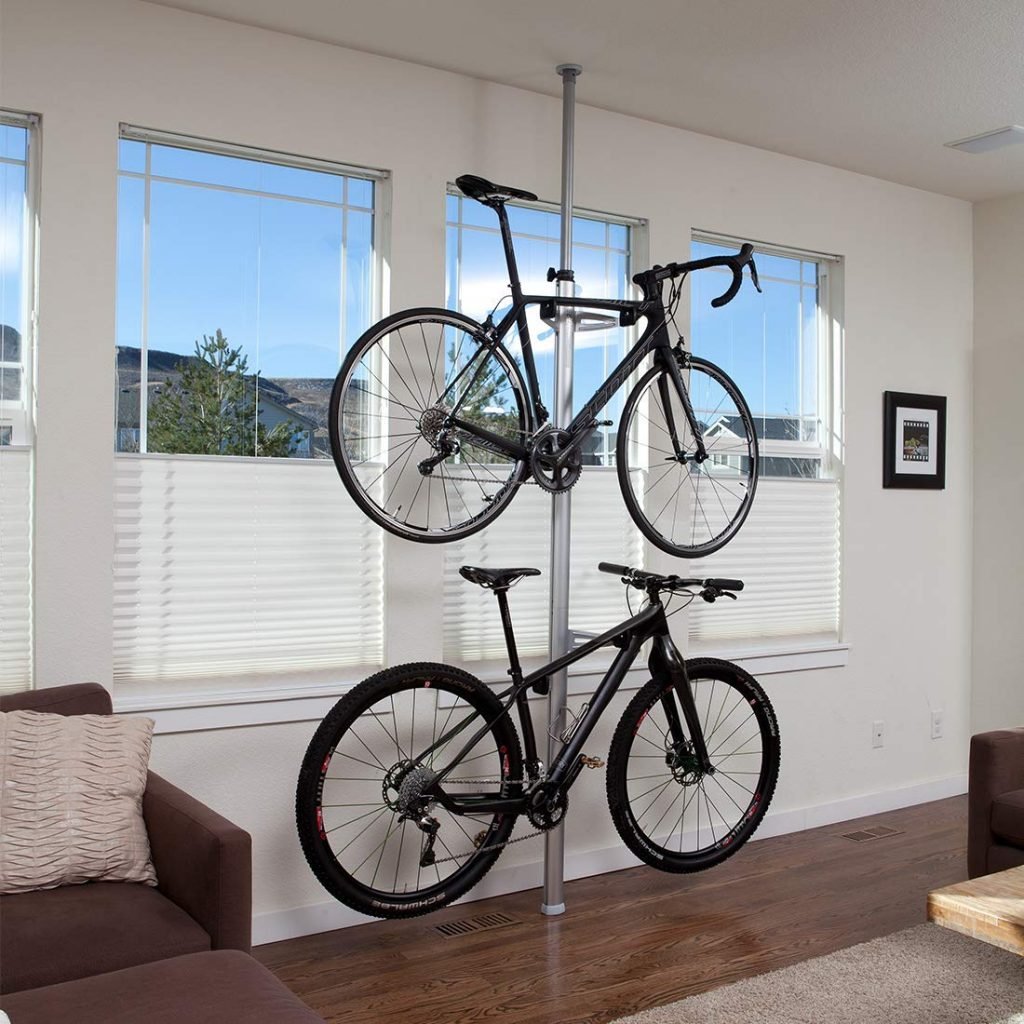 And I'd like to start with the price. If you want to buy a set of feedback sports velo columns, then you'll find that the rack is a little expensive. But the good news is that you can store your bikes anywhere (house, apartment, garage, etc.) and in any room without drilling a single hole.
Yes, you heard it, not a single hole in a ceiling or wall at all. That's a real advantage when you are renting an apartment where your lease does not allow to drill a wall or ceiling.
Most of the people who buy the Feedback Sports Velo Column have, in most cases, their wall space entirely occupied with either windows, artwork, bookcases, or doors. So there's no space for any bike racks.
This is also the case for a bike garage storage ceiling solution. At times, you may not be allowed to drill your garage walls or the walls are full of your favorite tools that there's no more space for your MTB. So you need to find another solution. In this case, you may want to use your ceiling for storing your bike, but the ceiling is too low to accommodate any rack. You are faced with an impasse.
Well not really. You can easily use the feedback sports velo column 2 bike storage rack.
The rack can hold up to two bikes and it is very easy to install.
Characteristics of the feedback sports silver velo column
Fantastic bicycle storage idea for people who have a sophisticated eye
Supplied with soft rubber contact points to protect your frame finishes and your ceiling too
The rack fits most road bike, many cyclocross bikes, is strong enough for mountain bikes, and I have even seen it being used for not too heavy electric bikes
A world-leading spring-loaded compression system
The frame cradles are easily adjustable and can accommodate most bike frames and tube shape
A good and innovative design avoids the need for permanent support for stability
The manufacturer supplies the adapter for open-joist ceiling applications
The column is adjustable for height from 7'0 to 10'0 (2.1-3.0m)
A nice finish and durable anodized aluminum maintains a long-term clean fashionable rack
There are options to buy add-on cradles to create a stand for 3 or 4 bikes
You have two colors: black or silver
You can store some of the heaviest of bikes – 40lbs (18kg) per cradle – 160lb (73kg) 4-bike total
It comes with a 3-Year Warranty
As you don't need to screw or nail the rack, you can keep moving it around as you move your furniture.
Note that the feedback sports velo cache 2 bike storage column is solidly constructed.
Finally, the feedback sport velo column 2 bike storage unit support arms (the arms that hold your bikes) can be adjusted easily. Like this, you can fit different kinds of bike frames and sizes.
Why do you need to consider a bike storage or rack?
I am sure that you would agree that a bike is one of the most cost-effective vehicles and probably your favorite way of transportation (as much for many of us including me).
They are typically powered by pedals (you know this), and you just have to invest an effort while driving the bike. The good news is that you lose weight and keep fit while performing some nice exercises.
The bad news is that most families have more than one bicycle, and storage is often a problem. As such, and like me, you need some innovative and general bike storage ideas.
So the reason is two-fold:
Ensuring that your bike is stored in a way that it is not on the way.
Providing a safe and secure method to avoid your bike being scratched or damaged inadvertently.
When do you need your own bike storage in a garage?
If you have a house with a garage, for example, that's good because you can leave your bike there. Your bikes can stand next to your car, and you can even use bike storages for garages.
However, even in this best-case scenario where you have a garage, you have sometimes to find novel bike storage ideas in your garage. And that's because space is of premium and you'd want to optimize every inch of it.
This is why the best garage bike storage solution is to use some racks.
However, there are many different types of these racks. This is really nice as you are free to select the most appropriate one for yourself.
But there are so many criteria that you need to take into account before selecting one of the racks.
For instance, garage bike storages are usually different by various criteria, including specifications, location, installation requirements, vertical, horizontal, and other features.
Similarly, some models are bigger and are more suitable for a larger number of bikes, while others are significantly smaller.
However, most of the models available on the market are only suitable for two or three bikes, and you'll seldom find a rack that can handle more than that.
Note that you can find a number of racks that fit well in an angle of a garage or any other similar room. They will stay perfect if you leave them in that way. But I personally do not like these unless it is absolutely necessary.
The reason is that they are more expensive because they are highly specific and not mainstream neither mass-produced.
All in all, selecting a bike garage storage solution is complex and requires some background information and key understanding. That's why I put together the above article to help you narrow down the search.
Similarly, you'll have the same problem for your vehicle. I have put together a good example of a rack that goes onto your car. You can read it by clicking here.
What are the bike storage for garages prices like?
The prices of bike racks vary, and the figures depend on different circumstances. For example, small racks for a single bike are typically the cheapest ones. You can get them at really affordable prices. The bigger versions for several bikes are, of course, more expensive.
They can cost you $50, $100, or even more money. Usually, the rack for seven bikes is considered the biggest one in the selection of the standard size storages.
But there are also specifically developed bike storages for garages which can accept even a higher number of these vehicles. The quality, however, might vary. So it is important to check specifications and all available details before purchasing.
Below is an example of a rack for bikes that I like.
Where to buy a bike storage for garages?
You can find these bike storage in different offline stores. But you can also use the Internet for the purpose. Online marketplaces, such as Amazon and eBay, have a big offer.
We have provided many links that provide you an opportunity to learn more about the different options but also to buy your preferred rack.
Note that the links we provided on these websites are great because you can read experiences and reviews from previous customers.
That's how you can check the quality of each model.
For example, you can choose only those with a high rating and many positive reviews (we have already given you some of the best racks anyway). It is a suitable way to avoid any mistakes.
Also, Amazon and eBay sellers usually provide worldwide shipping, and the item will arrive at your home address after the purchase.