Introduction to the Giordano Rapido
You live an on the go lifestyle, and you need a bike to keep up with you. Turns out, spending a fortune isn't an option for you right now.  Look no further than the Giordano Rapido Single Speed Road Bike.
While Giordano kept things simple with the Rapido Single Speed, they didn't hold back on the distinct craftsmanship nor the quality to keep up with your fast-paced life. Whether a commuter, college student or beginner cyclist, you'll find this a great option to get out on the road.
Overview of Giordano Rapido Single Speed Bike
Size
56 CM / 18 Inches
Frame
Aluminum Frame
Type
Single Speed Road Bike
Speed
None
Brakes
Alloy Pull Brakes

Wheel

Size

Alloy 700c
Rating
8.2/10
Brand
Giordano
Pros
Great looks, Light-weight Aluminum frame, Easy to maintain, Chap Price
Cons
Stickers peel off easily, Need to upgrade some parts
Summary
Great single speed bike for bombing around town
Where to buy
Check On Amazon
The Advantage of the Giordano Rapido
Performance: Speed and agility are at the forefront of the Giordano Single Speed Road Bike, but it aluminum frame holds up under the terrain of the urban city streets for not only safety but also smoothness
Versatility: While advertised as a single speed, the Giordano Rapido comes complete with a flip-flop hub which means you can switch from single speed bike to a varying freewheel option, which will allow you to coast more than a single speed.
Price Tag: Everyone loves a good deal, and this isn't any different. But don't let the price fool you, there is high quality behind the low dollar sign price tag.
Smooth Ride: With a lightweight aluminum frame and steel fork, you won't be feeling the vibrations of the road ahead as you ride city streets.
Simple Assembly: You won't need hours to put your bike together. It will take less than forty-five minutes to go from box to the road bike if you have prior experience in bike assembly.
---
Giordano Single Speed Road Bike Review
Brakes and Gears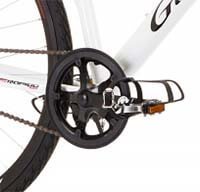 Designed as a classic commuter bike, the Giordano Rapido Road Bike is with a single-speed gear and means that you will most likely be riding in urban areas with minimal hills. You will want to stay on flat terrain as it will be difficult unless you have flipped that rear tire for more freewheeling options.
There is not a derailleur on the Giordano Rapido, as there are not the options of gears. You will find this on other bikes such as BMX, fixed gear, commuter bikes, and other beginner bikes.
Alloy Side Pull Brakes make for quick and precise braking keeping you safe, as you are maneuvering through traffic and sudden stops.
Wheels and Tires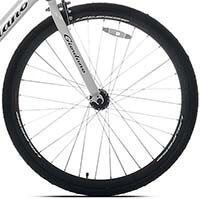 The bike rolls on Kenda 700X32 hybrid tires are thicker than the average road bike tires, which means they will be able to withstand the potholes of any city for the most comfortable ride.
Combined with 700C Alloy Rims and hubs, the Giordano Rapido Road Bike is meant for beating up with serious pavement pounding. You will get to your destination with confidence, riding on these tires.
Handlebars
The handlebars are steel road material, measuring 42cm across. This gives you enough room to not only reach the shifters from the drop bars but to hang out upright with the greatest of comfort.
I plan on switching out the handlebar tape, as I am not a fan of the manufactured design of the tape. Easy fix to bring more style to this already beautiful design.
Riding Quality
The Rapido Single Speed touts a handcrafted aluminum frame and a steel fork, weighing about twenty-nine pounds. This makes the Giordano Rapido sturdy and solid to absorb the vibration of city streets. Combined with the wheelset, it is durable while still giving you speed and ability to navigate the traffic of any city.
Take to the drop bars for a more aerodynamic ride, giving you the peak performance of this road bike and most importantly keeping you safe when out for long trips.
Suggested Sizing
The Giordano Rapido comes in two sizes: Medium and Large.
Medium fits riders 5'8" to 6'0", with an inseam of 29 to 32 inches
Large fits riders 6'0 to 6'3", with an inseam of 31' to 34 inches.
After you assemble your bike, it never hurts to go to your local shop to have them tune it up and fit you properly to give you the most comfortable ride. This will keep your bike maintained in tip-top shape, as well as keep your body pain-free.
---
Pros & Cons of Giordano Rapido Road Bike
Pros
Quality tires with double wall rims
Sleek, Sexy, fast and Affordable commuter bike
Kickstand included by the manufacturer to park anywhere by stand
Assembly was quick and easy; instructions were simple and helpful
This lightweight bike is great for performance, speed, and versatility
Cons
Less than stellar seat or pedals, these can easily be switched out.
Because it is a single speed bike, there is more tension put on the chain. Be sure to keep an eye on it to keep it maintained properly – and you will be fine.
Technical Specs at a Glance
Bike Frame: The Aluminum frame is combined with the steel fork
Speed: This is a single-speed bike, which means there is no derailleur
Wheel & Tires: Tires are quality 700c X32 Black Kenda road tires, combined with alloy rims
Brakes: Alloy Side Pull Brakes
Kickstand: Steel kickstand to prop up for added convenience
Weight: The overall weight of the Giordano Rapido is twenty-nine pounds
Extra: Rear Flip Flop Hub with the options of single-speed and freewheel single speed
Gaining in popularity, this single-speed makes for easy city commuting!
Unique Features
This bike touts a flip-flop hub wheel. What does that mean for you?
While you can use the Giordano Rapido as a single speed road bike … or you can flip the rear tire and go for a freewheeling option, giving you more gearing or coasting options. Nothing like having alternatives to keep your bike as versatile as your active lifestyle.
Frequently Asked Question & Answer
Question: Is this bike fully assembled out of the box?
Answer: Mostly. You will need to just add the seat, front-wheel, pedals, and handlebars. All easy adjustments out of the box. If you want to ensure safety for your first ride, head to a bike shop and have them to do a quick "once over" and tighten any bolts.
Question: How much does this bike weigh?
Answer: Twenty-nine pounds.
Question: What is a flip-flop hub again?
Answer: Flip-flop hubs (also known as double-sided hubs) are threaded on both sides. This gives the bike the ability to be ridden as a fixed gear bike or as a standard freewheel. You will need to flip the rear tire and rethread the cog. If this is an option for you, best to head to a bike shop to show you the "how-to" first.
Question: What sizes does the Giordano Rapido come in?
Answer: The Giordano Rapido is manufactured in Medium and Large sizes.
Buying Advice
As you know from the review, this single speed road bike is a great commuter bike at a reasonable price for the starter. It provides great performance on the road. But before going to buy this one please keep in mind to change some parts to fit your body. Some people don't like its seat, handlebar tape & pedals. If possible change them for better performance.
Final verdict on the Giordano Rapido
The Giordano Rapido Single Speed Road Bike brings together high quality, versatility and affordability to meet the demands of your active lifestyle. Furthermore, you would be hard-pressed to find a better bike under $300.  And you can't beat that kind of deal. If you keep the Giordano Rapido maintained and in tip-top shape, it will be your favorite mode of transportation for years to come!
---
Alternative Bikes You May Like