Diamondback Overdrive 29er Hardtail Mountain Bike Review
What is the Diamondback Overdrive 29er?
Are you a beginner level rider & looking for a hardtail bike to start cruising the trails? Diamondback Overdrive 29er is a great hardtail bike that can meet your expectation.
This is poplar bike for both entry-level and mid-level mtb riders. It is also an ideal choice for tall riders as they are not fit on 26″ wheel sized bike. Because of its great features & specs we have listed the Diamondback Overdrive 29er on our list of top rated mountain bikes for the money. Check further to know details about this incredible bike
Overview of  Diamondback Overdrive 29 Hardtail 2018
| | |
| --- | --- |
| Frame Size | 16″ – SM  / 18″ – MD / 20″ – LG / 22″ – XL |
| Frame Material | 6061-T6 Aluminium frame |
| Bike Type | Hardtail |
| Speed | 3×8 – speed drivetrain |
| Brakes | Tektro disc brake |
| Wheel Size | 29″ wheels |
| Rating | 8.7/10 |
| Brand | Diamondback |
| Pros | Large Wheel, Plenty of traction for climbs, Precise control, Durable |
| Cons | Pedal & Seat need to upgrade |
| Summary | Strong, sturdy 29er lighter bike for entry level rider. Great for bike paths, dirt roads, and mild technical trails |
| Where to Buy | Check On Amazon |
It is a budget-minded bike for any outdoor adventures, built for rocky trails and wet conditions.
The Diamondback Overdrive 29er is a great choice for entry-level riders searching for a quality mountain bike with a tight budget.
Finding the perfect size is the key to unlock great potentiality and fun riding. Like other DB 29 mountain bike, the bicycle comes in four size clusters.
The four size clusters include the small (16"), medium (18"), large (20") and extra-large (22") sizes.
The small size fits riders of heights between 5.4" – 5.7", the medium between 5.7" – 5. 10", large between 5.10" – 6. 1" and extra-large being a perfect choice for riders of heights between 6.1" – 6. 4".
What Diamondback Overdrive 29er Mountain Bike Offers to the Riders
Strong Aluminium Frame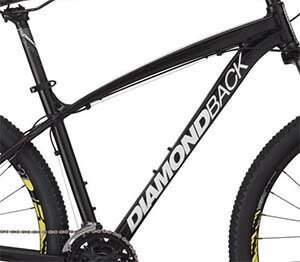 DB bicycles are well known in the market for their reliability and sturdiness. This is ascertained by the nature of frame materials used in their build. Just to mention, there are myriad choices of frame materials that can be used. Of them all, aluminum frames are the best, regarding weight and durability.
The overdrive 29er hardtail bike capitalizes on this. It features an improved aluminum overdrive frame with newly shaped custom formed and butted tubes, a machine head tube and artificial dropouts and an accompanying disposable derailleur hanger. The custom formed and butted tubing helps in enhancing the bike's strength without being additional weight.
Powerful Braking System
All mountain bikes by DB are designed with efficient braking systems. Note that the braking systems of any bicycle provide more control and sensitivity on how fast or slow the bike stops. This is especially important when descending a steep hill or trail.
That said, the Diamondback 29er overdrive bicycle is fitted with Tektro mechanical disc brakes with 160/180 mm rotors. This combination is good for bringing big wheels, such as those of the Diamondback Overdrive 29er to slow down, particularly on the level ground. They offer excellent stopping power even with minimal effort on the brake levers. This saves you from the repeated strain.
29er Rolling Wheels
Mountain bikes often take on large wheels for the obvious reason; they are less likely to get stuck in roots and crevices. The Diamondback Overdrive 29er hardtail bike isn't an exception. It comes with 29″ large diameter wheels, which provide an easy roll over bigger holes. They also offer plenty of traction for climbs and similar trails.
Besides being large in diameter, the wheels are wide enough to provide great traction over the trail. They are approximately 2.25" wide for precise control and feel. For sure, riding on this bicycle gives you more than the experience you expected for an entry-level mountain bike.
Ease of Assembly
Diamondback clearly understands that amateur riding enthusiasts often face assembly problem after purchasing and successfully receiving their new bikes. Some even attest to spending more than 2 hours trying to figure out how to fix and adjust the parts.
It is due to this that most bikes are delivered pre-assembled. Each bike is partially disassembled before delivery. Customers get their purchased bikes with 85 percent assembly margin. This leaves simple componentry and adjustments such as fixing of pedals, saddle and adjusting brakes and brake levers.
Compared to assembling the bike from scratch, this saves the riders much time. Besides, it doesn't require much knowledge and tools to complete this.
Sloping Tube
Nearly all mountain bikes by DB come with sloping tubes that offer utmost standover clearance. In case of this 29er mountain bike, it features a 73-seat tube and a 71 head tube angle that generates an ideal cross-country and track geometry.
As if this is not enough, the 390 mm chainstays can only be equated to exceptionally snappy rigs. With this, you can easily get the bicycle off the ground without analogous skills. All these combines, the Diamondback Overdrive 29er is a fun-ride and enthralling to ride powerhouse.
Sizing Clusters
Finding a perfectly fitting bicycle is one of the things you should not compromise when searching for a hardtail mountain bike. Luckily, DB bicycles come in various size clusters, enabling riders to choose one that perfectly fits them. For this model, its frame geometry is designed to make up for its bigger size, but all riders will also find their match.
The lockout feature allows riders to adjust the Diamondback Overdrive 29er to rider's height. Nonetheless, the various size clusters allow you to choose one that suits your height. They range from small, medium, large and extra-large sizes, which suit riders of heights ranging from 5.4" to 6.4" respectively.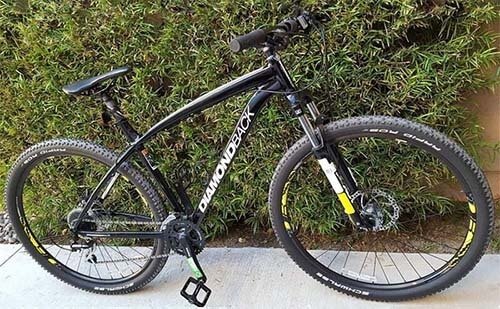 Pros & Cons of the Diamondback Overdrive 29er
Pros
Durable 29er mountain bike for a beginner
Well built & sturdy. Good for taller/big guys
24 speed with the shifter is great for speed lover
Aluminum hardtail frame hence lightweight
Dual disc brakes for maximum stopping power
Large 29″ wheel to roll over any obstacles easily
Shimano drivetrain used for a precise gearing system
Comes with 85% assembled & easy to assemble the rest
Diamondback Overdrive 29er Specs at a Glance
Frame: High-Quality 6061-T6 Alloy Frame
Suspension Fork: SR Suntour Suspension Fork
Speed: 24-speed drivetrain with Shimano trigger shifter
Brakes & Rotor: Tektro disc brakes with 160/180mm rotors
Chain: KMC Z82 chain to cover 3×8 speed drivetrain
Cogset: Shimano 11-32T 8 speed cogset
Wheels & Tires: 29er allow wheels with WTB Wolverine 29 x 2.2 tires
Rims & Spokes: DB Double wall Alloy Rim with 14g steel spokes
Saddle & Seatpost: M-Seres Saddle with 30.9mm adjustable seat post.
Pedals: Platform Pedals
Diamondback Overdrive 29er Weight: 32.4 lbs
Extras: Toolkit with Manual & Installation Guide
Note: Specifications Subject to Change
FAQs & Answer
Question: What does ReadyRide feature mean?
Answer: This means that the bike is 85% assembled by the manufacturer when delivered. You will need to make some adjustments and install few parts to get on track. The parts to assemble include the front wheel, seat, handlebars and pedals. Installation tools included.
Question: Is this mountain bike available in different sizes?
Answer: Yes. The Diamondback Overdrive 29er is available in four size clusters. Choose your perfect fit from the small, medium, large and extra-large models. All these should be based on your height.
Question: What is the weight of this mountain bike?
Answer: The Diamondback Overdrive 29er weight is approximated at 32.4 lbs
Question: Does the bike's rear wheel have a quick release feature?
Answer: Yes. The rear wheel of the Diamondback Overdrive 29er has a quick release feature.
Question: Just setting up the Diamondback Overdrive 29er and on the front tire, noticed a little grinding sound. Do I need to adjust the brake?
Answer: No. This is common for new disc brakes. They will wear down over time, and you will no longer hear any grinding.
Buying Advice
Based on the information provided above, you may find it prudent to replace the seat with a comfortable model once you purchase this bike. You can probably install a thick seat cover on the seat for additional comfort. Regarding the pedals, you can purchase advanced and more durable pedals to replace the plastic pedals.
Final Verdict on the Diamondback Overdrive 29er
After went through Diamondback Overdrive 29er review you may be amazed how cool the Diamondback Overdrive 29er. Its a perfect entry level 29″ hardtail mountain bike below 500 dollars.
As an entry-level rider, it is essential to have a highly reliable and safe bike. A low-quality bike will waste your time and money. That's why finding a bicycle that delivers great quality and features yet at a reasonable price is important. The Overdrive 29er is a great hardtail bike that can meet your expectation.
---
You May Also Like To Read
---
This post was last updated on June 4th, 2018
Diamondback Bicycles Overdrive 29er Hardtail Mountain Bike
COMPONENTS -

9.0/10

PRICE -

8.5/10

WEIGHT -

9.0/10

SPEED -

8.5/10

DURABILITY -

8.5/10