Introduction to the Diamondback Hook
Dirt experience hasn't changed. But hardtails mountain bikes have. This is exactly what a Diamondback Hook Hardtail bike confirms.
It's a simple yet effective mountain bike designed for a little bit of everything under $1000 budget.
The bicycle is designed to be efficient, fun and of utmost importance, it's one of the quickest mountain bikes I've been riding. It certainly brings a whole new experience to mountain riding.
The Diamondback hook hardtail combines the climbing efficiency of a typical hardtail bicycle with its slack and aggressive geometry.
The resultant is an all-mountain shredder. It is a good entry-level mountain bike and an impressive model with lots of opportunities.
With the Diamondback Hook, riding in nearly all terrains is possible.
This is perhaps supported by the essential component of this bicycle. Its 6061-T6 butted alloy extra responsive frame, large wheel, 120mm travel suspension fork, and an efficient drivetrain are among the noteworthy features of this fantastic entry-level mountain bike.
The Diamondback Hook defies categorization while offering an experience well-suited for mixed terrains. Read this Diamond Hook review below to know more about this beginner's hardtail bike.
Overview of Diamondback Bicycles Hook 27.5 Hardtail Bike
| | |
| --- | --- |
| Frame Size | 16″ – S / 18″ – M / 20″ – L / 22″ – XL |
| Frame Material | Aluminum 6061 T6 frame |
| Bike Type | Hardtail |
| Speed | 24 speed |
| Brakes | Disc brake |
| Wheel Size | 27.5″ |
| Rating | 9.7/10 |
| Brand | Diamondback |
| Pros | ReadyRide, 750mm Wide handlebars,  Double-wall alloy rims |
| Cons | Hard saddle, No water bottle cage |
| Summary | Great beginner bike for taking it out on novice trails |
| Where to Buy | Check On Amazon |
Who is the Diamondback Hook Designed for?
This bicycle is designed for riding enthusiasts willing to experience a whole new riding experience. It's light, very responsive and plain fun to ride.
The bicycle contains all the features of an all-mountain bicycle should have. This makes it an excellent choice for entry-level mountain riders. It provides lots of opportunities. It's a hassle-free intro bike with a modern take on timeless mountain biking.
Like other Diamondback mountain bikes of this caliber, this also comes in four size clusters. This is prudent for potential riders to find their perfect sizes.
The small (16") suits riders of heights ranging between 5.4" – 5.7". The medium (18") is perfect for those of heights 5.7" – 5.10".
Moving on, the large (20") and extra-large (22") are a good choice for riders of heights ranging between 5.10" – 6.1" and 6.1" – 6.4" respectively.
---
Features Review of Diamondback Hook
Reliable Aluminum Hardtail Frame
Hardtail mountain bikes, including Diamondback Hook, have evolved over a long time. The primary changes are all in the frame.
For an entry-level bike, a durable, sturdy, reliable and light frame is all you can expect. This is what this bicycle delivers. All these contribute to the low-slung and slack geometry of the Diamondback Hook.
The bicycle comes with a 6061-T6 butted aluminum alloy frame with 1 1/8" headtube and a formed top and down tube.
The frame has integrated disc brake tabs that provide progressive geometry with an internal dropper ready. This is a perfect choice for excellent trail riding performance.
120mm Suspension Fork
This hardtail mountain bike is undoubtedly the best choice for entry mountain riders.
However, it can also be taken for trail and park experience. Regardless of terrain, obstacles, bumps, and other rough trail features are bound to be encountered. This is why a suspension system is an excellent addition to such bikes.
This bicycle is a hardtail bicycle. It implies that it has a front suspension mechanism.
If you get this MTB, you'll have the pleasure to use the SR Suntour XCM fork with 120mm of travel. The fork comes with 30mm stanchions, and coil spring with preload adjust. This tackles the trail obstacles and sucks up the rough stuff.
SRAM 8 Speed Drivetrain
Cruising the diverse trails requires that you have alternate gear options. Unlike the traditional bicycles which had only one option, the various gear choices enable you to maintain your riding speed regardless of the terrain. With the gear system, shifting from one gear to another should be smooth and as easy as possible.
The Diamondback bike drivetrain comprises a full ISCG-05 chain guide with roller front derailleur, SRAM X3 rear derailleur, SRAM X4 shifter, SRAM PG820 Cogset, and a KMC Z82 chain. All support 8-gear speed. They offer an easy and smooth shifting.
27.5 – inch Wheelset
Crossing the diverse trails requires that you have an overly effective wheelset. To reminisce, the wheelset comprises a wheel, rim, and spokes. All, working together, determine the roll-over speed and riding stability. A bicycle with narrow wheels provides less traction and stability. On the other hand, wide wheels offer great traction.
This hardtail comes with Diamondback SL-7 double-wall rims, Kenda Nevegal lite tires, and 14g stainless steel spokes. The set is 27.5"x 2.35" wide. This provides a great roll-over speed as well as better trail traction and stability.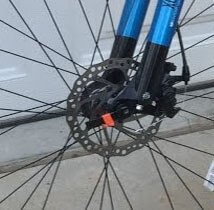 When the ride is incredible, you tend to increase your riding speed slowly. Compounded by the smooth shifters, great suspension system and a wide choice of gears, you'll find yourself cruising at an amazing speed.
This is where having a powerful braking system is required. Disc brakes are the mainstay braking system for modern bicycles.
To provide this maximum stopping power, the Diamondback Hook features the great Tektro Aires mechanical disc brakes with 160mm rotors both at the front and rear wheels.
They are supported by Tektro 2 finger allow linear brake levers with reach adjust. This combination brings the bike to a complete halt at your conscience.
Ready Ride Feature
You should always prioritize a bicycle that comes with a ReadyRide option. This is true unless you are willing to spend much time and energy assembling the bicycle after delivery. When it comes to ReadyRide bikes, they are delivered partially assembled. This relieves the great assembly work of the rider.
For instance, the Hook Bicycles is delivered 95% assembled. Note that the complete bicycle assembly requires an expert and up to 2 hours of time. To evade this, getting a ReadyRide option bike is prudent. When the Diamondback Hook is delivered, you only need to fix the front tire, handlebar, and the seat before setting off.
Pros & Cons of Diamondback Hook 
Pros
Teckro Aires disc brakes to stop on a dime.
It is easy to assemble, comes with a ReadyRide option.
Aluminum 6061 T6 handbuild frame hence lightweight
Perfect geometry for the entry-level & intermediate riders.
Has an SRAM drivetrain & shifter for smooth 27-speed shifting.
120mm SR Suntour travel fork with coil spring for a comfortable ride
27.5" wheels with double-wall alloy rims for rollover trail obstacles.
Comes with a handlebar which is 750mm wide for excellent riding comfort
Cons
The saddle is quite hard
Water bottle cage not available
Diamondback Hook Specs at a Glance
Frame: 6061 T6 butted alloy frame
Suspension Fork: SR Suntour XCM 120mm travel suspension fork
Speed: 27-speed wide gear range
Shifter: SRAM X4 shifter to cover 24 speed
Drivetrain:  SRAM x3 derailleur for 8 speed
Brakes: Tekro mechanical disc brake with 160mm rotors
Chain: KMC Z82 for 8 speed
Wheels: 27.5 inches in size
Tires: 2.35″ Kenda Nevegal lite tires
Rims & Spokes: Doublewall DB SL 7 alloy rims with 14g steel spokes
Saddle: DB Syncr saddle
Seatpost:  30.9mm adjustable alloy seat post
Pedals: Alloy platform pedals
Diamondback Hook weight: 30.95 lbs
Extras: Toolkit, Manual & Installation guide
Note: Specifications Subject to Change
FAQs & Answer
Question: What is the fork type of the Diamondback Hook? Coil or air?
Answer: This bike, from the feature description, comes with a coil fork.
Question: I am 5.11" and range about 165 – should I get the medium or large size?
Answer:

Your height and weight combination seem to suit the large size perfectly. Customers of nearly your same size who took the larger size attest the bike feels perfect.
Question: What size should I get? I am 5'8
Answer: Finding the perfect bike frame size is through measuring your total inseam. This should be done when wearing full attire, including the cycling shoes. You should then compare it to the bicycle's standover height. Use the size chart to ease your search.
Question: Does the bike have an adjustable suspension?
Answer:

Yes. The bike has a front fork suspension system. It is adjustable.
Question: Is the SR Suntour XCM suspension shock that accompanies the Diamondback Hook tapered?
Answer: No. the XCM fork is straight 1 1/8" steer tube fork which is not tapered.
Final Verdict on the Diamondback Hook
Super light, reliable and fun to ride are just but a few descriptions Diamondback Hook 27.5 mountain bike has. This bicycle is a perfect choice for a beginner mountain biker. Simple, affordable yet a performer. It is an excellent bike for the price. Features of the Diamondback Hook attest to this. Its fork is very squishy and assuring for a rider. This is because it absorbs a lot of shocks.
Though pedaling uphill can be quite hard, the wide gear choice makes it easy. The efficient and reliable drivetrain with an alloy single-ring crankset provides power to the drivetrain. Mechanical disc brakes give the necessary power to control your speed and stop on a dime, and Kenda wheels have excellent grips for corners and a variety of terrain.
---
You May Also Like To Read
Diamondback Bicycles Hook 27.5 Mountain Bike
COMPONENTS -

9.8/10

PRICE -

9.5/10

WEIGHT -

9.8/10

SPEED -

9.5/10

DURABILITY -

9.8/10