The Best Adult Trike – Schwinn Meridian 3 Wheel Cruiser Bike
The Schwinn Meridian is simply the Best Adult Trike. If you prefer, it is the Best Three Wheel Cruiser Bike currently available on the market.
And I think you would agree that bicycles play a very important role in our lives. They help us relax our muscles or build muscles. But they also help us calm down mentally just by having a family or personal ride through the most beautiful countryside or within our cities and villages.
However, there are times where we want to be different or cannot ride a standard 2 wheel bike. Maybe due to the lack of balance, or because we are getting a little bit older.
This is why it is sometimes good to consider alternative methods for cycling. For instance, one should consider the best 3 wheel bikes for seniors if you feel that you are losing some confidence riding on a two-wheeler.
And if you want to go for the best adult trike, then I would suggest what the Schwinn Meridian brings.
Let me say this. The Schwinn meridian offers a very comfortable cruise on a tricycle. It has very safe reclining seats and provides incredible stability that will leave you stunned.
All of the different trikes from the Schwinn models have become popular among the best for their amazing wheels of approximately 24 to 26 inches, their lightweight for being constructed based on aluminum and their peculiar design that attracts all the elderly.
Schwinn Meridian Trike Review – The Features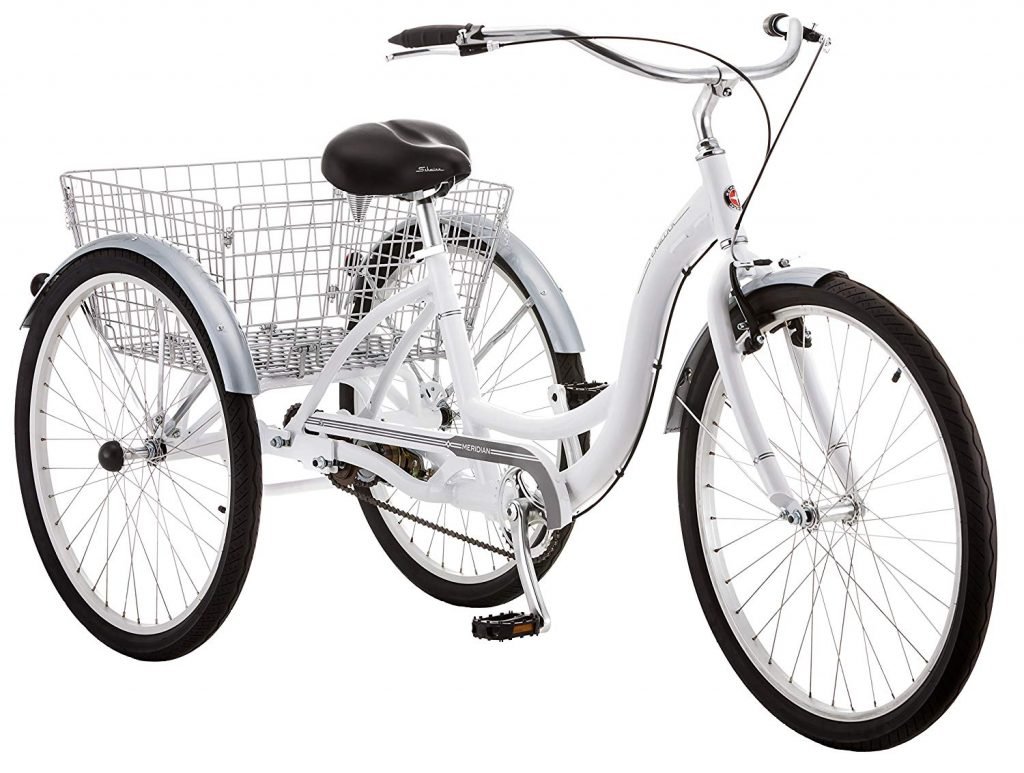 The 3 wheel bicycles for seniors provided by Schwinn meridian are very popular in the market. They are categorized as THE number 1 in the market dedicated to people who cannot and do not want to ride on two wheels.
The tricycle is very easy to use, has a great balance, and all its weight is distributed in such a way that you will feel absolute safety with each pedaling. It can reach great speed and its smoothness is guaranteed in each zone of the tricycle.
Schwinn Meridian has only one speed which is ideal for short walks in your community or city, country passes or visits to your favorite store.
The recommended height is 5´4 to 6´2 feet, and its maximum endurance weight is 300 pounds; people of different sizes use it, weights, and ages so Schwinn Meridian does not have limitations in its use.
It is built on light aluminum but very resistant, which prepares it to withstand all kinds of blows, weights or minor accidents that may occur.
Experts recommended these safe 3 wheel bicycles for seniors s if you want to make a trip to your nearest market or store to buy vegetables, vegetables, food, among others. You will feel that the tricycle walks by itself by its smooth handling.
It has a very comfortable handle and closes to your seat, so you will have to make a very minimal effort to cross or break if required. This aspect, in particular, is what has given popularity to the Schwinn Meridian, compared to other tricycles that suffer from problems of discomfort in this area.
The Schwinn Meridian comes in different colors for purchase, such as the slate blue, black, black cherry, blue, dark silver, Green and White. Each color is well distributed in the tricycle and used large machinery to prevent it from dissipating easily; its color can withstand all existing natural factors.
Additional accessories can be added to your Schwinn Meridian tricycle as a light basket in the front area, just like fenders with different designs, you have to start working your imagination and order these additional items from your supplier.
Your cruise handlebar is adaptable so that you do not exert any pressure on your back; it can be adjusted from 37 to 40 inches back if required. Schwinn Meridian gives us a displacement in a lying way if we want.
These tricycles can be easily assembled by you or contact an expert in the area; the company trusts your product so much that it gives a 5-year warranty in case of construction damage or factory defects in general.
Factors To Consider Before Buying The Best Adult Trike 
Keep in mind before buying these three-wheel bikes for seniors that have certain weight limits in displacement and its rear basket.
Comfort 3 wheel bike for seniors is 100% safe and more Schwinn Meridian, but there are certain things to keep in mind as these tricyclics can take some recommended speed, exceeding can lead to an accident.
The seats are very comfortable, and with such recline that you will not have any complaint at the back level. That's quite good for a road bike.
You must place the handlebar of your handlebar to such a degree of comfort that it works for you to cross correctly, sometimes you are looking for comfort, but you do not think about functionality, so you should be on the lookout.
It has fenders that cover almost the entire area of ​​your tire, so you should not worry about getting dirty when moving. Its rear basket measures 18.5 long, 22.5 wide and 11.5 high respectively and is foldable when not in use.
Touching these points, one could say that the advantages that the Schwinn Meridian gives are the following:
It is easy and convenient to use
Very accessible price
Ideal weight
Adaptable to all sizes
Handlebar very adapted to avoid muscle aches
But not everything is positivity, but there are also disadvantages present among which are:
Perhaps very inclined for many adults
Its assembly is difficult
It may weigh a lot.
Although the negative aspects are very limiting, you must take into account before your purchase, but if you have already decided and acquired the Schwinn Meridian, then enjoy and start rolling throughout your city feeling an unprecedented comfort.
Frequent questions
1. What is your weight?
Schwinn Meridian weighs approximately 69 pounds.
2. What is your weight limit to get around?
It is about 400 pounds.
3. Can you add a basket?
Sure, Schwinn Meridian has that and much more.
4. What are the Dimensions of the distance between rear wheels?
They are approximately 27 inches.
5. How many speeds does this tricycle have?
It only has one speed.
6. Do you bring instructions for assembly?
Yes, bring instructions, but if you cannot, please contact a professional.
These are the existing questions towards one of the best 3 wheel bikes senior, and there are also doubts about its size from end to end, which is so heavy, if two people can be there, among others.
Each of your questions will be answered through its reliable Amazon purchase page, do not hesitate to contact the server and get one of these 3 wheel bikes for seniors.
Conclusion on the Schwinn Meridian tricycle
The Schwinn Meridian cruise tricycle is an innovation in the industry. It has very positive aspects of our life and sports activity, it is recommended for all ages, but specifically for the elderly.
What makes it one of the best three-wheel bicycles for seniors is its handlebar so adaptable that if you wish, you can travel practically lying on it.
This aspect is what has put it above similar products; its cost is not far behind as it is very accessible for any pocket.
Do not be left behind and acquire Schwinn Meridian, try it and your own opinion of how effective it has been for your life. Buy high-quality products like these and with such high guarantees that you will have five years to benefit and make a complaint about factory defects.
Schwinn Meridian is the future of road bikes. They are the innovation in cycling and they are a lifesaver option for some of us. Buy your tricycle at this time and move safely and in style to your nearest grocery store. Be the envy of your neighbors.