The HIRAM 3-Wheeled Adult Tricycle
Unfortunately, it is known that older people are less stable on their two-wheel bikes. And that is also true for people who have balancing issues.
To these people, cycling is almost like a dream. However, scientists and doctors insist that we all do some physical exercise to stay healthy no matter how young or old we are.
So, if you do not have a good balance, then do you need to give up on your favorite sport? Well no.
There is a solution for you. And one of the most interesting options to enjoy cycling is the 3 wheel bicycle for seniors. Apart from being very safe they also look very striking and are trending these days.
It is now accepted that the 3 wheel bikes for seniors require greater durability and must be sturdy. To achieve this, manufacturers have decided to use resistant material such as high carbon steel from front to back. And they have looked at all aspects of the bike including the chassis so that it does not break. This is the case for the Hiram, where the bike has a sturdy frame to prevent it from bending.
Before buying the Hiram product, it is important to review its characteristics to conclude whether it is functional or not. This is what we have aimed at with our review of the HIRAM 3-Wheeled Adult Tricycle. You'll see below why we think this tricycle is a very useful product to use on any occasion. It is very easy to handle by having 3 wheels and is capable of supporting some weight, so there will be no problem if you use the foldable basket that is included.
Reviews of HIRAM 3-Wheeled Adult Tricycle
The best thing about this bike is that having 3 wheels provides greater security and makes the ride a quieter transfer. In essence, the three wheels provide balance and stability. If you look at it a little closer, it is clear that for older people, this bike will be very useful since it can be driven by those who have some physical ailment without any inconvenience.
Just as children, teenagers, and adults can ride bicycles, older people have the same right. Thinking about them has seen the design and manufacture of this amazing 3-wheel bike to make a pleasant tour.
With this bike, you can go to the park, to the beach, to the supermarket, or to take a walk outside your home or wherever you prefer. Thanks to its rugged frame, these 3 wheel bikes for seniors are capable of supporting up to 400 pounds. Also, they are designed to be able to load objects since it brings a very comfortable and resistant folding basket to support the weight.
The advantage of this bike is the large basket. You can load your belongings, or go to the supermarket and carry the bags with food and so you will keep your hands empty to handle the bike easily.
If you plan to take a very long walk, you will not have to worry because this 3 wheel bike for seniors brings a padded armchair with springs so that you feel the softness and your back will not suffer fatigue. It does not matter the weight you have since this armchair has been designed to support up to 400 pounds, and you can do your tour quietly.
During cycling, this 3-wheel bike has a handlebar on the back that you can adjust to feel more comfortable. As for the wheels, a very important part of the bicycle, they are made of natural premium rubber. This material will prevent undue slippage to ensure you can drive without haste.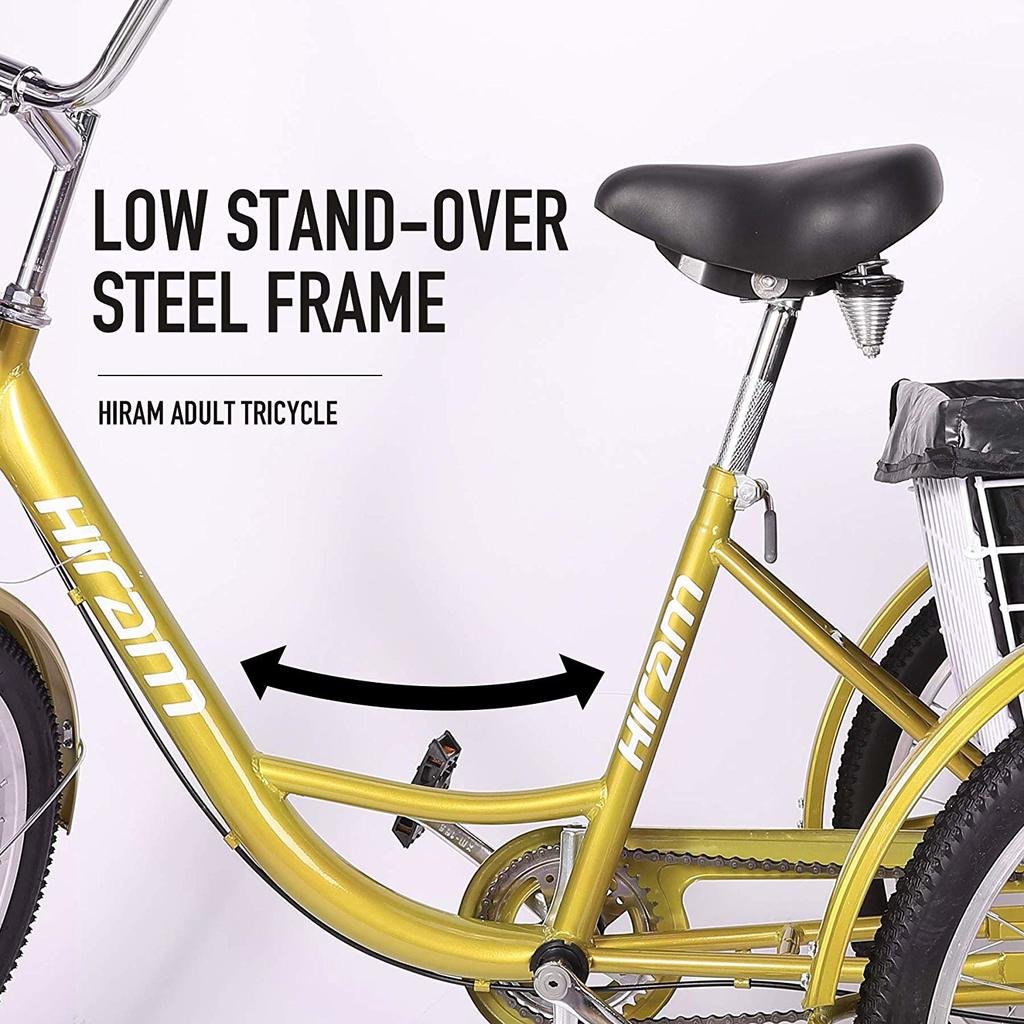 The 3 wheels of this bicycle are made of this very resistant material, so they are durable. You'll not have to make an extra expense on them constantly. Being 3 wheels stability is guaranteed, and you can drive without worrying.
As each driver has different needs, these three-wheel bicycles for seniors come in different sizes so you can choose the one that best suits your needs. The sizes of these wheels come in a ratio of 24 inches and 26 inches. This way you can find the most suitable 3-wheel bicycle for you.
This bike is full of very useful accessories that will make your bike a very striking product.
The 3-wheel bicycle has the following advantages:
It is made of resistant materials.
You can take walks wherever you want.
Your cushion will make you feel very comfortable.
It adapts to any weather.
Bring a lock, so you leave it out without inconvenience.
It gives you stability.
Factors To Consider Before Buying The Product
Before buying the 3 wheel bikes with motors, you should know if this product will be a good investment.
This bike comes with a bell and whistle (at the time of writing this) to complement all its wonderful accessories.
When you do your shopping and it is raining outside, you need to ensure you have a bag with you. Like this, you can keep your goods dry by preventing water from accumulating in your products.
Among its other accessories are 2 rear reflectors, wheel fenders, rubber pedals, front, rear brakes, and single speed gears. So you can choose your favorite color you can get this product in gray and green.
The 3 wheels make this bike very stable, so they are very useful for the elderly, although they also work for all people who want to make a smooth and quiet ride whenever they want.
The 3-wheel bicycles have a good review, so they will always be a great acquisition, especially for the elderly and those who wish to take comfortable walks.
1. Is the 3-wheel bicycle stable for the elderly?
Being a 3 wheel bike, people, whether elderly or not, will feel more stable and can take a quiet ride. Also, thanks to the resistant rubber material with which the wheels of this bicycle are made, they provide resistance and grip on the road, hence more stability.
2. How do I adapt the 3-wheel bicycle to my height?
The 3-wheel bikes come in a size of 24 inches and 26 inches, so you can choose the one that best suits you.
3. Where can I go with the 3-wheel bicycle?
Thanks to the comfort provided by the 3-wheel bicycle, you can go to the park, to the beach, and you can even go shopping and store your bags in the folding basket.
4. Is the 3-wheel bicycle durable?
For a longer duration, the 3-wheel bicycle has been made of high carbon steel, Premium rubber wheels, and the armchair is padded with crossed springs for more comfort.
The 3 wheel bicycles for seniors are a great investment as they guarantee a quiet and comfortable ride. The materials used to make this bike are of high quality to provide a longer duration regardless of the weather the product faces.
Instead of walking, you can go wherever you want with a 3-wheel bicycle, and if you buy, you can take them in the folding basket. All the features of this bike make it an irresistible product.
Before buying, check its characteristics, and you will see that it will be a great investment because you will take home a useful product.