The best three wheel bikes with baskets on the market
If you are looking for an in-depth review of three wheel bikes with baskets for regular use, then you are in the right place. We have acquired and tested a number of three wheeled bikes with baskets and selected the ones that are top-notch for you. You just need to choose one of these three tricycles that suit you best.
When one thinks of a tricycle, they instinctively think of a child's riding toy. This is, however, a common misconception. There are in fact adult sized tricycles. Obviously, a tricycle is safer and more stable than a bicycle. Some older or disabled people utilize them. Historically, the term tricycle held its tradition in its meaning. It simply meant three wheeled carriages. The word is derived from Greek words treis (meaning three) and kyklos (meaning circle of the wheel).
Are you searching for a way to get more exercise whilst conveniently running errands around town? In today's world, three-wheeled bikes are becoming increasingly popular. It allows individuals to enjoy the outdoors, get some exercise and run some errands, all whilst riding a bike that is easy to control and maneuver. Their overall convenience and easy riding style, allows riders to feel confident in themselves, whilst they enjoy many social and physical benefits.
Schwinn Meridian Adult Trike, Three Wheel Cruiser Bike Review
With a four-star rating on Amazon.com, it's easy for the Schwinn Meridian Adult Trike to stand out amongst others. It appeals to most because it comes in a variety of colors, and includes a convenient folding basket. When selecting a trike, finding one that is easy to use, with a basket, boasts many advantages, that I will talk about below.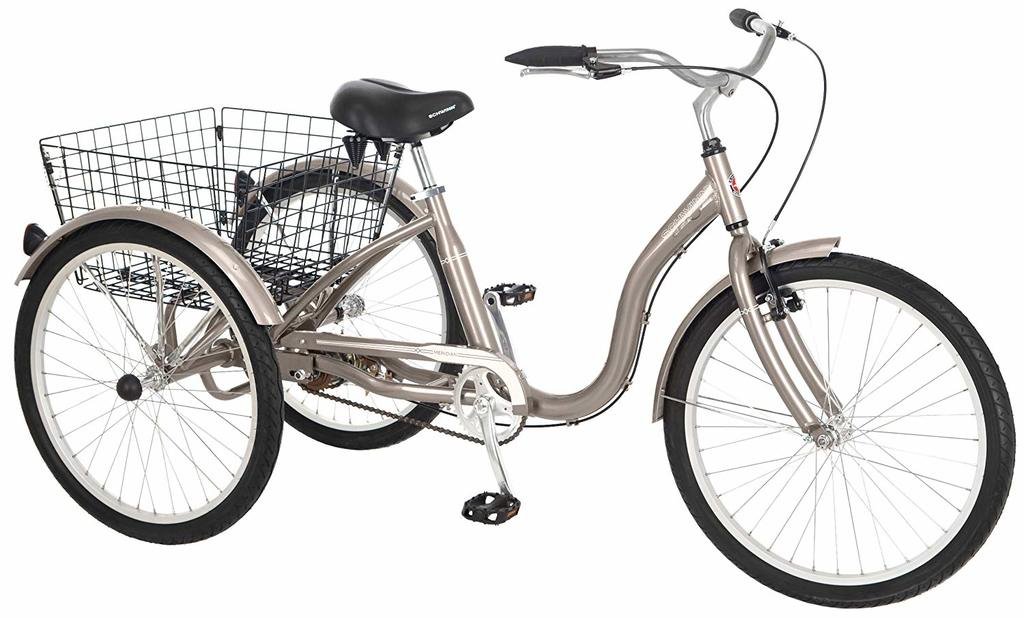 Schwinn is known mostly for its large variety of bikes, and offers a range of merchandise, for both men, women, and children. They have been operating for around 125 years and should have plenty of experience in the bike/tricycle field. Online they offer a range of different bike styles, including:
Mountain
Cruiser
Hybrid
Road
Urban
E-Bikes
Tricycles
But Schwinn has a strong reputation for tricycles. In fact, the Schwinn Meridian Adult Trike is the bike that is most sold within the tricycling field. It is affordable, but also has the standard three wheels and a basket without forgetting that it is manufactured by a reputable brand.
Product Specs:
The suggested rider height: 5'4″-6'2″
The rear basket is 18. 5″ Long, 22. 5″ Wide, and 11. 5″ Tall with a 50lb weight limit
Front and rear linear pull hand brakes
5 year limited warranty
Description of the Pros:
The Schwinn Meridian Adult Trike's Design has a range of advantages to help riders feel more comfortable whilst riding, and cause less stress on the body. Firstly, the cruiser style handlebars allow you to sit in a relaxed upright position, that puts less pressure on your back. They are also adjustable, 37" to 40", allowing for customizable riding experience.
The trikes low stand-over aluminum frame provides durability and stability, allowing also for easy access to get on and off the tricycle. The trikes design offers a large springer cruiser seat, which can also be altered, again, allowing you to customize the trike for your individual needs.
As mentioned above, having a basket on the back of a tricycle has many advantages for riders. This particular brand has a rear folding basket, which can be put away when not in use. It's perfect for carrying groceries, backpacks, and cargo, however, it isn't recommended for pets or children.
These three wheel bikes with baskets are extremely practical. The folding aesthetic is a neat touch that adds a sense of style. The perfect conception of balance and practicality is on display here. Clearly the Schwinn three wheel bike with a basket is ripe with accessibility.
You can find this bike on Amazon where you'll find that the site is surprisingly a very good source for new and used three wheel bicycles for adults. In fact, it boasts many different brands of three wheeled bike with basket. The Schwinn Meridian Adult Trike's Design also comes in a range of colors to suit the individual's personality. Amazon offers a range of colors for this particular product, including:
Blue
Slate Blue
Black
Black Cherry
Dark Silver
Green
White
Description of the Cons:
For those that wish to ride on different terrains, this specific trike might not be the one for you. With a single-speed drivetrain, you aren't able to adjust yourself to suit rough terrain, inclines, and hills. The Schwinn Meridian Trike would be most suited for individuals who will be riding in town, on paved roads, short to medium distances.
If you do decide to purchase the Schwinn Meridian Adult Trike, it's important to know that it does not come pre-assembled. This means that if you are unable to build it yourself, you will need to source out help or pay the extra money to get it assembled at a bike shop. This can add up to be quite pricey, and contribute to the already big cost of purchasing a new trike.
Whilst reading other reviews online, some users have said that the bike is very high maintenance, constantly requiring bolts to be tightened and screws replaced. Another few users said that the drive system was incredibly difficult to use, and not similar to a regular two-wheeled bike. This caused accidents and trips to the hospital due to breaks and sprains. If you don't have time to safely practice and learn, this could be an issue for you. Other users also reported an issue with the trikes tires, saying that they were prone to popping.
Another issue that may arise for you with this particular product, is that the frame itself is quite heavy. Users reported that the heaviness cut down their overall riding distance, as it takes a large amount of effort to push themselves up hills. Some individuals reported giving up, and not using it as it required too much physical effort to ride.
Pros and Cons Recap for the Schwinn Meridian Adult Trike, Three Wheel Cruiser Bike:
Here is a summary of the pros and cons of this trike.
Pros
Adjustable seat and handlebars for customizable user experience.
Rear folding basket, to carry goods and cargo.
Range of colors to suit individual styles.
Suitable for heavy individuals up to 300lbs.
Cons
Not suitable for those who want to ride on rough terrain.
It does not come assembled.
Heavy frame weight may cause difficulty riding, but it's made for strong people too.
Final Thoughts on the Schwinn Meridian:
When taking in all the above into consideration, the Schwinn Meridian Adult Trike would be great for individuals wanting to cruise downtown to the shops and run errands that are short distances away. Overall, it's a simple design, and the convenient fold-away basket would be a great asset for users with limited mobility, or for those that want to get more exercise. If you are someone that is looking for a more 'off-road' experience, a different type of bike with changing speeds might suit your needs better however you probably won't find one with a basket attached. The price of this bike is certainly reasonable, however when taking into account that you may need someone to build this for you, and its history of breakages, it might be worth researching different brands first, to see what they offer.
Slsy Adult Tricycles 7 Speed, Adult Trikes 24/26 inch 3 Wheel Bikes
The Slsy offers a really nice Three-Wheeled Bicycles Cruise Trike with Shopping Basket for Seniors, Women, Men. When researching the company, Slsy may be well known for their tricycles, however, they offer a very large range of different products. On Amazon.com, the company offers everything from children's play equipment, to watches and tool kits.
Product Specs:
24"/26" wheels.
350lb weight capacity.
Pros:
One of the main pros that draw in a lot of consumers to this product is its 7-speed ability. The Slsy Adult Tricycle uses a 7-speed Shimano derailleur and trigger shifters, which provides a wide gear range, smooth shifting, and effortless comfortable riding experience. Says states that it's suitable for riding up elevated terrain and slopes which is a great bonus for those living in hilly areas.
Another huge advantage of this particular brand is its backrest padded seat. The seat offers extra padding and its height can be adjusted by simply turning the seat post clamp. Uncomfortable seats are something very common when purchasing any type of bike, so this is a great benefit for individuals who have trouble sitting on hard surfaces.
The Sly Adult Tricycles overall design has its benefits, due to its sturdy steel support. As mentioned above it has a 350lb weight capacity, suitable for people of all sizes, and has great reviews based on its durability and sturdiness. The back fitted basket, is also a bonus, allowing you to run errands, go grocery shopping all whilst easily transporting things back to your home.
Amazon sells this particular brand with a level of surety, as it backs it with the 'satisfaction guaranteed' stamp. This of course is an amazing selling point. For its part, Slsy provides a one year warranty on its adult tricycle. This warranty will cover all damaged or otherwise defective parts. The return policy is also attractive. There is a 30-day window for reimbursement and return. Customer reviews have confirmed this to be true. Many of them have testified to getting their new parts within two days.
The price for the Slsy adult trike is also extremely reasonable and offers great value for money when you take into account the 7-speed ability, basket attachment and satisfaction guarantee.
Cons:
One of the main cons mentioned by reviewers online is that the bike does not come pre-assembled, and was very difficult to put together. This means you may require help or assistance, or pay a bike shop to construct the bike for you. This, however, is common with most trike brands, however, you may need to dish out more money than initially planned.
Pros and Cons Recap for Slsy Adult Tricycles 7 Speed
The below summarises the most common pros and cons to the Slsy Adult Trikes 24/26 inch 3 Wheel Bikes
Pros
Single-speed and 7-speed ability.
Suitable for riding on sloped and elevated terrain.
Sturdy steel support.
Basket attachment.
Satisfaction guarantee and warranty.
Great value for money.
Cons
The bike does not come pre-assembled.
The extra money needed if you require a bike shop to construct.
Final Thoughts on the Slsy tricycle
If I was to compare the Slsy
Adult Tricycle
directly to other brands, I would say that it is great value for money, with pros outweighing the cons, it has many advantages to suit a variety of different needs. This particular product would suit consumers who would like a more advanced riding experience, who would take advantage of the ability to change speed settings. This would also be great for anybody that lives in a hilly area, that may not be able to make it up inclines without the gear option. The only downfall to this product is that there have been reports of missing parts, however, this is said to have been fixed quickly due to the satisfaction guarantee and one year warranty. Reviews online are mostly positive with over 59% of their ratings being five stars on Amazon.
Addmotor Motan Electric Tricycle 24 Inch Fat Tire Electric
This is probably the best Electric Trike. It has 3 Big Wheels (also called fat tires) powered by a 750W motor with Rear Basket Cargo. It is well known in the Ebikes industry having a 14.5Ah Lithium Battery. This tricycle made for Adults and Seniors in mind. It is best known as being the M-350-P7 Bicycle Cruiser With Suspension Fork.
About Addmotor:
Addmotor is a well-known electric bicycle brand that specializes in bikes and bike batteries. Their website offers information on their warranty, terms and conditions and their guarantee which outlines their beliefs for customer satisfaction and high quality.
Product Specs:
Batteries are lithium and come in a sealed removable pack. They are 48 volts with 14.5 AH.
The motor is the Bafang brand, specifically the 750-watt iteration. This front hub and brushless design is specially tailored for snow, beaches, road trails, etc.
The display panel is an LCD. The screen size is five inches.
Using the level one assist, you can go up to forty-five miles on a single charge.
Charging cable is a standard fish port – 2.5 Amps.
Handlebars are of aluminum.
For throttle, it uses variable speed controls.
The frame is of aluminum alloy.
Quick-release seat post.
Front and rear alloy disc brakes
Chain has rust resistance technology.
Charging time can run between three and four hours.
Tires measure 24 x 4 (front) and 20 x 4 (rear.)
Pros:
When driving something electric, safety is one of the most important factors that you want to take into consideration. The Addmotor Motan Electric Tricycle offers battery-powered backlights with two flashing modes, this provides the rider with a greater degree of security, especially when driving at night.
The design itself allows riders of up to 350lb and has a durable frame for stability and safety. The suspension fork also ensures you remain safe when hitting bumps in the road, which is a bonus for weary riders.
The obvious main pro for this particular trike is its motorized ability. When fully charged the Addmotor Motan Electric Tricycle can run up to 40-55 miles using one pedal assist. The 750W motor can reach speeds of up to 23MPH, however, you still have the alternative to enjoy some exercise by switching back to the peddling option.
Not only does this tricycle have a basket, but it has two, a front and rear allowing you to store heaps of groceries and cargo on your trips. It also states it is safe for pets, to take them along for the ride.
Another pro, that is a great advantage to all-electric vehicles, is its ability to reduce your carbon footprint by encouraging you to drive less. Many individuals today have taken to riding to work, and to the shops, to save them from fueling their car.
Cons:
One of the main cons to the Addmotor Motan Electric Tricycle is its hefty price. Compared to other motorized tricycles it is expensive, however, when taken into account all of its perks and bonuses, it is reasonable.
When looking at reviews online, some individuals do not recommend this particular bike for the elderly, as it can be difficult to maneuver, and is prone to tipping over if you haven't mastered how to drive it properly. Addmotor suggests practicing in a garden or square first, before heading out on the road.
Pros and Cons Recap for the Addmotor Motan Electric Tricycle 
Pros
Flashing battery powered lights
Durable frame and suspension forks for safety.
Motorized ability
Peddling ability
Front and rear basket.
Reduces individuals carbon footprint (the amount of carbon dioxide released into the atmosphere as a result of the activities of a particular individual, organization, or community).
Cons
Expensive price tag.
Not recommended for the elderly who may not be able to steer correctly.
Final Thoughts on the AddMotro Motan Electric
Overall I think the Addmotor Motan Electric Tricycle would be a great investment for someone that may not drive, and still needs to get around town. Its electric bike three wheeled concept is obviously marketed to those with a need for accessibility and ease of mobility. Its reviews show that it is safe, durable and easy to use, and most individuals show no regrets after purchasing the product. If you are not after spending a large amount of money, I would look into purchasing something else to get you started, before upgrading to this particular brand. Also, something like this requires future maintenance, including purchasing batteries and getting yearly checks, so if you do not want to be consistently spending money, this probably won't be the bike for you. Again, as mentioned above, if you are elderly, perhaps research some other options first, so that you can determine whether or not this product is the right fit for you as there have been reports of accidents.
Three wheeled Frequently Asked Questions (FAQ)
Q:  Where can I find three wheeled bikes with baskets for sale?
A: For convenience, Amazon and other online platforms have a wide variety of new and used three wheeled bicycles for adults. The selection is quite varied. There are electric bikes (three wheeled,) vintage three wheeled bikes with baskets, and even 3 wheel lowrider bike for sale. These are just some of the offerings. Check the websites for even more.
Q:  How varied is Amazon's selection as it relates to the adult three wheeled bike with basket? 
A:  There is a wide selection of news and used three wheel bikes with baskets on Amazon's platform. You just need to search specifically for what you want. You can go as far as to narrow your search by brand. Some options that surprisingly stand out include:
Three wheeled bikes with large baskets
Vintage three wheeled bikes with baskets
Three wheeled mountain bikes with baskets
Three wheeled bikes with front baskets
Three wheeled bikes with rear baskets
As discussed in this article, Schwimm is an excellent brand with such variety and is the brand that is the most sold on amazon platform for tricycles.
Q:  Where can I buy a three wheeler adult bike with a basket on the back of it?
A:  Platforms such as Amazon have a wide selection of bicycles and tricycles to suit your needs. Just simply narrow your search to your convenience.
Q:  How much do three wheeled bikes with baskets cost?
A:  Depending on your specifications (new/used, brand, etc.) you can purchase a three wheeled bike with a basket for as low as approximately USD$210.00 to as high as about USD$600.00.
Conclusion
Mobility is a right. It is that simple. A source of exercise and practicality, it is one of the many constants in human life. The body was made to be mobile. No two persons are alike however and mobility may not come easily for all. If this is your situation, or even if you cannot manage a typical bicycle or motor vehicle one of the above three wheel bikes with baskets may be right for you.
With their affordable prices and lean towards accessibility and comfort adult tricycles are here for that niche. Mobility is a right. It is your right. Invest in an adult tricycle today.