The 6 Creative Ways To Find Bike Storage
Bike storage solutions are diverse and you need to choose one no matter where you live and what your personal situation is.
And this is true when you buy a new bike. The one thing I would not give up upon is where to store my bike. And I hope you are like me here.
Bicycles require a lot of love (and I do love my bike to bit). So they need a space to be stored-in where they can be free from accidental and environmental damage.
They are like you. If you do not have a place to sleep at night, then you'll not sleep well and your health can get affected.
You need to know that most harms on bikes happen when they are stored. Scratches, vandalism, and theft are just some unwanted situations that may happen to your bike.
Even the weather and environment are your enemies when it comes to storing your bicycle.
Locking your bike on your fence or on the side of your house just will not do. That is why we created a list of 6 Creative Bikes Storage Ideas To Store Your Bike.
1- On Wall Bike Rack
On wall bike racks are probably the easiest solution to your storage problem.
In fact, they are the most common way of storing bikes. They are usually called bike storage for garages.
When you hang them on your wall, you save and optimize your space.
What I like about a wall mount bike rack is that I can customize them to fit my house decor.
You can check out Pinterest boards for ideas on how to make or design your wall mounted bike racks.
You can also manufacture your own wall mounted bike rack to save up some money.
I personally prefer to buy them as I like to spend time on my bike instead of manufacturing a rack.
Obviously, the great thing about making your own wall mountable bike rack is that you determine which materials will be used. This ensures that whatever material you choose is of high quality or industrial strength.
Just remember to place your wall bike racks on dark-colored walls.
Bike dirt and grease after a ride might get on your walls and it's easier to clean up from dark walls. You can also cover them with plastic.
2- Ceiling Bike Racks
One new thing that many bike owners are doing is Ceiling Bike Racks.
This is essentially a good idea if your walls are already filled up with your stuff and you have even less storage space for your bike.
Floor to Ceiling Bike Racks (as some people call them) does not require you to clean up walls which obviously is another very convenient argument in favor of this bicycle storage solution.
However, as a rule of thumb, I would personally advise you that, before bringing your bike inside your house, you should definitely give it a wipedown first.
Note that a ceiling hydro pneumatic bike rack is recommended for people whose houses have high ceilings. 
When you have a high ceiling, you can easily have hang items without hitting people's heads.
But I think that this is most convenient for those who are living in the big cities where space is at a premium and you really do not want your expensive mountain bike to be staying outside.
It will certainly disappear.
In this particular case, I am sure you would want to use all available space and the ceiling is just one of those.
It is best to use a ceiling mounted bike rack than to feel sorry for your bike because someone took it away from you.
3- Self-Storage Facility
Who says you have to store your bicycles inside your house?
If you are short on space, as most of us do, it is best to store your bicycle, among other things, in storage facilities.
Storage Units are a versatile solution to your storage problems. You can store virtually anything that you can't fit inside your house.
Self Storage Facilities have a great range of use. You can store extra furniture, old clothes, books, etc.
The best part is that you are not throwing them away. You are simply storing them at some other location where they can't clutter your house.
Your bikes will also be protected from any accidental damage that may befall on your household items.
Because there's always movement inside our houses, we cannot avoid accidental mishaps. 
However, be prepared to pay for this type of storage.
4- Bike storage cabinet
Bike Cabinets are for bike owners who have the space to spare. They are two types of cabinets.
The first one is the indoor bike cabinet and the second one is the outdoor bike cabinet.
You would usually use the indoor type if you do not wish to drill through your walls.
You have two choices if you want an indoor cabinet. You can simply buy one or make it yourselves by using wood and some great DIY techniques.
For the outdoor type, I would simply buy it instead of making it myself. But it is still your choice.
I have to say that this is essentially a great way to hide your bikes from visitors, especially if it is an expensive mountain bike.
Bike Cabinets are also great as they can keep your bikes safe from harm. However, this takes up valuable space inside your homes or in the garden.
5- Storage shed bikes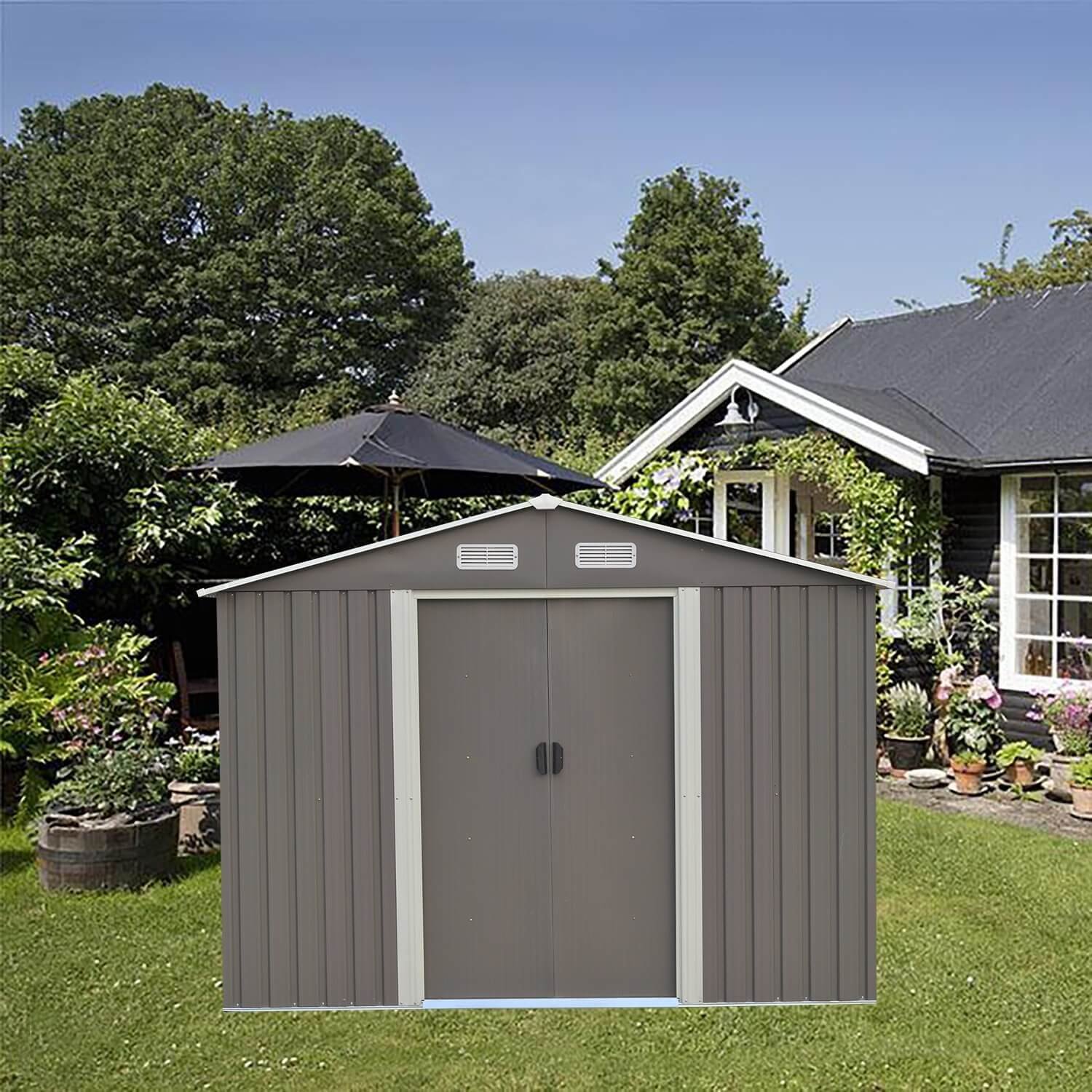 Shed bikes are very popular nowadays. A bike shed is fairly easy to find and anyone with some DIY skills can install it.
Again, this suggestion is for bike owners who have a big enough garden that they can afford to have a storage shed.
A storage bike shed is great as it can house a lot of your stuff like crafting equipment, art supplies, etc.
What I like to say about a bike storage shed is that it can be built right outside your yard.
The good news is that no one can know how messy it is inside because of the closed walls. As you may have plenty of parts for your bike, the shed is an excellent solution to keep them away from the rain and dust.
Having an outdoor bike storage shed is like having a place to store your own dirty little secret.
The only negative bit is that at some point you'll need to do a big clearance as you'll have accumulated too much stuff in it. Don't fall in that trap.
6- Bike storage Parking Spots
The aim of bicycle parking spots is to encourage more people to use bicycles instead of buying cars.
Many governments around the world together with some private establishments have built bicycle parking spots around capitals and populated cities. 
It is in these parking spots that bike owners can park and store their bikes. 
Personally, I like to use these to temporarily park my bike during the day when I have a quick shopping or a meeting downtown.
However, bicycle parking spots are a great way to store your bikes as it wouldn't take up any of the space you have inside your house.
This is also great for when you just don't have the time or energy to clean your bikes right away as they will be kept outside.
Bicycle Parking Spots are secure and you can rest assured that no harm will come upon them (in theory). This, however, may cost you as parking spots, even just for bikes, cost money.