6
How good is the Gravity FSX 1.0?
The Gravity FSX 1.0 mountain bike is a long-awaited answer to a hole that has filled the industry. Quality mountain bikes are surprisingly expensive. They tend to be well beyond the price range of those who are only considering the sport but haven't even decided if it's for them.
The FSX 1.0 is one of the Gravity mountain bikes to help newcomers get a feel for the sport before actually trying it.  It takes many of the features important for rugged trails and packs them into a surprisingly affordable package. Let's discuss this bike in our Gravity FSX 1.0 review below.
Overview of Gravity FSX 1.0 Mountain Bike
| | |
| --- | --- |
| Size | 15″ – XSmall / 17″ – Small / 19″ – Medium / 21″ – Large |
| Frame | 6061 Hydroformed Aluminum Frame |
| Type | Dual Suspension |
| Speed | 24 Speed |
| Brakes | Mechanical Disc Brakes |
| Wheel Size | 26″ |
| Rating | 8.7/10 |
| Brand | Bikesdirect |
| Pros | Shimano drivetrain, Disc brakes,  Trigger shifter, 5 colors |
| Cons | Small saddle |
| Summary | Affordable bike for the beginner rider |
| Where to Buy | Check On Amazon |
Who is it made for?
Beginner mountain bikers
Budget mountain bikers
Bikers who are on the fence about going off-road
Intermediate riders who intentionally avoid the most rugged trails
Younger riders, especially teens, who are still growing
What Feature Offers Gravity FSX 1.0 Mountain Bike to the Riders
The Gravity FSX 1.0 is specifically set to take your biking to a whole different level. The Gravity FSX 1.0 has effective, high-quality parts. The parts are put together using advanced technology by top-notch professionals. The manufacturer has been put to task to blend all your biking needs in this ultimate piece perfectly. Here are some details on the bike.
Frame & Assembly
The bike's frame links to both the handlebars and the saddle on a straight frame.  This frame has been worked to improve the strength and the stability of the Gravity FSX 1.0 immensely.
The design features steel reinforcement at the rear suspension. This greatly improves the strength of the Gravity FSX 1.0 in supporting the weight applied on the saddle. Once the weight has been applied to the saddle, the reinforcement distributes it evenly. This not only improves its beauty but will also ensure that it will outlast its competitors.
Assembling has been made quite easy. All you have to do is follow instructions in the manual to do it by yourself.
Top-Notch Technology
The Gravity FSX 1.0 has been given a rare 24-speed Shimano gear shifting system. This makes it easy to combat every terrain. Unlike many bakes that came before it, you will not have to struggle as you make your way uphill. Thanks to the incredibly reliable Shimano shifting technology.
The gravity mountain bike also has a rear coil-over cartridge. Unlike its competitors, the fsx1.0 has an advanced Suntour cartridge. The Suntour is an adjustable preload to improve efficiency.
Gear & Speed
The Gravity FSX 1.0 Mountain Bike is a top speed bike. The Shimano gear components were designed to make it easy to shift between the 24 speeds.
With 24 speed shifters, the Gravity FSX 1.0 reaches top speeds ever recorded for a bike of its caliber so far. If you want some thrill or a sports bike, then this is for you.
Another thing you will love about the Gravity FSX 1.0 is the dual suspension feature. Many bikes are either the conventional rigid structures or single suspension gravity designs. Here are a few things you'll love about the dual suspension:
Extra comfort when traversing loosely laid chippings or uneven terrains.
The double suspension is a reliable shock absorber. When cycling in a mountainous area, it greatly improves your well-being and maintains comfort.
It also distributes your weight uniformly throughout the bike. This was effected to ensure your weight is not concentrated on one point as this would make you unstable. So if you are heavy, don't worry, this is the bike that will not compromise on your comfort.
Powerful Disk Brakes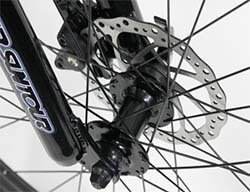 Since the bike was launched, I always looked forward to riding one. Before I wrote this Gravity FSX 1.0 review, I tried out the bike from the first-hand experience I can confidently assure you it is the safest a mountain bike can be. It's way ahead of many suspension bikes in the market today. I have facts to support the statement:
The model has been fitted with disc brakes on both wheels. These disk brakes will help you with enough braking force in emergency situations.
The disk brakes ensure a great performance way better than the conventional brakes. The Gravity FSX 1.0 does not skid when you apply the brakes during an emergency making it safe.
Disk brakes also improve the control of the bicycle.  Whether you are cycling uphill, downhill or on an even rough terrain
Wheels and Tires
This uniquely crafted gravity bike comes with a 26-inch wheel. This is the preferred wheel diameter for many long-distance riders.  The double-wall rim construction strikes the perfect balance between weight and durability.  The wheels are also built with a quick-release feature, which allows the rider to quickly remove them with the flick of a switch. Granted, the switch will need to be untightened, but this can usually be done by hand.
Weight & 
Sizing
The Gravity FSX 1.0 weighs in at 35 lbs, which isn't too far from the mark of most mountain bikes.  Its frame is composed of aluminum, a standard material for introductory bikes.  While a carbon frame may offer a better balance between weight and durability, the cost would be beyond feasible for most beginner and intermediate riders.
The bike follows a pretty standard sizing chart for the industry.  While rider preference may vary here's a general list:
Extra small (15″) – Riders up to 5′ 6″
Medium (17″) – Riders up to 5′ 8″
Large (19″) – Riders up to 6′
Extra Large (21") – Riders around the low to mid 6′ range.
Particularly tall individuals may need to have their bicycle customized by a professional technician.
Gravity FSX 1.0 Benefits
The Bike displays awesome craftsmanship. The structural design caters to even mountainous terrain. The frame links the saddle rod to the handlebars directly. The fact that they link on a straight line gives the Gravity FSX 1.0 its adorable stability and strength. The frame is silvery to give it a lovely aesthetic complexion that everyone would admire.
Another benefit of the Gravity FSX 1.0 is its comfortable dual suspension. This uniquely crafted feature ensures comfort on any terrain. Be it flat, even or uneven you can be sure to enjoy the ride with a double suspension. The suspension forks are also effective shock absorbers. They adequately and safely enables you to climb over boulders and rocks with great ease.
Another commendable strength I was thrilled about was the enormous stopping power. The disk brakes are not just for show. They are safety features that would save you, especially in an emergency situation. No matter the situation they make sure you have full control of your bike.
Drawbacks
The Gravity FSX 1.0 Mountain Bike is a bike I would recommend to anyone but not the tallest persons. Yet, I would say it has a few outstanding drawbacks. There are aspects I think the designers could have done better on. For instance, the saddle is made of low-quality material that would fade or wear out in a short span of time. The saddle is also small for a bike of its caliber, and this significantly compromises on comfort. Save for the two drawbacks, and the fsx 1.0 bike is a magnificent piece.
Pros & Cons of Gravity Mountain Bike
Pros
Available in 5 colors to pick the best one
Dual suspension fork for a comfortable ride
Long lusting heat-treated aluminum frame
26″ wheels size best for average height rider
Shimano trigger shifter to shift 24 speed easily
Comes pre-assembled, so easy to assemble the rest
Quality derailleurs great for uphill & downhill rides
Comes with disc brakes with optimum stopping power
The saddle is adjustable to cater for riders with different heights
Cons
The saddle is relatively small so people with big bodies may not be comfortable on it.
Gravity FSX 1.0 Specs at a Glance
Frame: Heat-treated aluminum 6061 mountain frame for longevity
Suspension Fork: KS coil cover which also has an adjustable preload Suntour fork
Speed & Shifter: 24 Shimano speed with EF51 trigger shifter
Drivetrain: Shimano FD- M1490 rear derailleurs & Shimano Acera front derailleurs
Chain & Cassette: Shimano 8 speed cassette with narrow chain
Brakes: Tektro Mechanical Disc Brakes with 160mm rotors
Wheel & Rims: 26 Inches with Maddux DX221 Double-wall alloy rims
Tires: Multi-thread 2.1″ tires are durable and good for light trail use.
Saddle & Seatpost: WTB Saddle with 27.5mm adjustable Seatpost
Gravity FSX 1.0 weight: The Fairly lightweight design is coming in a 34 lbs.
Handlebar: 20 degrees rise aluminum handlebar
Extras: Manual & Assembly guide
Note: Specifications Subject to Change
FAQ & Answers
Question: How many colors/shades does this gravity mountain bike comes in?
Answer:

This model has been painted with three shades: white, gray and yellow.
Question:

What is the wheel size?
Answer: The wheel size is 26 inches
Question: Are the pedals made of plastic material?
Answer: No. They are made of bear-trap MTC metal.
Question: I am m 6'2″ height. What's size would be perfect for me?
Answer: The 19″ gravity bike would be most suitable for you.
Question: How much does the shipment weigh?
Answer: The shipment weighs approximately 50 pounds.
Gravity FSX 1.0 Review
When it comes to mountain bikes, potential enthusiasts are often hesitant for two reasons: price, and perceived technical difficulty. When beginners see the price of most mountain bikes reaching into the thousands, it's easy for them to dismiss the activity altogether. In that case, Gravity FSX 1.0 is the best solution from the gravity mountain bikes series. It's an affordable choice that offers all of the features beginners need to get started.
It may not be capable of handling the most difficult trails for very long, but it's certainly a great choice to get a feel for beginner and even intermediate single tracks.  And if you're among the many mountain bikers who prefer to play it safe by avoiding the most challenging trails, the FSX 1.0 will easily provide years of enjoyment on intermediate paths.
---
You May Also Like To Read
Schwinn Protocol 1 Full Suspension Review
26″ GMC Topkick Full Suspension Review
Check the best car rack for your bike
Gravity FSX 1 Dual Suspension Mountain Bike
COMPONENTS -

9.0/10

PRICE -

9.0/10

WEIGHT -

8.2/10

SPEED -

8.8/10

DURABILITY -

8.5/10