Introduction to the Diamondback trace sport
Finding a bike that suits your exact needs with the features you want, withstands the abuse you'll put it through and suitable for diverse terrains can be daunting.
However, for many people, hybrid bikes fit perfectly well. This presents the next challenging task, finding the perfect hybrid bike. Just to mention, hybrid bikes are available in variety and different fluctuating price tags.
This makes them frustrating to find. Therefore, if you want a bike that suits your needs and doesn't break your bank, consider the Diamondback Trace Sport Hybrid Bike.
Functionality and affordability should be your priority concerns. They shouldn't be mutually exclusive.
Of course, this is provided by the great componentry of the bicycle. This involves the construction quality, gears, frame material, and style. For the diamondback trace sport, these features make it easy to choose. It delivers high-quality features with exceptional riding experience. So to say, it is a great all-around bicycle with quality components.
Overview of Diamondback Bicycles Trace Dual Sport Bike
| | |
| --- | --- |
| Frame Size | S – 16″/ M – 18″/ L – 20″/ XL – 22″ |
| Frame Material | Dual sport aluminum frame |
| Bike Type | Hybrid bike |
| Speed | 21 speed |
| Brakes | Disc brake by Tektro |
| Wheel Size | 700c |
| Editor Rating | 8.7/10 |
| Brand | Diamondback |
| Pros | Fairly lightweight, Looks good, front shock, durable tires |
| Cons | No suspension lockout, cheap grip, no Kickstand |
| Summary | Work well on pavement and bike paths/trails |
| Where to Buy | Check On Amazon |
Who is the diamondback trace sport Designed For?
The Trace bike is perfect for individuals seeking to explore diverse riding experiences in varying trails. With this bike's great componentry, you can explore diverse paths without much worry.
The bike comes with great all-around componentry to facilitate this. The features make it possible to explore the various trails and terrains.
Like other Diamondback bicycles, the bike is available in four size clusters. This makes it easy to choose a perfectly fitting bicycle.
The small size (16") is perfect for riders of heights between 5.4" – 5.7". The medium size (18") suits riders of height 5.7" – 5.10".
On the other hand, the large (20") and extra-large (22) is a good choice for riders of heights 5.10" – 6.1" and 6.1" – 6.4" respectively.
---
 Feature Details Diamondback Trace Sport Bike
Aluminum Alloy Construction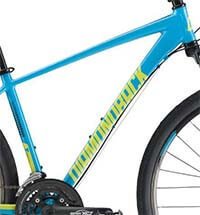 For any riding enthusiasts, having a strong frame construction isn't an option. Especially for bikes expected to encounter diverse trails, aluminum is highly preferred. Besides playing a big role in determining the overall geometry of the diamondback trace sport, it contributes immensely to the strength of the bicycle.
That said, the diamondback trace sport trace constructed by 6061-T6 aluminum dual sports frame. The frame has formed top and down tubes. It is also lightweight but packs all the necessary strength and utmost durability needed to provide peace of mind when riding. The frame also has an integrated chainstay disc mount.
The diamondback trace sport is a great choice for diverse paths. This means that you can take it to smooth parks, light trails, and mountain regions. Whichever the situation, stopping or slowing your riding speed is inevitable. This is why having a smooth, effective and powerful braking system cannot be ignored.
That said, stopping in all conditions with this bicycle is provided by the powerful Tektro Aires disc brakes with 160mm rotors in both front and rear wheels. Holding the brakes don't feel tough but rather smooth and glides smoothly to the rim. This efficiency is supported by the Tektro 3 finger brake levers.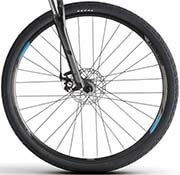 Any bike's wheelset determines various factors. From the roll-over speed, easiness to climb over obstacles to trail traction, tires have a special role in a bike's componentry. Bicycle tires often vary depending on the specialty of the bicycle. For instance, bikes made for paved paths and light parks are minimally wide as they don't require much traction.
On the other hand, hybrid bikes such as Diamondback Bicycles Trace Bike require wide tires to roll over obstacles easily and provide the needed traction accompanying the rider's speed. This is why Kenda Bitumen fitted on this bicycle doesn't disappoint.
Assembly
Bicycle riding experts will attest that assembling a bicycle, especially when delivered unassembled, is challenging. It is a process that takes a minimum of 30 minutes and 2 hours at most. Besides, it requires some technical know-how. This makes it challenging for beginner riders.
Worry not however as this model is delivered partially assembled. To provide more riding time and less assembly time, manufacturers assemble the bike to 85% completion. The remaining parts can't be fixed to ease the delivery process. However, fixing them after receiving is quite simple. Consult an expert is you find this still challenging.
Added Extras
When finding a perfect bicycle, it is imperative that you look at the extras accompanying your bike. This will help in promoting your overall riding experience. For instance, as mentioned before, the diamondback trace sport isn't 100% assembled. Manufacturers must, therefore, provide an assembly guide to help you complete the process.
In the Diamondback trace sport, you will get an owner's manual to aid you if you aren't experienced with riding similar bicycles, an assembly guide to help you complete the remaining steps of assembly and a toolkit. The toolkit has tools that help you assemble the bicycle. This completes your cycling anticipations.
Riding Comfortability
Like other bicycles, this hybrid MTN was designed to provide the utmost comfort to riders. This involves a combination of various bike pieces of equipment. However, the first step in your riding comfort is choosing a perfectly fitting bicycle. This involves considering your height, weight and body shape against the size provisions.
Moving on, other role players are determined by the manufacturer's choice of components. They include the seat and seat post, handlebar, pedals, and the drivetrain. The saddle should be soft and of perfect size to accommodate the rider's buttocks. Handlebars determine the riding position. The pedals are crucial to easing the cycling process.
---
Pros
The diamondback trace sport comes in various size choices making it easy to find a perfectly fitting bicycle.
It comes with aluminum alloy constructed frames for enhanced strength and durability.
The diamondback trace sport features Tektro disc brakes which provide great stopping power in all conditions.
The 3×7 drivetrain of the diamondback trace sport promises a gear for every hill. This makes riding both fun and easy.
Its dual-sport 700x45c tires roll over obstacles easily and provide great traction even on dirt trails.
The great suspension fork delivers a smooth ride and keeps your confidence high through bumpy stretches.
Cons
The diamondback trace sport doesn't come with a kickstand
The front suspension has no lockout & adjustment
Trace Bikes Features at a Glance
Frame: 6061 aluminum dual sport frame
Suspension Fork: 75mm travel fork with coil spring
Speed & Shifter: the 3×7 speed with EF-51 shifter by Shimano
Drivetrain: Shimano Tourney & Atlus derailleur in front & back
Brakes & Rotor: Mechanical disc brakes with 160mm rotors
Chain & Cogset: KMC Z51 chain with Shimano HG – 20 cogest
Wheels & Tires: 700c alloy wheel with Kenda Tires
Rims & Spokes: DB SL-7 32h alloy rims with stainless spokes
Saddle & Seatpost: 27.2mm adjustable seat post with DB Saddle
Pedals & Grips: Alloy pedals with Comfort grip by Diamondback
Bike Weight: 29.0 lbs
Extras: Assembly guide with installation kit & Manual
Note: Specifications Subject to Change
FAQs And Answer
Question: How do I know the size of the bike to purchase?
Answer: Identifying the perfect size is pretty simple. Kindly consider your height and match the size guide mentioned on top part
Question: Can the front suspension of this bicycle be adjusted so that the shock is tight?
Answer: No. I don't think so!
Question: What is the approximated weight of this bicycle?
Answer: The bike weight is approximated to be around 28lbs. However, note that the weight of the bike changes with the frame size. Expect an extra-large bike to weight more than the small bike.
Question: Does the bicycle come with pedals?
Answer: Yes. The bike comes with Wellgo alloy forged pedals. They have sufficient grip that you won't need to order riding shoes.
Question: How much does it cost?
Answer: The bike cost varies with online retailers. Please check online…
Buying Advice
After going through this review maybe you planning to get this affordable bike for you or your loving one. Then when buy tries to add a kickstand along with the diamondback trace sport, Using this you can perk this bicycle anywhere as you want. It is more important to me while I'm biking that's why telling to have the kickstand if possible.
Final Verdict on the Diamondback trace sport
The Diamondback Trace sportbike review shows the much-coveted great features of this bicycle. This is perhaps why those seeking to cruise both light trails and mountainous terrains prefer this bicycle. It comes fully packed with great features that will not only make your riding experience fun but also worthy.
Its lightweight aluminum alloy frame has all the strength and durability you need. The three-inch suspension fork maintains your confidence high up through bumpy and rough stretches. Its vast drivetrain has every gear for each trail. The disc brakes gift you the control you need with reliable stopping power. Dual sports tires for traction. Surely, what does it miss?
---
Check other reviews from BikesGuider: Diamondback Calico