The young cyclists on a journey for environmental change
The young cyclists on a journey for environmental change is a challenge set by 5 bicycle rides.
It's not every day that cyclists are able to use their passion for the sport to help save the planet. This is exactly what a young team of five cyclists from the UK aims to do in the first-ever cycle ride over land and sea.
Pedal4Parks is a team of five city-living, eco-conscious friends (Isaac Kenyon, Sal Montgomery, Alex Egan, Alexandre Pierrot, and Lukas Haitzmann) who are setting out on a new type of endurance cycle challenge to shed light on the changing nature of green spaces and natural parks.
Led by Isaac Kenyon, who was part of the Atlantic Discovery Team which successfully rowed the Atlantic in the Talikar Whiskey Atlantic Challenge, the young group will traverse nearly the whole of the UK by bicycle to raise awareness about the effects that human interference is having on green spaces across the UK.
Documenting Human impact on natural spaces
This month, they will start their endurance challenge, which will simultaneously explore and document how human interference is damaging UK wildlife and green spaces and look to explain the detrimental effects this has on physical and mental human health.
Their journey will not only take them through green spaces, but it will also see them interview experts on conservation and regeneration efforts for protecting national parks and green spaces. The final result will be a documentary about the team's journey, which will support the National Park UK Foundation Protectors Fund. It will compile footage from the trip as well as expert interviews and insights into the impact humans are having on green spaces across the UK. The film aims to also support regenerative initiatives in the most protected areas of the UK, such as its national parks.
You can watch the trailer here:
More about the journey
As for how the idea came to light, team leader Isaac Kenyon explained the following:
"During the multiple lockdowns we have all experienced, time outdoors in green spaces has become precious to many of us, with tangible benefits for our physical and mental health. There has never been a time where we have appreciated nature as much as we do now. There may be a vaccine for COVID-19, but there is not one for climate change".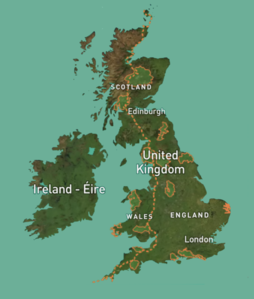 The never-attempted cycling journey will be a world-first, piggybacking on the traditional John O'Groats to Land's End cycle ride across the UK. It will combine overwater cycling with water bikes, which will allow them to physically cycle across the sea. Thanks to the water bikes, the team will also visit the Orkney and Scilly Isles as part of their journey.
The entire trip is expected to take them two weeks (18th June 2021 – 2nd July 2021), seeing the team cycle for up to 100 miles a day with the on-land portion to be completed on eco-friendly, hand-built bamboo cycles. The ambitious challenge will see the team cycle a total-journey ascent amounting to twice the height of Mount Everest.
A journey for an environmental cause
When speaking to Kenyon, he explained that while the UK national parks are protected at a national level, funding for conservation and regeneration is not legislated to be carried out in a uniform way across the national parks. This can lead to disproportionate levels of preservation across the UK. The overall question the group's journey and the subsequent film will seek to answer is: how can the UK regenerate National Parks at scale?
As a result of their unique journey and eco-conscious message, Pedal4parks has gathered quite a following, attracting supporters from a range of different sectors. These include clothing brands like Columbia, food companies such as Clif Bar, automobile manufacturer Volvo, and green-focused energy companies such as The Switch. These supporters and many, many more are all working in support of Pedal4Parks' green initiative, which has been brought to the main stage thanks to an eco-conscious group of young friends and their unique cycling proposition.
Is there any way I can participate?
You too can follow along with the journey in several ways. The group will be hosting a ride-along virtual event running in parallel at the same time they are completing their own event. Supporters can participate in teams by cycling, running, walking, and even swimming the distance from the top of the Orkney Islands to the Isles of Scilly through their exact route. There is a £10 entry fee per person, which can be donated through their gofundme page.
Alongside the documentary, you can follow along with the Pedal4Parks podcast, "Mind the Green Space", which highlights the importance of speaking about mental health struggles and how green spaces can help people mentally. The podcast is available on Spotify, Anchor FM, and Apple Podcasts. For more information you can visit pedal4parks.co.uk as well as follow them on social media They are active on Instagram, Facebook, and Twitter and can be found using the following: @pedal4parks.
About the Author:
Alex Wilson works as an advisor at TheSwitch, a renewable energy website dedicated to helping families learn how to go green at home through energy-efficient home upgrades and green suppliers. Pedal4Parks have teamed up with TheSwitch to help spread the message. For more information please contact Selectra group.