Introduction to the Diamondback Calico
Starting your morning with the Diamondback Calico Dual Sport Bike will make the better part of your day awesome. It is a dual-sport designed to provide the needed power for on and off-road. The bicycle is designed specifically for women. This is based on the features and various componentry.
Just to mention, the durable aluminum frame ascertains durability and a female fit. they are lightweight enough for portability and easy control. The suspension fork assures control through the perceived rough patches. Its powerful disc brakes provide the incredible stopping power you need to ride safely in any conditions.
Moving on, its Devine geometry and dual sports saddle ascertain a long-lasting comfort. Finished with the dual sports tires which provide fast-rolling traction and a clean look. There is much about the Diamondback Calico that not only makes it great but the best choice for women. It is a great lightweight bike for women to ride anywhere.
Overview of Diamondback Bicycles Women's Calico Dual Sport Bike
| | |
| --- | --- |
| Frame Size | XS – 14/ S – 16/ M – 18/ L -20 |
| Frame Material | Aluminum frame |
| Bike Type | Hybrid Bike |
| Speed | 21 speed |
| Brakes | Disc Brakes |
| Wheel Size | 700c wheel |
| Rating | 8.8/10 |
| Brand | Diamondback |
| Pros | Alloy rim, Shimano drivetrain, Kenda tires, Twist shifter |
| Cons | No kickstand |
| Summary | Fashionable & comfortable bike for women |
| Where to Buy | Check On Amazon |
Who is the Bike Designed For?
As the name suggests, it is specifically designed for women with lots of riding enthusiasm.
The Diamondback Calico, backed by its features, stays comfortable and stable on paved and dirt paths at home. It is undoubtedly a bike you would want to take on a morning ride around the neighborhood.
Following suit other Diamondback counterparts, the Diamondback Calico comes in four size clusters. Manufacturers do this to allow every riding fan to get the bike with a perfect fit.
That said, the Calico hybrid bike is available in small, medium, large and extra-large models.
The small (14") suits riders of height 5.1" – 5.4", medium (16") perfect for 5.4" – 5.7", large (18") best for 5.7" – 5.10" and extra-large (20") best pick for riders if height 5.10" – 6.1".
---
Feature Details Review Of Diamondback Calico Hybrid Bike
Aluminum Alloy Frame
If there is anything you would want to ascertain before purchasing a bicycle is its frame. This is perhaps one of the important considerations based on its role in the overall bicycle geometry. For instance, the DB Calico is a women's hybrid bike. Therefore, it ought to have a female-specific geometry which is determined by the frame.
That said, the Diamondback Calico's frame is specially developed for women. Elegant craftsmanship coupled with devotion to technology engineers the whole geometry. Its durable aluminum frame provides the utmost durability and the female fit you anticipate.
75mm Suspension Fork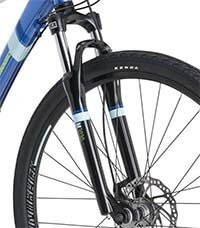 Any bike dubbed to be great for women should have a satisfactory suspension system. This is largely determined by the fork system. To begin with, this bicycle is best suited for riding at home on paved and dirt paths. Though these trails seem smooth, minor obstacles and bumps cannot be avoided.
This is why this bicycle incorporated a front suspension system. A suspension system absorbs and sucks up the rough stuff on your path. You will be riding with the utmost comfort as you won't feel even a bit. The bike's SR Suntour suspension fork with 75mm of travel gives you the much-needed control over the rough patches.
Powerful Tektro Aries Disc Brakes
Regardless of the nature of your ride, powerful brakes are a must-have for all bicycles. They guarantee safety. For this model, don't despise them considering that you will be lazing with the bike around the neighborhood only. Consider the brakes as the ride might be such sweet that you forget to check your speed. Nonetheless, there are cases where immediate stopping cannot be avoided.
This is why the bicycle is fitted with Tektro Aires Disc brakes with 160mm rotors. They are complemented by the Shimano EF-51 brake levers that give you the stopping power needed to ride safely regardless of the condition.
Suggested Sizing
Women can at times be choosy. Especially when it comes to matters of comfort, they need to get a bicycle that perfectly fits them. Diamondback doesn't disappoint on that. The Calico comes in four size variations. This is prudent to help any potential customer find a perfectly matching bike. This is often based on the individual's height, body shape, and weight.
The Dual Sports Tires and Wheelset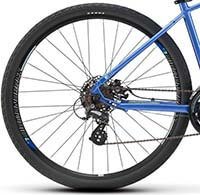 Tires and overall the Diamondback Calico's wheelset are the other essential determinant of a bike's efficiency. The bike is set for home paved and dirt paths. This calls for a wheelset, and especially a tire system with excellent traction and stability. It should leave a paved bike path on any trail you make around the neighborhood.
This is provided by the Kenda Bitumen 700-inches by 45c tires. They provide the needed traction, enough for your riding comfortability. Other components of the wheelset include a Diamondback SL-7 rim and as usual, 14g stainless steel spokes.
Riding Comfortability
Paved and dirt paths could be smooth. However, you should ascertain your comfort as a rider. In a bicycle, comfort is felt from the interaction of various components. They range from adjustable componentry to fixed parts which cannot be altered. Just to mention, a rider's comfort can be achieved by getting a great suspension fork, saddle and seat post, handlebar and pedals.
The frame size also plays a role in this. That said, Diamondback Bicycles Women's Calico Bike components such as the handlebar, 75mm suspension fork, saddle, and pedals provide a good riding comfort. You'll only finish this off by getting the right size.
---
---
Pros
Its dual sports seat ensures a long-lasting riding comfort.
Have dual sports tires which provide a fast-rolling traction
Comes with alloy frame hence durable and lightweight ride.
specific geometry for female thus a comfortable fit for women.
Has Tektro Aries disc brakes for powerful control and stopping.
Has great 75mm suspension fork for a solid handling of the rough trails.
It comes with a smooth and easy to shift Shimano drivetrain for enjoying the various gear options.
Cons
The bicycle lacks a kickstand
Assembly is quite tedious and requires the services of an expert
Diamondback Calico Features at a Glance 
Frame: Calico dual sports aluminum frame
Suspension Fork: 75mm travel fork by SR Suntour with coil spring
Speed & Shifter: 21 speed with Shimano shifter
Drivetrain: Front & rear derailleur by Shimano Atlus & Tourney
Brakes & Rotor: Disc Brake by Tektro with 160mm rotors
Chain & Cogset: KMC z51 with Shimano chain to cover 21 speed
Wheels & Tires:  Kenda Bitumen tires with 700c wheel
Rims & Spokes: Doublewall alloy rim by DB SL-7 with stainless steel
Saddle & Seatpost: 27.2mm adjustable seat post with Sport series saddle
Pedals: Wellgo alloy pedal
Bike Weight: 29.0lbs
Extras: Free toolkit, manual & assembly guide
Note: Specifications Subject to Change
FAQs And Answer
Question: How much does this bicycle weigh?
Answer: The Diamondback Calico weight is approximately 29 pounds. However, note that the weight is subject to frame size. The extra-large models can weigh up to 31 pounds.
Question: Does the Diamondback Calico have female-specific features?
Answer: Definitely yes! To begin, it is a bike made explicitly for women. It has a female-specific geometry that provides a comfortable fit for women.
Question: Does the bicycle come assembled?
Answer: Unlike other models, the Calico bike doesn't come with a ReadyRide option. That means 85% assembled. You don't need to worry about assemble the rest.
Question: What extras accompany the bike?
Answer: The bicycle is delivered with some items to make your riding experience easy and enjoyable. They include an owner's manual, a toolkit to aid in assembling the bicycle and an assembly guide for aid.
Question: Is the seat comfortable?
Answer: Yes. The Diamondback Calico comes with a DB Dual sports series seat supported by a DB laser micro-adjust seat post.
Final Verdict on the Diamondback Calico
The Diamondback Calico bike should be your bike of choice as a woman thinking of making a comeback to bicycle riding. The bicycle is an excellent performer regardless of whether you are riding for fitness or as a hobby.
The Diamondback Calico provides much fun and a lot to enjoy and little to complain about. Perhaps, the assembly process and the lack of a kickstand are the downsides. However, the assembly can be done by an expert, and a floor rack solves the kickstand problem. Apart from these, expect a good and fun-filled riding experience.
---
You can also get your own bike rack for cars by clicking here