What is the Diamondback El Oso?
Diamondback El Oso Complete Fat Tire Mountain Bike feels fat and fun! You certainly won't wait to bring it on the trails and snow. Like other Diamondback fat-tire bicycles, it comes with amazing features that work hand in hand to deliver an exceptional riding experience.
Just to mention a few, it's strong, but lightweight aluminum frame made with hydroformed tubing, 100mm travel fork, Shimano drivetrain, and 20 speeds should convince you to get Diamondback El Oso. Again, you shouldn't be worried about the bike's performance
Overview of Diamondback El Oso Complete Fat Tire Bike
| | |
| --- | --- |
| Size | 16 Inches/18 Inches/20 Inches |
| Frame | 6061-T6 Aluminum frame |
| Type | Fat Tire Bike |
| Speed | 20 Speed with Shimano SLX M670 Shifter |
| Brakes | Hydraulic Disc Brakes |
| Wheel Size | 26 Inches |
| Rating | 9/10 |
| Brand | Diamondback |
| Pros | Easy Assembly, High-Quality Components, SRAM drivetrain |
| Cons | A little bit Heavy for some bikers, but reasonable |
| Summary | High End, Entry Level Fat Bike |
| Where to Buy | Check On Amazon |
This combination delivers an action-packed and responsive ride. It is dubbed a high-end entry-level bike with a fantastic big tire and brings lots of fun to ride. Diamondback fat bike is perfect to excel in sand or snow. This is perhaps backed by the great traction wheels. With this, you can be sure of achieving the impossible when riding.
Who is the Diamondback fat bike designed for?
The Fat Bike is especially great for entry-level biking enthusiasts in need of fun to ride the bicycle.
The bicycle has all it takes to conquer the rough trails as well as excels well in snow and dunes. You will enjoy your ride regardless of where you decide to take it.
Unlike other Diamondback bicycles that come in four size groups, the Diamondback fat bike comes in three cluster grouping. They include small, medium and large models.
The small (16") suit riders of heights 5.4" – 5.7", medium (18") perfect for 5.7 – 5.10" and large (20") model is perfect for riders of height 5.8" – 5.11".
With this size variation, you will be in a position to find a perfect size for your height, body size, and shape.
---
Features of Diamondback El Oso Fat Bike
Powerful Brake Style
Braking is a necessary tool for great riding. Otherwise, how would you possibly be able to stop your bike or reduce the speed? You can imagine hitting a bump, post or any other object at your highest speed. That's full damage to your bicycle and your body too.
That said, it is imperative that you have an excellent braking system on your bicycle. This is perhaps why the Diamondback El Oso Fat Bike comes with the Shimano M447 hydraulic disc brakes. The brakes are powerful bringing your bicycle to a halt on a dime.
Handlebar and Grip
Comfort on the Diamondback fat bike is brought along by various components. The fat bike comfort can be sort from the handlebar. Note that ridding comfortability, especially at hand, is determined by the width of the handlebar.
Its DB pro handlebar with 750mm width, 15mm rise, and 31.8mm barbore could be the best in this caliber. Its geometry is neither extra-wide nor narrow. This allows for a comfortable riding without obscuring obstructions. When it comes to the grip, they are fitted with a DB4L lock-on grip. With these, the handlebar won't slide at all.
Quick Assembly
Honestly, assembling the bicycle is one of the tedious activities post-delivery. Many people would do anything to avoid this. For sure, you bought the bicycle to ride on it, not assemble it. This is why you need to find a bicycle that is partially assembled.
This is why manufacturers, including Diamondback, prefer delivering the bicycle partially assembled. This makes it easy for you to complete the remaining components. The remaining parts to be joined include the front wheel, seat and minor componentry.
Finding the bicycle of your size is prudent. Otherwise, imagine riding a bike you can't reach the saddle. Surely, you won't have a good time. This is why bikes come in varying sizes. Finding a perfect size to purchase involves checking on some parameters. Your height, weight and body shape should be compared to the bike's dimensions.
With that said, the bicycle comes in three clusters. They suit riders of approximated heights as follows:
Small (16") suit riders of heights 5.4" – 5.7."
Medium (18") perfect for 5.7 – 5.10."
Large (20") model is perfect for riders of height 5.8" – 5.11".
Front Suspension System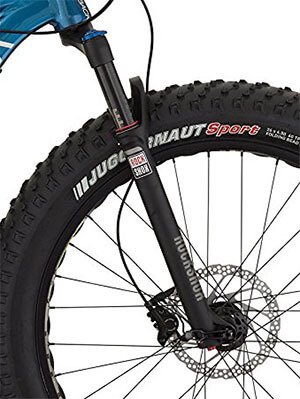 Just like motor vehicles, a suspension system is of many benefits to a bicycle. Without suspensions, bumps, potholes, and other obstacles will be hunting for your comfort. However, with a perfect suspension system, they will be shredded by the suspension fork. You won't feel a bit.
The Diamondback El Oso comes with a front suspension system for utmost comfort. With this, the Diamondback El Oso will be perfect for cruising all the trails you fear riding on. Besides, riding at any speed is guaranteed. This is because you won't feel the roughness of the terrain.
Excellent Customer Support
Bicycles can be fragile. Be it the frame, braking system, handlebar or any of the drivetrain components, accidents or unexpected events may result in faults. In that case, to recover or fix damages/issues you will need reliable support. Diamondback ensures after-sales service via phone, website, YouTube to the customer so you don't need to hesitate about this if you face any problem near future. Just let them know about your problem.
Pros & Cons of Diamondback El Oso
Pros
Have comfortable tires with great traction
SRAM drivetrain with gear for any trail of your choice
Amazing nimble ride by the hydroformed aluminum tubes
Mechanical disc brakes provide excellent stopping power.
Comes partially assembled (85%) thus less assembly time required.
Various size clusters for various riders to get their preferred height.
Aluminum and good quality foot pedals for comfortable pedaling.
Cons
Diamondback fat bike wheels are not tubeless compatible.
Weight quite heavy for entry-level riders.
Diamondback El Oso Specs at a Glance
Frame: Butted 6061-T6 aluminum frame with formed top and down tube
Fork: It comes with RockShox Bluto fork solo air with 100mm of travel
Speed: 20 Speed gear for move faster
Shifter: Shimano SLX M670 shifter
Drivetrain: Drivetrain comprises a Shimano Deore derailleur
Brakes: The Diamondback El Oso comes with Shimano M447 hydraulic disc brakes
Suspension: Front Suspension only
Chain: KMC X10 EPT anti-rust chain all supporting the 20-gear speed.
Cogset: Shimano HG50 Cogset
Rotor: 180mm both front and rear rotor
Wheels: 26″ best for short riders
Rims & Spokes: DB 95wide single-wall rims and 14g stainless steel spokes
Tires: Kenda Juggernaut 26×4.5" Tires
Saddle: For comfortability, features a DB race M-series saddle
Seat Post: DB micro adjust 30.9mm seat post
Standover Height: 34″
Diamondback El Oso weight: Approximately 37.48 pounds
Other extras that accompany the Diamondback El Oso include an owner's manual
Note: Specifications subject to change
FAQs & Answer
Question: Does the bicycle come with foot pedals?
Answer: Yes! The Diamondback El Oso comes with aluminum foot pedals.
Question: Is the Diamondback fat bike delivered assembled?
Answer: To some extent, yes. The Diamondback El Oso is delivered partially assembled. The remaining parts are for you to complete at home. This is to make shipping easy. Adjusting the brakes, front and rear derailleurs and the front wheel is what remains. There is a guide on how to do this. If you find it daunting, consider employing the services of an expert.
Question: Are the tires of the bicycle tubeless compatible?
Answer: No. The wheels and tires are not tubeless compatible.
Question: Can you track miles with the Diamondback El Oso?
Answer: Yes. You can track how far you've ridden with the addition of a bike computer.
Final Verdict on the Diamondback El Oso
As an entry-level riding enthusiast with great riding aspirations, the Diamondback Fat Tire Bike can be the best choice for you. The bike is an eye-catcher which certainly gets plenty of attention. Not only does it look great but also descents well and a great choice, especially if you are not overly concerned with weight.
Achieving quick acceleration isn't its strength. Climbing power is exceptional. From the Diamondback El Oso review outlined above, you can attest that the features are perfect for an entry-level rider. You can take the bike on concrete trails, single tracks, dirt jumps and other places you want memorable escapades.
---
Diamondback Bicycles El Oso Fat Tire Mountain Bike
COMPONENTS -

9.8/10

PRICE -

8.0/10

WEIGHT -

8.8/10

SPEED -

9.0/10

DURABILITY -

9.3/10