Diamondback Recoil Comp 29er Review | Great Dual Suspension MTB
Are you currently looking for an upgrade from a hardtail mountain bike?
You need to try out the tried and proven, innovative suspension system used on the Diamondback Recoil Comp 29 mountain bike today.
So, why should you consider this mountain bike? To begin with, the bike is by one of the well renowned and well-established bike manufacturers today.
Over the years, Diamondback has established its reputation as one of the manufacturers of high-performance, high quality, beautiful and practical bikes. In this regard, you will find the bike both affordable and fun to ride.
The bike offers seamless handling and control on various terrain conditions. Additionally, this bike features a sturdy build, which means that it can take abuse for a long period and still deliver exceptional performance. The Recoil 29er by Diamondback is reputed as one of the most dependable full suspension mountain bikes today, capable of ripping any trail. You will find out why in this review.
Overview of Diamondback Bicycles Recoil Comp 29er
Who is the Bike Designed For?
Are you into aggressive mountain biking? The Diamondback Comp 29er is the bike you need to make your biking dreams come true. The bike was designed to take on any trail conditions with ease and offer its riders exceptional handling and control on almost any off-road terrain.
Being an outdoor trail bike, the bike is ideal for any bike enthusiast who is interested in rugged terrain biking or single off-road tracking. While the bike is often advertised as a men's bike, it may also be used by female riders, provided that they choose a perfect size for their height.
---
Why Would You Opt for the Diamondback Recoil Comp 29?
A Strong and Lightweight Frame
When shopping for a mountain bike, you need to understand that the frame is one of the key components that you need to consider. For tough and challenging trails, you need a bike that has a strong and durable frame that can withstand abuse without compromising on the performance of the bike. Again, you need a bike that is lightweight to help you conquer hilly and rocky trails with ease.
With such considerations in mind, the perfect mountain bike frame material is aluminum. Since the Diamondback Recoil bike is particularly designed for this application, it comes with 4-inch travel, single pivot aluminum frame.  This kind of frame design is not only sturdy and durable; it also offers enhanced comfort while riding through rough terrain.
Reliable Braking Power
The Diamondback Comp 29er is meant for bikers who would like to conquer impossible terrains with their bikes. Without powerful and efficient brakes, such an undertaking would be very dangerous for the rider. For safety and reliable braking, the Recoil Comp 29er mountain bike is fitted Shimano hydraulic disc brakes with 180/160mm both rotors. These brakes are known to be very reliable in any condition.
An Adjustable Fork
As mentioned earlier in this review, this bike is a full-suspension bike and one of the best within this price range for that matter. In this regard, the manufacturer incorporates an innovative 4-inch travel as a result of the oil damping coil shock.
This is then mated with a Suntour XCM suspension fork that has an additional 100mm of travel. To make the ride customizable, the fork has an external preload adjustment feature. This will allow you to adjust the riding style offered by the bike to your preferred experience. This enhances both the comfort and the convenience offered by this bike.
You May Like
Do you want to check more bikes from popular Recoil series by DB? then see below.
Relatively Large Wheels
If you are a bike enthusiast, you probably are aware that the comparatively larger 29-inch wheels are a preferred feature for mountain bikes today. These bigger wheels are better than the smaller options for several reasons. First of all, these tires are easy to accelerate because they are larger. As a result, the bike is easier to accelerate to high speeds.
Again, the comparatively larger tires are easy to roll over obstacles. In this regard, you can have fun with an array of challenging trails with your Diamondback 29, without ever getting stuck. Owing to the reduced rolling resistance associated with larger wheels, you can easily reach higher speeds with your bike.
An Innovative Full-Suspension System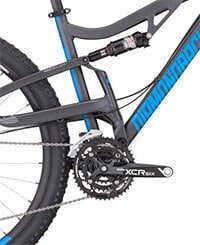 Despite the fact that the bike is one of the most affordable, high-end mountain bikes, safety is not a concern with this bike. The manufacturer has conveniently incorporated an array of safety features into the full-suspension frame. For instance, the bike has disc brakes for reliable and powerful braking.
Again, the full-suspension system offers you enhanced comfort as you ride through rough terrain with your bike. The frame is also designed to lower the bike's center of gravity, which improves its stability while cornering at high speeds or navigating through obstacles on your trail.
Pros & Cons of DB Recoil Comp Bicycle
Pros
Shimano high-quality drivetrain
Wonderful starter MTB for trail ride
Aluminum 6061 T6 full suspension frame
29″ large wheels to roll over the obstacles in the trail
Comes with ReadyRide feature hence 85% assembled
Powerful hydraulic disc brake for great stopping power
27 speed with Shimano Atlus rapid fire shifter for smooth shifting
100mm Suntour fork with RockShox Monarch R, Air Spring Shock
2.2″ Kenda Honey Badger tires for improved grip in all terrain conditions
Cons
The saddle is not comfortable that comes with this bike.
Frame: 6061-T6 aluminum frame
Suspension Fork: RockShox Monarch R, Air Spring shock & 

SR Sun tour 100mm fork

Speed: 27 speed for faster ride
Shifter: Shimano Atlus rapid fire shifter
Drivetrain: Shimano Acera front & Atlus rear derailleur
Brakes: Hydraulic disc brake from Shimano
Rotor: 180mm front & 160 rear rotors
Chain: KMC Z99 chain for 27 speed
Wheels: 29-inch large wheels
Tires: 2.2 inch Kenda Honey Badger
Rims & Spokes: Tubeless Compatible Double wall rims
Saddle: Diamondback race saddle
Seatpost: 30.9 mm adjustable Seatpost
Pedals: Aluminum platform pedals installed
Diamondback Recoil Comp Weight: approx. 33 pounds
Extras: Toolkit, manual & assembly guide
Note: Specifications Subject to Change
FAQ's and Answer
Question: What is the average weight of this mountain bike?
Answer: The bike weight is about 33 pounds.
Question: Is the bike aesthetically appealing?
Answer: Yes, in addition to its high performance, the bike also features an appealing design. In this regard, the manufacturer offers several color options for this bike, including red, blue, white and black accents.
Question: Does the bike have a lockout feature for the rear suspension?
Answer: No, the Diamondback Comp 29er bike does not have a lockout feature on its rear suspension. However, the pivot for the rear swing arm is designed in such a way that it does not require a lockout feature.
Question: Is this bike ideal for female riders?
Answer: In most cases, the mountain bike is advertised as a men's bike. However, experienced female riders may also ride the bike. In this case, you will only need to get a frame size that is right for your height.
Final Verdict
Throughout this Diamondback Recoil Comp 29 review, you have learned why this is the right bike for the aggressive mountain bikers today. You will also notice that it is one of the most affordable high-end bikes that offer practical and exceptionally functional features, similar to those offered by some of the more expensive mountain bikes today. .
---
You May Also Like To Read