Diamondback Overdrive Sport Review: Impressive Mountain Bike at a Good Price
Why would I buy a Diamondback Overdrive Sport mountain bike today, you may be wondering.
Well, the Diamondback Overdrive Sport is a classic hardtail mountain bike, having benefited from years of advanced development and refinements by one of the leading mountain bike manufacturers today.
With regards to performance, this bike has been proven to be better than some of the bikes priced about two times its price. This is to say that you are getting the performance of a $2,000 bike by buying the Diamondback Overdrive Sport at a comparatively lower price. This bike is visually appealing, strong and lightweight; hence easier to control and maneuver in challenging terrain conditions.
Overview of Diamondback Overdrive Sport 27.5 mountain bike
| | |
| --- | --- |
| Frame Size | S – 16″/ M – 18″ / L – 20″/ XL – 22 |
| Frame Material | 6061-T6 aluminum hardtail frame |
| Bike Type | Hardtail bike |
| Speed | 27 speed |
| Brakes | Shimano disc brake |
| Wheel Size | 27.5 Inches |
| Rating | 8.9/10 |
| Brand | Diamondback |
| Pros | 27 speed, Shimano drivetrain, Partially assembled |
| Cons | Cheap saddle, Plastic brake cables |
| Summary | Best 27.5 classic hardtail MTB under below $1000 |
| Where to Buy | Check On Amazon |
Just as the other high-performance hardtail mountain bikes in the market today, this bike is meant for the extreme riders out there. As you will learn in this Diamondback Overdrive Sport 27.5 reviews, this bike has a very rigid frame, which allows the bike to endure the toughest of biking conditions and terrain for a long period.
The bike is quite affordable, bearing in mind that it is fitted with high-quality components and is fun to drive for both entry-level riders as well as the more experienced riders. Owing to the many benefits that this bike has to offer, it is rated one of the best selling hardtail mountain bikes today.
---
What Makes the DB Overdrive Sport a 'Must Have' Bike?
A Lightweight Frame
The 6061-T6 Aluminium frame has, to a certain extent, revolutionized the way other manufacturers view the designing and crafting of MTB frames. To begin with, the frame is very light;the Diamondback Overdrive Sport weight should not be a concern for you. The lightweight of this bike enhances its performance and makes it easier to control and maneuver.
The 6061 combination of Aluminium, Magnesium, and silicon on this frame offers a comparatively high tensile strength. This is very important, bearing in mind that the bike is designed for extensive mountain biking.
Large Wheels and Tires
Any experienced rider can attest to the fact that larger wheels are very beneficial when used on a mountain bike. As a matter of fact, you may have realized that a good number of hardtail mountain bikes within this range have either 27.5 inches or 29-inch tire. In order to offer optimal performance, the Overdrive mountain bike comes with 27.5 inch Kenda Honey Badger 2.2″ tires.
These reduce the rolling resistance on this bike significantly thus making it easier to roll over obstacles. Again, the Kenda Honey Badger tires used on these wheels are of high quality and offer a good grip in all terrains.
Performance Drivetrain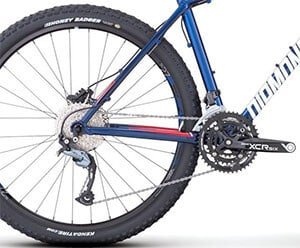 If you think of the Diamondback Overdrive Sport as just another 21-speed mountain bike, you are very wrong. The 27-speed drivetrain fitted on this hardtail mountain bike has a lot to offer an ordinary rider, as compared to its competitors. To begin with, the manufacturer does not compromise on the quality of components used on this mountain bike.
In this regard, the bike comes with Shimano front and rear derailleur, which are mated to a Shimano Altus M370 shifters. As such, you should expect a smooth and precise gearing experience with this bike. Additionally, the gearing system offers a wide range of gears for conquering steep ascents and descents with ease.
Powerful Hydraulic Brakes
Just as the price, frame, and wheel size are important considerations when shopping for the best mountain bike to buy, the braking system is something you must consider before making your final choice. Mountain bikes are built to be used on the challenging mountain trails and difficult terrains. Such an undertaking can be very dangerous for a rider and those close to him or her if the bike does not have an efficient braking system.
As a result, the Diamondback Overdrive Sport by Diamondback is fitted with Tektro Auriga hydraulic disc brakes, a rather rare feature for bikes within this price range. Unlike mechanical disc brakes, hydraulic brakes are renowned for being very responsive and powerful. In addition to helping you avoid accidents, the powerful brakes on this bike improve the handling of the bike in all terrains.
Great Customer Support
The Diamondback MTB manufacturer is renowned across the globe for unmatched craftsmanship and for producing quality products. To demonstrate that they are confident with their bikes, the manufacturer offers after-sales service & customer support. This being the case, you can rest assured that you are buying a solid product that will give you any problem in the near future.
Although the Diamondback Overdrive Sport is a hardtail mountain bike, it is comparatively comfortable to ride, even in rough terrains. This may be attributed to the quality and effective front suspension frame. The suspension system is an important component of any mountain bike today.
This is because the bikes are meant for use in challenging terrains. To ensure that you have a comfortable ride, the Diamondback Overdrive Sport is fitted with an SR Suntour suspension fork to absorb all the bumps on your trail.
Pros & Cons of Diamondback Overdrive Sport 27.5 Bike
Pros
27.5 large wheels to fit all size rider
27-speed to help you ride up the hills.
SR Sun tour 100mm  fork to absorb shock
Made of aluminum frame hence lightweight
Shimano shifter & drivetrain for reliable speed
Hydraulic disc brake from Shimano to stop instantly
Partially assembled by the seller so reduce time to assemble
2.2″ Kenda Honey Badger for impressive grip in all terrains
Cons
Cheap brake cables
The saddle on this bike is not comfortable enough
Diamondback Overdrive Sport Specs At a Glance
Frame: Built with 6061-T6 butted aluminum frame
Suspension Fork: 100mm SR Sun tour fork to absorb shock
Speed: 27 speed
Shifter: Shimano Atlus Rapidfire shifter to smooth easily
Drivetrain: Shimano front & rear derailleur
Brakes: Hydraulic disc brake
Rotor: 180 mm center lock rotors at the front and 160 mm rotors for the rear wheel
Chain: KMC chain to cover 27 speed
Cogset: Shimano 9 speed cogset
Wheels: 27.5 inches in sizes
Tires: Kenda Honey Badger 2.2″ tires
Rims & Spokes: Double-wall alloy rim with 14g stainless spokes
Seatpost: 30mm adjustable aSeatposttpost
Pedals: DB4L Alloy Platform Pedals that hold the feet in place at all times
Diamondback Overdrive Sport weight: 10 pounds
Extras: Manual, Assembly guide
Note: Specifications Subject to Change
FAQ's & Answer
Question: Can tall riders use the Diamondback Overdrive Sport?
Answer: As mentioned earlier in this review, this hardtail mountain bike comes in several frame sizes. As such you should choose a bike of the right size, based on your height.
Question: Is that bike hard to assemble; can novice riders assemble the bike?
Answer: Well, most of the assembly work on this bike is done by the manufacturer. Actually, the bike will be delivered 85 percent assembled. The remaining assembly and adjustment of the Diamondback Overdrive Sport are simple enough for a novice rider to carry out.
Final Verdict on the Diamondback Overdrive Sport
If you went through the Diamondback Overdrive Sport 27.5 review you may realize that this mountain bike is a great mountain bike for beginners. If you are interested in mountain biking, you should opt for this bike, and you will never regret your choice.
---
You May Also Like To Read
Diamondback Bicycles Overdrive Sport Hardtail Mountain Bike
COMPONENTS -

8.5/10

PRICE -

9.5/10

WEIGHT -

8.8/10

SPEED -

9.0/10

DURABILITY -

8.5/10