How good is the Diamondback Cobra 24?
Getting the perfect bicycle for your young man can be a challenging task. Especially bearing in mind the nature of small boys, being playful and adventurous, you will hassle hard before finding the perfect choice. Diamondback Cobra 24 inch bike won't be a bad choice.
To begin, kids have some undying love for dirt. It is a common but treatable condition. Yes, treated by finding the best bike to ride. The Diamondback Cobra will not only help introduce your kid to the world of cycling but also help him bridge from kids to adult bicycles. To achieve this, the bike indeed must have quality and worthy features.
The 24-inch wheels provide a great rollover through obstacles with ease, 21 gear speed provide the needed wide variety, linear pull brakes ascertain powerful braking, suspension handles bumps expertly, and the high tensile steel frame ensures durability. If you want to know more about this 24-inch mountain bike for you kids then move forward to the Cobra 24 review below.
Overview of Diamondback  Cobra JR Mountain Bike
| | |
| --- | --- |
| Frame Size | 24″ |
| Frame Material | DB steel frame |
| Bike Type | Kids Mountain Bike |
| Speed | 21 Speed |
| Brakes | Linear pull brakes |
| Wheel Size | 24 inch |
| Rating | 8.9/10 |
| Brand | Diamondback |
| Pros | Durable, Tough wheels, Shimano drivetrain |
| Cons | No kickstand, a Little bit heavy but strong |
| Summary | It's the cure for satisfying your little dirt maniac |
| Where to Buy | Check On Amazon |
Who is the Bike Designed For?
As the name suggests, Diamondback Cobra bicycle is a good choice for young boys with aspirations of becoming riding enthusiasts.
With this, your kid will graduate from the normal trails in the pack and paved paths to some great mountain experience.
The bike is available in one size. As mentioned, it is the best choice for kids graduating from toy bicycles to adult bicycles. It is an excellent intermediate bike.
The bike, 24" in size is good for kids aged between 9 to 12 years.
Note that the sizing of bicycles is based on various parameters. Ensure that the bike fits your kid before purchasing it.
---
Feature Details of Diamondback Cobra 24
Outstanding Frame and Fork
Aluminum alloy frames are often the best when it comes to frame types. However, that would be the best choice for adults and other bicycles used in abusive terrains. The bike which comes second after aluminum in durability and strength are the best choice.
This kid bike features high tensile steel 24″ frames by DB. The frame is strong enough to withstand the roughness of your kid. On the other hand, a great suspension fork with 40mm of travel is enough to provide a smooth ride over the mountainous terrains.
Wide Speed Range
Initially, bicycles, especially those meant for kids had a one-speed option. This is perhaps why there were few mountainous bikes for kids. Cruising the hilly terrains was almost impossible. The advantage with multiple gears in a bicycle is that they maintain the riding speed regardless of the riding terrain.
As for the DB Cobra mountain bike, it comes with the 21-speed drivetrain. This variety provides a wide range of gears to choose from. Your child will enjoy riding on various trails. The shifters are also smooth and easy to handle. Switching between gears won't be a problem.
Riding Comfortability
For a fun and enjoyable riding experience, your kid should have the utmost riding comfortability. In a bicycle, comfort is as a result of various interacting componentry. All work hand in hand to meet the standard requirements for comfortable riding.
The componentry includes the frame size, pedals, suspension system, handlebar, seat and seat post, and the braking system. As for the frame size, you get to choose a perfect one for the utmost comfort. Other features are determined by the manufacturer. The DB Cobra 24 inch mountain bike doesn't disappoint on this. As mentioned before, the Diamondback Cobra 24 comes with great features, comfortable for your kid.
Great Wheelset
Your kid might be used to paved paths and trails at the park with small bumps and obstacles. The small wheelset could have easily maneuvered through them. As you graduate them to adult bikes, this is the best intermediate wheelset choice. The rough mountainous terrain can easily be handled by the 24-inch wheel this bike features.
In the course of their explorative nature, kids cruise through diverse terrains with unimaginable obstacles. Therefore, it is prudent getting your kid a good wheel size to ease rolling over obstacles. Whereas they aren't too big to handle, they easily overcome bumps and obstacles.
Saddle and Seat Post
How would riding be possible without a seat? Probably you'd have to seat on the frame. However, thanks to the presence of the seat and an adjustable seat post which provides an easy riding position. As mentioned before, a bicycle's saddle contributes immensely towards the riding comfortability.
That said, the Diamondback Cobra 24 features a JR ATB 2-panel model drawing support from the 25.4mm Steel pillar seat post. The saddle is neither wide or narrow. It perfectly accommodates the buttocks of a kid. This provides a comfortable cycling position.
Braking System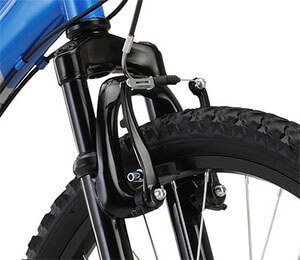 Kids are naturally adventurous. Adventure without an efficient braking system compromises on safety. This involves both the bike's and kid's safety. Being an introductory bike to the mountain riding escapades, vast gear choices thus speed and unexpected obstacles, it is prudent having an efficient braking system on the bicycle.
For bicycle experts, they certainly prefer the disc brakes. However, fixing them on this bicycle is too much. Kids don't have much riding power as adults. Therefore, for them, the linear-pull brakes are just fine. The brakes are powerful, to their level, and ensure an instant halt on the bicycle regardless of the riding condition.
Pros & Cons of Cobra Kids Mountain Bike
Pros
Comes with a high tensile steel frame which is long-lasting.
The 24″ tires smoothly roll over obstacles with great control
Has tough tires and overall wheelset for easy mountain riding.
The Diamondback Cobra 24 is great for helping to bridge the gap between adult bikes
The suspension fork helps in absorbing bumps for a smoother ride.
Shimano drivetrain with 21 gear speed offers a wide range of gears.
The bike has great stopping power provided by the linear-pull brakes.
Cons
A little bit heavy due to the steel frame but durable
No Kickstand is available. You have to add one for you.
Diamondback Cobra 24 Specs at a Glance
Frame: Hi-Ten steel mountain frame
Suspension Fork: HL Zoom 40mm suspension travel fork
Speed: 21-speed wide gear range
Shifter: Shimano trigger shifter
Drivetrain: Shimano tourney 3×7 drivetrain
Brakes: Linear pull reliable brakes
Chain: KMC chain to cover 21 speed
Wheels & Tires: 24″ wheels with ARB knobby 2.0″ tires
Seatpost: 25.4mm adjustable seat post
Pedals: Fitted with Resin MTB pedals
Diamondback Cobra 24 weight: 34 pounds
Extras: Small tool kit, Manual & installation guide
Note: Specifications Subject to Change
FAQs & Answer
Question: Would the Diamondback Cobra 24 be a good choice for my 15-year old son?
Answer: Perhaps no. At that age, your son could be of more height and weight. It would, therefore, be too small for a 15-year old.
Question:

 How much does the Diamondback Cobra 24 weigh?
Answer: Diamondback Cobra's weight is approximately 34 pounds. This won't be much heavy for a kid seeking to enjoy mountain experiences.
Question:

 How is the assembly process of this bicycle?
Answer: The bike comes with an assembly guide, hence it's easy to assemble if you have a bit of assembly knowledge.
Question:

 Is the bike delivered with pedals?
Answer: Yes. It comes with Resin MTB pedals. They provide the utmost grip. You will therefore not need to purchase riding shoes for your kid.
Question:

 How much does the Diamondback Cobra 24 cost?
Answer: The cost of Diamondback Cobra bicycle varies depending on the online store you order the Diamondback Cobra 24 from.
Final Verdict on the Diamondback Cobra 24
If you are looking for a great present for a birthday boy, consider a bicycle. Not just any bike but the Diamondback Cobra 24 blue kid's mountain bike. The Diamondback Cobra 24 comes with all it takes to make your son's or grandson's birthday the best. It will be a present not easily forgotten. He will be riding reminiscing the memories created by this bicycle.
The high tensile steel frame, Shimano drivetrain with 21 gear choices, linear pull brakes, and effective suspension fork are what makes this bicycle an outstanding piece. To finish it off is the 24 – inch wheelset which is great for an intermediate kid graduating from kid to adult bicycles.
---
You May Also Like To Read
Diamondback Bicycles Cobra 24 Youth Review
COMPONENTS -

8.5/10

PRICE -

9.5/10

WEIGHT -

9.0/10

SPEED -

8.5/10

DURABILITY -

9.0/10