Introduction to the Diamondback Cobra 20
Does your little son need a new bike and you have no idea what would be good for him well?
You've landed in the right place to go through this Diamondback Cobra 20 review because it will help you know specifically what you need and that is how you will be able to nail the right prize.
The cobra that comes from the impressive Diamondback makers is the one. This youth mountain bike was designed to help break in the young boys into the mountain trails and the road. But it's not mandatory that this Diamondback Cobra 20 only uses by boys. Girls also can use this bike if they like it.
This would be the bike I would have wanted if I were your son. It is the right size, and it makes a powerful statement. Think of yourself driving a Porsche in your midlife crisis. An early life crisis needs this bike.
This is what you need to buy to make sure that you have gotten it right. The bike is designed to give the young guy the thrill of the trail.
Overview of Diamondback Cobra 20″ Bike for Junior Boys
| | |
| --- | --- |
| Frame Size | 20 Inches |
| Frame Material | Durable steel frame |
| Bike Type | Junior mountain bike |
| Speed | 6 Speed |
| Brakes | Linear pull brakes |
| Wheel Size | 20 Inches |
| Rating | 8.2/10 |
| Brand | Diamondback |
| Pros | Cost-effective, Quality parts, Easy assembly |
| Cons | No Kickstand, uncomfortable handle grips. |
| Summary | Excellent kids bike for a trail ride with parents |
| Where to Buy | Check On Amazon |
This bike was made for growing kids, especially those boys & girls who are 6 to 10 years old with 45″ – 56″ Inch height. They will be able to enjoy this the way that they were meant to. This Diamondback Cobra 20 was designed to give them the feeling of control and fun. The bike has been designed very beautifully, and that is why you need to make sure that you have checked it out.
The bike was designed with all the safety issues that kids usually have in mind. This is the reason why you need to know that what you have here is a superb bike that will make you have all the fun that you want. You will find that there are all sorts of advantages that include a steel frame and also pedals and gears that work beautifully to make this a lifelong interest.
---
Diamondback Cobra 20  Features
Hi-Ten MTB Steel Frame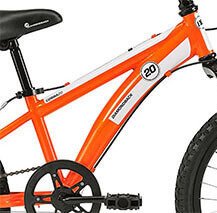 The frame is made of Hi-Ten MTB steel which means that you can get all the durability that you need. The kids will fall and hit stuff, and you will still have the bike in great shape. This is something that you will find to be very advantageous. With a steel body, the kid will have this Diamondback Cobra 20 for a long time as it can take a lot before it breaks down due to weakness.
Shimano Gear and Shifter
Switching the speeds on a bike will require that one has a gear that works very well. The Diamondback Cobra 20 has 6 gears, and they work to make sure that the bike is as safe as it gets for the kid. The Shimano Revo Grip shifters make everything better because you can switch very quickly from one gear to the other. This means that the child has control of the speed in ways that they will find very simple.
6 Speed Drivetrain
No child wants to ride a bike that is slow, So you need to make sure that you get one that is fast but also safe. That is one of the reasons why you need to get a bike that has all the speed and all the safety that will make everything better. This Diamondback Cobra 20 was made to be safe while coasting and that is how you make sure that you have gotten the right bike for your kid.
Braking for Safety
Safety first is the rule when you have kids, and that is why you need to make sure that if you are getting a bike, this is the one that you have in mind. There is everything that you will like a bit it. The mechanical rim brakes will make sure that when the kid is riding, he won't be in danger of falling. When they have these brakes that work so well, they will not have to struggle with anything else much except focus on riding. Braking is the one thing that you need to take care of, and this Diamondback Cobra 20 is perfect on that scale.
20″ Alloy Wheels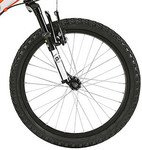 This Diamondback Cobra 20 has been sized very well, and that is why you will get that it has all the functions that you need to make it work. You will find that the kid will have an easy time with the terrain when they choose to get exploratory. With wheels that are this size, they will have a ride that is smooth and fast. Smaller wheels just won't do on the mountain trails, and even though they probably won't go there, they still need speed. The wheels will also work as a suspension, and that is how things work.
Alloy Rims
The rims on a bike need to be very strong so that they can withstand the force of jumps and bumps without bending. This Diamondback Cobra 20 was made using the awesome alloys that you will find only on this one. There is always the fact about durability and suspension.
Repair & Maintenance
As usual, there is the matter of maintaining the bike and making sure that you can keep it for the rest of the kids that you are going to have. You can start by having the kid clean it and by having responsibilities; the bike will be more than just fun.
Whenever you need for it to be taken apart and you are not sure what to do, always consult someone who knows what is going on to get the clear picture because that is how you will find good service. All repairs should be done in time to make sure that everything works.
Pros & Cons of Diamondback Cobra 20
Pros
Well build quality
Assembly not so tricky
Assembly Tools Included
Great tires to run over obstacles
Great riding style for the growing kids
Comparatively cheap bike with quality components.
Excellent Shimano drivetrain for smooth gear shifting
Trail XC 30mm front suspension fork to absorb shock on bupy path.
Cons
No Kickstand available.
Handle grips & pedals need to replace.
Heavy for some riders as its made of a steel frame.
Diamondback Cobra 20 Specs Boys Mountain Bike
Frame: Diamondback Hi-Ten steel frame
Suspension Fork: XC Trail 30mm travel suspension fork
Speed: Shimano 6 speed
Shifter: Shimano Revo Grip Shifter for easy gear changing
Drivetrain: Shimano rear derailleur
Brakes: Mechanical rim brakes to get good handling
Chain: KMCz51 to cover 6 speed
Wheels: 20″ alloy made wheels
Tires:  Knobby 2.0″ tires
Rims & Spokes: Alloy rims with 14g steel spokes
Diamondback Cobra 20 weight: 34 pounds
Extras: Free toolkit, manual & assembly guide
FAQ and Answers
Question: What is the frame made of?
Answer: Steel. That is why it stays for so long in such great shape.
Question: What is the speed on it?
Answer: It has 6 gears that are swiftly interchanged, and that makes for good speeds.
Question: What is the trail level it can take?
Answer: Anything that a normal kid can ride, this Diamondback Cobra 20 can take. No trail can beat it.
Question: What is the Cobra bike weight capacity?
Answer: it can carry any kid who is between 5 and 9 years old.
Question: Does it come assembled?
Answer: Yes it does, you can customize it somehow, but it is easy to do so.
Final Verdict on the Diamondback Cobra 20
End of the Diamondback Cobra 20 review you should know the best thing that makes this bike demanding as a junior or kids mountain bike. This is one of the best selling mountain bikes for boys on Amazon. That is the reason why you need to get it for your kid. They will love it because it will help them have all the fun. This Diamondback Cobra 20 is the high-end type that you need your kid to have if they are to have a fun childhood. There is nothing that is better than this.
Diamondback Bicycles Cobra 20" Junior Mountain Bike
COMPONENTS -

7.5/10

PRICE -

9.0/10

WEIGHT -

8.0/10

SPEED -

8.2/10

DURABILITY -

8.5/10