Diamondback Line Introduction
The Diamondback Line Hardtail 27.5 Mountain Bike is a do-it-all hardtail mountain bike with modern geometry. The bike boasts of expert handling of climbs, descents, and berms. Excellent stability and speed in your cycling can be easily attained by getting this adorable and overly elegant bicycle.
The bike comes with amazing features providing very smooth riding and seems well made. Its extraordinary braking power with tons of traction, eye-catching design and durability are all encased in this model. It is undoubtedly a bike to take home. The bike features ascertain that it can withstand any terrain of your choice. Be it smooth or rough.
Diamondback mountain bike is often referred to as a slacker. This perhaps refers to the degree of relaxation offered by the headtube and of course the extent to which its front wheel sticks out. Note that having a better slack makes the bicycle more stable regardless of the speed. Check the review below to know more about this excellent bike.
Overview of Diamondback Line – 27.5 Mountain Bike
| | |
| --- | --- |
| Frame Size | S – 16″ / M – 18″ / L – 20″ / XL – 22″ |
| Frame Material | Aluminum frame |
| Bike Type | Hardtail |
| Speed | 9 Speed |
| Brakes | Tektro Hydraulic disc brakes |
| Wheel Size | 27.5″ In size |
| Rating | 9.2/10 |
| Brand | Diamondback |
| Pros | SRAM drivetrain, Doublewall rims, 120mm travel fork |
| Cons | Cheap chain guide, No water bottle holder |
| Summary | Do it all hardtail with progressive geometry |
| Where to Buy | Check On Amazon |
Who is the Bike Designed For?
The Diamondback Line is a well-made bike designed for a riding enthusiast anticipating to explore diverse terrains.
The bike, with its slack nature, enables the rider to have better jumps and smooth landing. With this, you can maneuver any terrain, mountain tops and rugged terrains without much worry.
Concerning the size availability, the bicycle comes in four size variations determined by the seat tube length, standover height, top tube length, head tube length, and chainstay length.
That said, you will find small, medium, large and extra-large sizes.
The small (16") size is good for riders of heights 5.4" – 5.7", medium (18") for 5.7" – 5.10". The large (20") is perfect for 5.10" – 6.1" and the extra-large (22") is suitable for riders of height 6.1" – 6.4".
---
Features Review of DB Bicycles Line Mountain Bike
Awesome Frame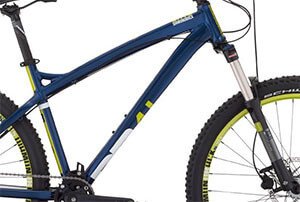 The bike's frame indeed determines a lot when it comes to riding comfort. That said, the Diamondback bike features a low-slung frame which contributes immensely towards its functionality. It is made of a reliable 6061-T6 aluminum alloy.
The low-slung nature lowers the center of gravity due to the positioning and frame heaviness. With this, you can be sure of a stable ride all through. You'll also experience less tripping when riding in mountainous regions and rocky terrains. Besides that, the aluminum alloy adds beauty to the bike making it quite appealing to the eye.
Promising Wheelset
The Diamondback Line is meant for mountainous terrains. This is why good quality wheelset is imperative. The Diamondback Line hardtail comes with 27.5" double wheels which are not only durable but also nimble. The wheels can withstand rugged terrains without much wearing off. They are durable thus no need for frequent replacement.
The double wheels are largely making it possible to cover quite a long distance in a cycle compared to the regular bikes. As if not enough, the wheel is supported by the 14g stainless steel spokes and Diamondback SL-7 double-wall rims. This combination offers an exclusive better speed capability.
Effective Braking System
Mountain bikes need effective and smooth braking systems due to the nature of the riding trail. Rocks, bumps and other unexpected obstacles may come your way resulting in unexpected braking. Without an efficient system, you might end up damaging your bike on your first day. This is why powerful brakes are a necessity.
The Diamondback Line mountain bike features Tektro hydraulic disc brakes which perform well and ready to provide instant halting. Note that the safety of your ride lies solely on the performance of these brakes. However, with the hydraulic disc brakes, an instant smooth stopping is guaranteed.
Easy to Operate Shifters
You could own a bicycle with wide gear choice. However, you won't enjoy much if the shifting system is garbage. Actually, it won't be any different from the single gear bikes. They should be good for making rapid changes when riding both on mountainous and straight trails. This will not only help you get a thrilling riding experience but ease the whole process.
This is why Diamondback comes with SRAM 1×9 speed drivetrain with quiet and fast shifters. Riding the Diamondback Line won't give you the experience of steep terrain as with the change in gears, the riding speed gets maintained.
ReadyRide Feature
Bicycles often come with unassembled parts for easy delivery. Complete bikes are often partially disassembled for shipping. However, some manufacturers offer some little assistance when it comes to assembly. Since the process is challenging, especially for amateurs, they partially assemble the Diamondback Line. This leaves a few uncomplicated parts for completion by the buyer.
That said, the Diamondback comes 95% assembled. This makes it one of the bikes available in the ReadyRide option. You'll only need to install simple parts including the pedals, front wheel and seat, and few adjustments. From here, pump the Diamondback Line, and you are good to go.
Customer Support
In a bid to defend and maintain their quality and craftsmanship, Diamondback and other manufacturers offer various after-sale services. Among the critical function is customer support. As for support, how would it feel riding a bicycle knowing well that repair available in case of damages? Quite refreshing!
On the other hand, through various channels such as video calls, online chats, and emails, Diamondback can maintain its customer support services with ease. You can also get a lot of information from their websites. You only need to raise a question to their customer care team, and you'll be sorted immediately.
Pros & Cons of Line Bike
Pros
95% assemble so easy to assemble the rest parts
9 Speed drivetrain with the shifter to cross trail easily
SR Suntour 120mm travel fork to ride on bumpy paths
Aluminum 6061 T6 hardtail frame with low-slung geometry
Tektro Hydraulic disc brakes provide a smooth and instant stop
2.35″ Schwalbe tough tires which keep your bike planted on the path
Cons
Need to replace the chain guide
No cage or mount for water bottle
Diamondback Line Specs at a Glance
Frame: Handbuilt aluminum frame
Suspension Fork: 120mm travel suspension fork
Speed: 9 SPeed
Shifter: SRAM 9 speed shifter
Drivetrain: SRAM x5 derailleur for 9 speed
Brakes: Hydraulic disc brakes by Tektro Auriga
Rotor: 180/160 front & rear rotors
Chain: KMC 9 speed chain
Wheels & Rims: 27.5″ wheels with Doublewall alloy rims
Tires: 2.35 inch Schwalbe Tough tires
Seatpost: 30.9mm adjustable alloy Seatpost
Pedals: Aluminium platform pedals
Diamondback Line weight: 30.7 pounds
Extras: Toolkit, Installation guide & Owner manual
Note: Specifications Subject to Change
FAQs & Answer
Question: Can you make jumps with this hardtail bike?
Answer:

Yes, you can. The bike comes with a lightweight aluminum alloy frame which gives you the ability to make small to medium jumps without much straining.
Question: What is the weight of this bicycle?
Answer:

The Diamondback Line weight varies depending on the frame size. However, the weight doesn't vary much. It is averaged to be around 30 lbs.
Question:

 Does the Diamondback Line have a hydraulic brake system?
Answer: Yes. Hydraulic disc brakes for efficient, powerful and smooth braking mechanism.
Question: What is the top tube length?
Answer: The length of the bicycle from the center of the steer tube to the center of seat tube measures approximately 23.5 inches for a 20" frame size. This may be different with the smaller size.
Question:

 Does a 22inch frame fit 6.1" rider?
Answer:

This depends on the rider's weight and body shape. However, from the size guide provided by Diamondback, he/she can correctly ride the bicycle.
Diamondback Line Final Verdict
From the features, pros and Diamondback line review, it is evident that this is the Diamondback Line to have. Experience those jumps and bumps on a mountainous terrain without feeling a pinch on landing. The bike guarantees safety, fun, and excitement during the ride. It is the bike to go for if your itinerary contains this.
When compared to other bikes of this price range and caliber, it is the best especially for mountain riders who draw fun from riding through rugged terrains. Its appealing design matches the extraordinary features that the Diamondback Line brings to you. With this, the price shouldn't be something to bother.
---
You May Also Like To Read
Diamondback Overdrive Sport Review
Diamondback Bicycles Line 27.5 Inch Mountain Bike
COMPONENTS -

9.2/10

PRICE -

9.5/10

WEIGHT -

9.0/10

SPEED -

9.0/10

DURABILITY -

9.5/10