Introduction to the Diamondback Sync'r
Carbon
Cycling can be an expensive sport. This is perhaps why you ought to look out for high-quality, affordable and fun bikes. But there are times where you cannot get away from an expensive bike if you want to compete with the best. And this is the case with the Diamondback Sync'r Hardtail Mountain Bike Carbon.
It is an awesome bike with one goal, excelling in every trail you come across. The bike certainly excels and fits every riding situation. Since their inception, Diamondback Sync'r Carbon bikes have been huge hits. A low-slung feature, nimble and riders of all levels and skills attest to how well they rode with it.
Bikes have various distinguishing features. The specific features are what makes them different. That said, always look into the specific detail of a bike before ordering it. With the Syncr Hardtail Mountain Bike 2018, excellent hydraulic brakes, a tapered head tube, monocoque crbon frames, its non-sense hardtail precision among other outstanding features make it a great choice for any mountain biking aficionados.
Overview of Diamondback Sync'r  27.5″Hardtail MTB
| | |
| --- | --- |
| Frame Size | S – 15″ / M – 17″ / L – 19″ / XL – 21″ |
| Frame Material | Monocoque Carbon frame |
| Bike Type | Hardtail |
| Speed | 11 speed |
| Brakes | Hydraulic disc brake |
| Wheel Size | 27.5 inch in size |
| Rating | 9.4/10 |
| Brand | Diamondback |
| Pros | ReadyRide, SRAM drivetrain, Hydraulic disc brake |
| Cons | No kickstand and water bottle mount. |
| Summary | Durable and well versatile – excellent in all terrains |
| Where to Buy | Check On Amazon |
Who is the Diamondback Sync'r designed for?
With the bike, tearing up a single track, downhill and not forgetting techy trails is much easy.
As the name suggests, this bike is designed for bikers with unlimited or endless riding aspirations.
The bike comes in four varying sizes. The small size, of 15" typically suits riders of 5'4" to 5'7" height. The medium size, 17", suits riders of 5'7" to 5'10" height.
On the other hand, the large size, 19" suits riders of height between 5'10" to 6'1" and extra-large, 21" compatible with riders of height 6'1" to 6.4".
---
Main feature details of Diamondback Sync'r 2018 Hardtail Bike
Frame and Fork
Would it be called a bicycle without frames? Definitely no! Bicycle frames and forks are the main assembly points of the bike. They are typically made from four main materials. They are aluminum, steel, carbon fiber, and titanium. Just to mention, a bicycle's frame greatly determines its weight.
The Diamondback Sync'r hardtail bike has a hand-built carbon hardtail frame. It also has a 142 x 12mm thru-axle for Maxel. Aluminum is preferred due to its great resistance to bending under the normal pedaling load. On the other hand, forks also save on weight. That said, it features a RockShox Recon Silver tapered steerer tube without turn key lockout fork
Gear and Shifter
Ever rode a single gear bicycle? If no, don't try as they are typically boring with no speed enhancer. Gears are invaluable in maintaining a comfortable pedaling speed regardless of the terrain. Diamondback Sync'r Hardtail Mountain Bike being an all-terrain beast, the gears and shifters ought to be out of this world.
There are five major players when it comes to any bicycle's shifters and gears. They include the front chainrings or the crankset, rear cassette, chain, derailleurs, and shifters. That said, Diamondback bike has a SRAM PG1130 11 speed cassette, SRAM PC1130 11 speed Powerlink chain, SRAM NX 1x 30T Chainring crankset, SRAM NX 11 speed X-actuation trigger shifter and unbeatable front and rear derailleur.
Powerful Brake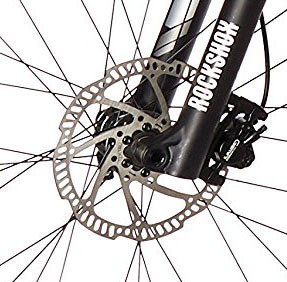 Imagine stopping a bicycle with poor or no brakes? Accidents everywhere. Breaks in a bicycle determine the overall safety of the bicycle. Just to mention, there are up to seven bicycle brake types. They include the caliper brakes, band brake, drum brakes, backpedal brake, cantilever or V-brake, roller brake and the disc brake. As mentioned before, the Diamondback Sync'r bike uses the disc brake.
Briefly, this brake utilizes a pair of friction pads, forced against the opposite sides of a steel disc. Many people often question disc brakes for heating up. However, they are well-exposed such that any heat-formed is rapidly dissipated. Initially, disc brakes were heavy, wet and noisy. However, with technical advancements, the current Tektro hydraulic disc brakes have eliminated these problems by reduced disc size.
Great Suspension
Even a simple couch has suspensions, isn't it? Similarly, suspensions in any bicycle are essential to protect or insulate the rider from experiencing the roughness of the terrain. Besides, suspension systems often improve traction and safety as they keep one or both wheels in constant contact with the ground.
Mountain bikes often don't lack suspension. Different bicycle models implement suspension in a myriad of ways. This could be through front, rear, seat post, saddle, hub or stem suspension. For this model, as the name suggests, it is a hardtail bicycle. This implies that it only has the front suspension. Rigid bicycles lack suspension and can be hard to ride.
Seat Post/Saddle
How would you ride with no place to seat? Impossible! Bicycle seats are mainly to support the rider's back and buttocks. This is perhaps why they are in a semi-reclined position. You should ensure that you get a comfortable saddle with an easily adjustable seat post. Saddles are mainly composed of four components.
They include the shell, cover, rails, and suspension. All these have an impact on the comfortability of the saddle. That said, like other mountain bike saddles, Diamond's hardtail mountain bike saddle is fairly narrow, lightweight, rear shaped, reinforced and downward slope with medium padding. On the other hand, it features a DB Alloy Micro adjust 30.9mm seat post.
Quality Chain
Chainless bicycle? Yes, they exist, but not the Diamondback Sync'r hardtail 2018 bike. Bicycle chains transfer power from the pedals to the main wheel or the drive-wheel of the bicycle. Majority of bicycles chains are made of plain carbon and alloy steel.
However, some are nickel-plated to protect it from rusting and aesthetic reasons. Being a key element in power transmission, chains ought to be of good quality. This is what the Diamondback Sync'r hardtail bike satisfies. The bicycle features an SRAM PC 1130, 11 speed Powerlink chain for utmost power transmission.
Pros & Cons of Sync'r Hardtail Mountain Bike
Pros
Easy assembly in a short time
27.5″ wheels to fit almost any rider
Carbon frame so lightweight & lightweight
SRAM trigger shifter to change gear smoothly
11 speed SRAM drivetrain for the wide gear range
Hydraulic disc brake for instant stopping capacity
Comes with ReadyRide feature hence 85% assembled
130mm travel RockShox suspension fork for the comfortable ride
Cons
No water bottle mount
Kickstand not available, you have to add.
Diamondback Sync'r Specs at a glance
Frame: Handbuilt Carbon hardtail frame
Suspension Fork: 130mm travel suspension fork
Speed: 11 speed
Shifter: SRAM NX Actuation trigger shifter
Drivetrain: SRAM drivetrain
Brakes: Hydraulic disc brakes by Tektro
Rotor: 180/160 mm rear & front rotors
Chain: SRAM chain to cover 11 speed
Wheels: 27.5″ wheels
Tires: 2.35″ Schwalbe Tough Tom tires
Rims: SL7 double-wall rims from Diamondback
Saddle: Diamondback saddle
Seatpost: 30.9mm Adjustable Seatpost
Pedals: Alloy platform pedals
Diamondback Sync'r weight: 30 pounds
Extras: Assembly toolkit, manual & installation guide
Note: Specifications Subject to Change
FAQs & Answer
Question:

Is the Diamondback Sync'r durable?
Answer:

Yes! The bicycle is made of various durable and versatile components. Starting from the carbon frame, double wall wheelset to alloy seat post and chain, expect nothing less from this model.
Question: Is the bicycle's fork a coil or air model?
Answer: The bicycle's fork is a solo air spring model with a 130mm of travel.
Question: Is the Diamondback Sync'r easy to assemble?
Answer: Definitely yes. To begin with, the bicycle comes with a 95% assembly done. You can add the remaining part easily.
Question: What are the dimensions of the Diamondback Sync'r?
Answer:

Measurements of the bicycle vary depending on the customer's height. The small size, of 16" typically suits riders of 5'4" to 5'7" height. The medium size, 18", suits riders of 5'7" to 5'10" height. Large size, 20" suits riders of height between 5'10" to 6'1" and extra-large, 22" compatible with riders of height 6'1" to 6.4".
Question: Where can I purchase the Diamondback Sync'r ?
Answer: You can purchase the bicycle from the manufacturer's official website. Besides, you can also place your order in any other legit online store with the bicycle.
Final verdict on the Diamondback Sync'r
Finding the best all-terrain bicycle can be quiet daunting. This is why imperative search, with a special inquiry into the specific bicycle details, is prudent. From this Diamondback Sync'r review, this bicycle sounds like a good choice for both amateurs and riding enthusiasts. The bicycle certainly features all the qualities of a high-end bicycle yet at an amazingly affordable price. Of most concern are safety, comfort, and speed.
Especially for mid-level bikers, getting a model that achieves high speed with easy transmission is vital. This is provided by the 11-speed capability and easy shifts provided by the Diamondback hardtail mountain bike. Safety and comfort are ascertained by undisputed seat post, saddle and brake systems respectively.
---
You May Also Like To Read
Diamondback Bicycles Sync'r Hardtail Mountain Bike
COMPONENTS -

9.8/10

PRICE -

9.5/10

WEIGHT -

9.0/10

SPEED -

9.5/10

DURABILITY -

9.3/10