Introduction to the Diamondback Octane 24 for kids
Is your kid getting to ride bigger wheels? Let him/her explore the fun that comes with it. Designed for utmost adventure, the Diamondback Octane 24 mountain bike is a good bike for kids riding around the block as they get started on the trail.
The Diamondback Octane 24comes with various outstanding features which makes it a great choice for growing kids out of the 20" or below bikes.
The 24-inch mountain bike has noteworthy features include a heat-treated frame that stands up to the trials of childhood. It comes with a 50mm suspension fork which makes riding more fun. Suspension of the bicycle is quite enough to ride on rough trails without many tribulations. The Diamondback 24-inch bike also features both front and rear shifting for an easy ride. With this, your child will learn easily when to shift gear. If you want to know more about this great youth bike then read the review below.
Overview of Diamondback Octane 24″ Kids Bike 2018
| | |
| --- | --- |
| Frame Size | 24 Inch |
| Frame Material | Aluminum frame |
| Bike Type | Hardtail – Junior bike |
| Speed | 21 speed |
| Brakes | Linear pull brakes |
| Wheel Size | 24″ |
| Rating | 9.1/10 |
| Brand | Diamondback |
| Pros | A suspension fork, Shimano drivetrain, 2.1″ Knobby Tires |
| Cons | No water bottle holder, No disc brake |
| Summary | All-purpose mountain bike for growing kids |
| Where to Buy | Check On Amazon |
Who is this Diamondback 24 inch Bike Designed For?
---
Feature Of Diamondback Octane 24 Kids Mountain Bike
Strong Frame and Fork
A bicycle's frame and fork geometry are perhaps what makes the shape of any bicycle. This is why many bicycle manufacturers, including Diamondback, invest quality resources on these components. Being a kid's bike, the Diamondback Octane 24 mountain bike comes with a DB Boy's 24" Jr mountain 6061 heat-treated aluminum frame with a replaceable hanger.
On the other hand, the fork of this Diamondback Octane 24 features an HL Zoom 24" suspension fork with 50mm travel. This ascertains a sturdy build with comfort riding for new trail explorers. This makes it a nice bike for beginner kids.
Powerful Brakes and Levers
As a parent, getting a bicycle with strong and durable brakes should be your number one priority. This is why you should carefully examine the braking system of any bicycle before giving it to your beloved kid. It will save them from unexpected accidents. Such accidents are what the 24-inch boys bike aims to minimize.
That said, the bike comes with an alloy linear-pull brakes. The brakes are complemented by the Alloy linear-pull brake levers with reach adjust. Though not the best braking system in the market, it is a good quality for riding enthusiastic kids. The brakes stop the Diamondback Octane 24 on a dime regardless of the weather condition or riding speed.
Quality Wheelset
Kids are fond of destroying the wheelset of a bicycle easily. You can't blame them. Its curiosity! That said, it is of immense importance to find a good bicycle with a perfect and durable wheelset. The wheelset comprises of the spokes, tires, and rims. All should work hand in hand to provide entertaining riding experience.
Bearing that in mind, the Diamondback 24 junior mountain bike comes with 14g stainless steel spokes, 32h 24" R – 1000 alloy rims and Jr ATB Knobby 24 by 2.1" tires. This combination will minimize the frequent wheelset replacement experienced with kids.
21 Speed Drivetrain
Kids advancing to trail cycling seek to explore utmost fun out of such advancement. This is why they get to engage high gears and top-notch speeds provided by this bicycle. The drivetrain, therefore, ought to be strong enough to support this. The drivetrain, composed of the front and rear derailleur, chain, Cogset and shifter, has some impact on the speed of the bicycle.
The 24 mountain bike for kids features an overall Shimano 21 – speed drivetrain. This is supported by its Shimano TX 20 and Shimano TZ 50 front and rear derailleur respectively, Shimano M310 shifter, Shimano TZ21 Cogset, and a KMC Z51 chain.
Great Handlebar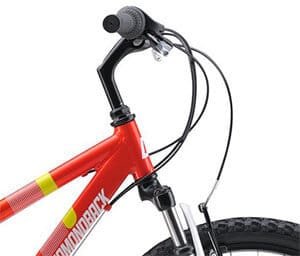 A handlebar is perhaps the guiding component of any bicycle. Depending on the specialty of the bicycle, handlebars vary, with others being wide and others narrow. For trail bikes like the Diamondback Octane 24 bicycle, medium-sized handlebars are perfect. This ascertains that they are narrow to prevent brushing off plants especially in narrow trails. On the other hand, they should be wide enough to provide the utmost riding comfort.
In a bid to satisfy this, the 24-inch boys' bike is fitted with a steel Jr riser handlebar with DB Kraton grips. The steel material provides durability and sturdy nature whereas the grips minimize slides.
Saddle and Seat Post
As the kids advance to trail riding, they ought to ride in comfort. Kid's bikes below 24" have narrow seats with minimal comfort. Besides other components such as suspension systems, the bike's saddle also contributes immensely. Your kid should be comfortable when exploring and conquering the various trail escapades. This is why many bikes have an adjustable seat post.
The Diamond kid's bike hasn't been left out. The Diamondback Octane 24 comes with a Jr ATB 2 panel saddle complemented by a steel pillar 27.2mm seat post. With this, your kid will be able to adjust the bicycle's seat to suit his/her riding situation.
Pros & Cons of Diamondback Octane 24 Inch Mountain Bike
Pros
Kraton grips installed for comfortable
Birthday gift for your loving son or daughter
Linear pull brakes to stay safe on emergency
2.1″ ATB knobby tires provide the utmost traction
50mm  light suspension fork to get control in bumpy terrain.
Built with 6061 T6 aluminum frame hence lightweight & durable
Shimano 21 speed drivetrain with grip shifter to change gear easily.
Strong 26″ wheels with alloy rims to roll over obstacles on the trail.
Cons
No water bottle cage or mount
No disc brake as per latest technology
Diamondback Octane 24 Specs at a Glance
Frame: 6061 T6 aluminum frame
Suspension Fork: 50mm zoom suspension fork
Speed: 21-speed wide gear range
Shifter: Shimano grip shifter
Drivetrain: Shimano 21 speed drivetrain
Brakes: Linear pull alloy brakes
Chain: KMC Z51 chain for cover 21 speed
Wheels: 24″ wheels in size
Tires: 2.1″ ATB Knobby tires for great traction
Rims & Spokes: Alloy 32h rims with 14g steel spokes
Seatpost: 27.2mm steel pillar seat post
Diamondback Octane 24 weight: 29.8 lbs
Extras: Free toolkit, Assembly guide & Manual
Note: Specifications Subject to Change
FAQs & Answer
Question:

How many gears does the bicycle have?
Answer:

The bicycle has 21 gears. This is compounded by the 7 sprockets found on the back axle and the 3 on the pedal shaft, making a total of 21 gears.
Question: What does the bike weigh?
Answer: Being a kid's bike, it weighs approximately 29.8 lbs. This provides just but enough weight for a steady ride yet portable.
Question: What are the extras that accompany this Diamondback Octane 24?
Answer: The bike comes with normal Diamondback bike's extras. They include an owner's manual, toolkit and assembly guide to help you in completing the assembly.
Question: What is the bike's suspension mechanism?
Answer:

 Trail bikes feature a common suspension mechanism. So to say, nearly all of them are hardtail bicycles. This implies that they have only front suspension mechanism.
Question: What is the best use of this Diamondback Octane 24?
Answer:

 The Diamondback Octane 24  is best suited for advancing kids with trail riding aspirations. It is a great all-mountain and trail bike for small kids not ready for the 26" wheeled bikes.
Final Verdict on the Diamondback Octane 24
Finding the best bicycle for your fast-growing kid can be quite daunting. Be it as a gift or promoting the kid to a 24" bike, you ought to find the perfect bike suiting their explorative nature. Kids ride too much for fun. The bike should be able to withstand such pressure. This is provided for by a sturdy built and excellent geometry bike.
For all these, the Diamondback Octane 24 Inch mountain bike sounds like a good choice. The bike has all the features to make your child grateful. It is a hardcore mountain bike perfect for a little off-road riding.
---
You May Also Like To Read
Diamondback Cobra 24 Kids Bike Review
Get one of these fabulous car racks to take your bike with you
Diamondback Bicycles Octane 24 Kids Mountain Bike
COMPONENTS -

8.5/10

PRICE -

9.8/10

WEIGHT -

8.8/10

SPEED -

9.0/10

DURABILITY -

9.3/10