Kent Thruster KZ2600 Mountain Bike Overview
I finally got around to write the Kent Thruster kz2600 review. Many of you have contacted me through our contact form and asked for this to be added. Well, I promised we will do it, so it's done. Enjoy the review.
This Kent Thruster KZ2600 was manufactured by Kent International Company and they focus on creating bikes that are stylish and unique and with high-quality materials. It is an entry-level mountain bike that is perfect for beginners and also experienced cyclists.
A brief description of this MTB
It is a trail and road machine that is equipped with the best quality materials. They come with great specs and features that will put a smile on any user's face. The Kent thruster performs and utilizes well the floating beam which was installed. The drivetrain on this bike has an aluminum wheelset that features flange hubs, and it ensures that the bike has a smooth landing that is managed by the disk brakes on the front and the rear linear-pull.
Its unique features make it one of the most preferred bikes in the market. The ruggedly good looking bike was built to the last for the long haul. The alloy wheel rims are a combination of both small traces of other metals and aluminum and when they are combined together they form a strong and lightweight wheel that makes it an asset because they tend to be durable over time. The aluminum wheels on this bike have a V-shaped rim and that look makes it have faster mobility and smooth maneuverability.
The brakes characteristics
The disk brakes are fitted with mechanical properties that enable the brakes to be easier to use and on this bike, it is one of the most expensive technology compared to regular normal rim brakes.
The brake levers on this bike have a power that enables it to be able to stop the bike even if you are riding it at top speed. The lightweight on this bike ensures that the bike can be able to be durable over a long period of time and can be able to travel at a longer distance.
The suspension features
The 65 mm travel suspension fork enables you as a rider room for you to do your own tricks and stunts because of how the bike has a smooth landing. They come in a variety of colors such as white, green and black and they tend to be appealing in the eyes of a potential buyer.
The gears
The Kent thruster has a classic way of changing gears that has an appealing feel and the bike offers high efficiency especially when you want to switch gears because less time and energy are used.
Further description
The bike is good looking and has a rugged edge to it and was built to last. It has a tough construction and it boasts of having an aluminum frame that can be able to withstand bumpy trails and can navigate trails well using the 28 gears tires.
This bike can be used as a leisure bike for running errands and also for going on an adventure with. The back suspension on this bike can be adjusted according to the needs of the cyclist.
The crankset of the thruster gives a total speed of 21 and that helps you enjoy the bike to the fullest. The weight of the bike affects the performance and all Kent bikes come 90% assembled, the brakes are already assembled, the rear wheels are already assembled but the front wheel has to be assembled to the fork.
If you would like to know more about this bike check the review below.
Overview of Kent Thruster KZ2600 Mountain Bike
Pros 
Smooth navigation, service and quality assurance
Cons 
The tires have to upgrade because they do not hold air
Summary
Excellent bike for people who want to go on adventure trips while keeping fit. It is not too expensive either.
Who is the KZ2600 Mountain Bike designed for?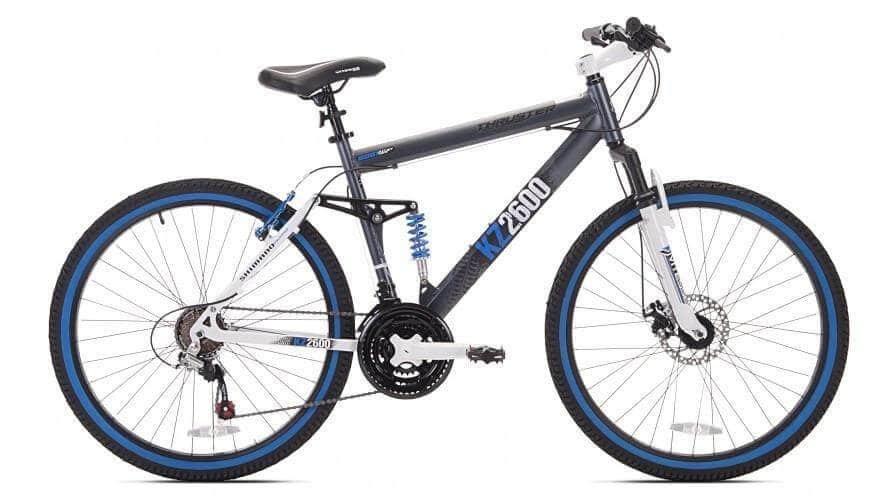 This bike is perfect especially for beginners and experienced cyclists and is one of the best entry-level mountain bikes.
This is one of those great bikes especially for people who want to grow with it physically and skill-wise
This bike can accommodate people who weigh up to 250 pounds and can easily be adjusted to accommodate sizes from 5"2 to 6"3
Features Details of Kent Thruster KZ2600 Mountain Bike
The front disc brakes are designed to stop quickly regardless of how rough the terrain is and it helps you as a cyclist avoid accidents that come with a delayed reaction
The Shimano 21 speed shifters help you as a rider change gears easy and as quickly as possible to allow a smooth transition and have less distraction
The aluminum frame is sturdy and strong and is made of high-quality material and does not bend even at the slightest bend. The frame also helps the bike be lighter in weight and for it to be able to move faster and be easier to handle
The dual suspension help in providing a smooth free ride and prevent your backside from being bruised especially when cycling on rough and uneven terrains
The tires on this bike are small in stature and they help in maneuvering terrains and avoid obstacles. The tough construction enables this bike to withstand bumpy trails
The back suspension on this bike is adjustable to the desire of the user.
Pros and Cons of the Thruster KZ2600 
Pros
Cons
Kent Thruster KZ2600 Mountain Bike Specs at a Glance
FAQs & Answers
Is the Kent Thruster KZ2600 assembled when shipped?
No, you have to assemble the bike on your own and it is pretty easy and simple and you just need a package with the instruction manual and some tools
What type of brake is used on this bike?
There are two types of brakes used on this bike on the front wheel it has a disk brake and the rear wheel it has a linear pull
What kind of frame and wheel size is on this bike?
The wheel size is 26 inches and the frame size is 19 inches
Is the Kent Thruster KZ2600 specifically made for men?
No, the bike can be ridden by both men and women
Can this bike for someone who is overweight and tall?
Yes the bike hold up to weights of 300 pounds and has a frame of up to 19 inches and it is a good fit for people who are between 5"4 feet to 6 feet
How many pounds does the Kent Thruster KZ2600 weigh?
During shipment, the bike weighs 43 pounds and when it has not been shipped it weighs 40 pounds
Q Where can one purchase the Kent Thruster KZ2600?
 The bike can be found at bike stores but you can purchase them at a cheaper price at online stores such as Amazon
Can this bike be ridden on smooth surfaces?
A Yes it can be used on smooth surfaces but it was specifically made to be used on rough surfaces
Where can the bike be serviced if parts get worn out? 
The shop where you purchased the bike might have replacement parts and if they do not have them you can have them contact their suppliers to get you one
Final Verdict on Kent Thruster KZ2600 Mountain Bike
The Kent Thruster mountain bike is a bike that can be used as a leisure bike as well as an adventure bike and can be upgraded easily to accommodate weights up to 250 pounds and heights of up to 6"3 making it a bike that caters for the needs of its rider. The Hyper Mountain bike is also available at a reasonable price and it is manufactured using high-end materials making it durable and long-lasting.
Related Articles You May I Like