Raleigh Tokul 3 Review | Aggressive Hardtail Bike for the Trail
Introduction to the Raleigh Tokul 3
Raleigh has a long history when it comes to bike manufacturing. They have certainly seen it all. For more than 130 years, they have pushed boundaries to get that riding style and comfort with utmost precision.
The Raleigh Tokul 3 Mountain Bike joins the Raleigh mountain series. With these bikes, all you need to conquer is dirt, roots, berms, jumps and roots, recipes for a great Raleigh riding day.
Like other mountain bike designs, the Raleigh Tokul 3 is built with a hardtail providing great efficiency, easy uphill pedaling as well as great aggressiveness on any trails geometry.
This conquers big bumps, descends steep hills and tackle any obstacle your trail throws your way. The Raleigh Tokul 3 is made for utmost loser conditions with year-round riding. This is a cool factor that can only be explained by riding it.
All these are facilitated by the tough and strong parts used in the build. Read the review below to know more about this great hardtail MTB.
Overview of Raleigh Tokul 3 Hardtail Mountain Bike
| | |
| --- | --- |
| Frame Size | S – 17″ / L – 19″ |
| Frame Material | AL-6061 Aluminium frame |
| Bike Type | Hardtail |
| Speed | 11 speed |
| Brakes | Hydraulic disc brake |
| Wheel Size | 27.5 inches in size |
| Rating | 8.5/10 |
| Brand | Raleigh |
| Pros | Lightweight, SRAM Drivetrain, Hydraulic disc brake |
| Cons | No water bottle cage or mount |
| Summary | Great for them who are looking for a sturdy trail bike |
| Where to Buy | Check On Amazon |
If the Raleigh Tokul 3 is not available for sale online, you can check more reviews on other models of Raleigh Tokul series.  We've reviewed this bikes in previous. These bikes are also a great performer on hilly terrain. So if you would like to get a bike from popular Tokul series then you can see this bikes reviews below.
Who is the Raleigh Tokul 3 Designed For?
Like other bike models, there are four riding size clusters. These include small, medium, large and extra-large models.
Small models suit riders of heights 160 – 170 cm, the medium size is perfect for 170 – 175 cm high riders, large suiting 175 – 183 cm and extra-large 183 – 193 cm.
Note that the size is an average of various geometrical aspects including the seat tube, BB drop, and stand over height among other dimensions.
Raleigh Mountain Bike is designed for all mountain riding aficionados with great anticipations of exploring unimaginable terrains. It is best for anyone looking for their first hardtail bike.
Riding enthusiasts who have used the Raleigh Tokul 3 compare and rate this bike as one of the true all-mountain machines. They recommend it for any biker trying mountain riding or needs a new experience with mountain riding.
---
What Features Raleigh Tokul 3 Offer to the Riders
Frame and Fork
The frame and fork are arguably a good bicycle's defining features. A bike with poorly constructed frame and fork design often perform badly on the overall geometry and sturdiness. That said, with the Raleigh Bikes Tokul 3 Mountain Bike, the frame, as indicated before, is the AL-6061 SL custom butted aluminum with tapered HT and an IS disc mount.
On the other hand, the bike is fitted with the SR Suntour XCR-32 air 27.5 forks with 120mm travel and lockout or rebound. This smooths out the bumps in any terrain or trail you encounter in your ride.
Exceptional Disc Brakes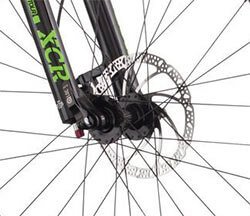 Brakes define the safety level of any bike. Of late, disc brakes are ruling the market. This is perhaps due to their ascertained quality with minimal or no rebound effects on the tire, especially by the plunger. Being a mountain bike, the Raleigh Tokul 3 Mountain Bike requires quality brakes, especially to aid you when cruising down the slopes.
They should provide the ultimate stopping power regardless of the prevailing weather condition. Having said this, the Raleigh Tokul 3 is designed with the Tektro Auriga Hydraulic disc brakes. The brakes are complemented by the Tektro Auriga 2-finger hydraulic brake levers.
Wheels and Tires
These are critical aspects to note for any mountain bicycle. Riding enthusiasts admit that getting a bicycle without premeditating on the wheels and tires is a double loss. Considering the toughness of the anticipated terrain, wheels and tires should be up to the task. Raleigh is perfect to cruise all terrains. Therefore, the bike ought to have the necessary quality wheels and tires to facilitate this. No frequent repairs or replacements.
This is why they Raleigh comes with the Weinmann U50 TL, 27.5" rims and the Kenda Havoc 2.8" tires. Such unforgiving quality is mandatory to level out even the toughest terrain.
Build and Ship
One of the puzzling question potential customers raise concerns the assembly of their ordered bike. For sure, self-assembly can be quite daunting. Besides, it requires some technical know-how to assemble the bicycle fully. Depending on the little knowledge you have in the assembling process, assembly time may vary. Amateurs can take as much as 2 hours while pros often take at most 30 minutes.
That said, your new Raleigh Bikes Tokul 3 Mountain Bike will arrive partially assembled. The bike comes with some assembly guide and an owner's manual to ease this process. If you find it challenging, employ the services of an expert.
Great Customer Service
Raleigh has managed to maintain its reputation due to their paramount principle of valuing customer satisfaction. Satisfying clients isn't about only providing quality products. Though quality and craftsmanship of products are key, other after-sale services which are achieved through customer service contributes immensely. The company has a dedicated and experienced team which solves customer's queries through various channels. This is through online chat and extensive video library provided.
That said, you will always get answers and solutions to any arising problems concerning your bike. This will help you get back on the road safely.
Saddle and Seat Post
Comfort is key when taking a ride. Otherwise, how would you conquer the rough and interesting terrains in your escapade without seating comfortably on your bike? Ensure that the bike you intend to purchase comes with a comfortable saddle and its accompanying seat post. The Tokul 3 Mountain Bike comes with a comfortable Raleigh Mountain 140mm wide saddle.
This allows you to enjoy the comfort of your rides. Moving on, the seat post complementing the saddle is the Raleigh 100 series dual bolt 30.5 by 350mm seat post. The post has a bolt-on seat clamp for assured tightness.
Suggested Sizing
Bicycles come in different sizes to suit individuals of various heights. Otherwise, if the bicycles came in standard sizes, how would extra tall or short persons ride? That said, the Raleigh Tokul 3 Mountain Bike comes in four size clusters. The bicycle's geometry is dictated by an interaction of various bike dimensions. They include the seat tube length, head tube angle, seat tube angle and chainstay length which dictate the suggested rider's height.
Bearing that in mind, the bike has Small models suit riders of heights 160 – 170 cm, the medium size is perfect for 170 – 175 cm high riders, large suiting 175 – 183 cm and extra-large 183 – 193 cm.
Pros
SRAM NX high-quality drivetrain
11 speed with SRAM NX trigger shifter
Kenda Havoc 2.8″ tire for great  traction
Weinmann U50 TL durable 27.5 alloy rims
120mm SR Suntour XCR travel fork to absorb shock
The bike is an impressively ride with a slack geometry
AL-6061 aluminum frame hence lightweight & durable
Tekro Hydraulic disc brake for efficient braking system
A good choice for anyone looking for their first hardtail bike
Cons
No water bottle mount
Some users consider it light for extreme speeds
Raleigh Tokul 3 Specs at a Glance
Frame: AL-6061 aluminum frame
Suspension Fork: SR Suntour 120mm travel fork
Speed: 11 speed
Shifter: SRAM NX trigger shifter
Drivetrain: SRAM NX 11-speed drivetrain
Brakes: Hydraulic disc brakes by Tektro Auriga
Rotor: 180/160mm rotor
Cogset: SRAM PG1130 11-speed
Wheels: 27.5-inch wheels
Tires: Kenda Havoc 2.8″ tires
Rims: 27.5 rims by Weinmann U50 TL
Seatpost: Raleigh 100 series dual bolt 30.9 by 350mm
Pedals: Wellgo Alloy pedals
Raleigh Tokul 3 weight: 26.8 pounds
Extras: Owner Manual, Assembly Guide
Note: Specifications Subject to Change
FAQs & Answer
Question:

Does the bicycle have elastic bands on the fork post for sag and tuning adjustments?
A

nswer:

Unfortunately, no! This Raleigh Tokul 3 model doesn't have one.
Question:

Is the bicycle tubeless ready?
A

nswer:

The Raleigh Tokul 3 Mountain Bike is tubeless ready. Actually, it comes with tubeless ready rims.
Question:

What is the overall weight of this bicycle?
A

nswer:

The bicycle cannot be said to be a featherweight. It weighs 12.2 kgs or 26.8lbs for the medium size.
Question:

How much does the Raleigh Tokul 3 cost?
A

nswer:

The Raleigh Tokul 3 Mountain Bike cost varies with the online retailer you purchase from. However, you can check on Amazon for the current price
Question:

What is the frame description in inches?
A

nswer:

Frames of the bicycle vary with the size guides. Note that there are small, medium, large and extra-large sizes. Respectively, the frames measure 15", 17", 19" and 21"
Final Verdict on the Raleigh Tokul 3
With a non-stop, adrenaline-fueled fun and memorable riding experience, the Raleigh Tokul 3 Mountain Bike turn any trail into an action-packed playground. The bicycle is built with nimble, lightweight aluminum frames and any other feature you would want to rule mountainous trails. Selection of Raleigh Tokul 3 bicycle's components must have been through. This defines the quality of Raleigh having built the finest bikes in over 3 centuries.
From the Raleigh Tokul 3 Mountain Bike point of view, Raleigh still sticks to their initial plan of designing bikes that are not only fun to ride but also convenient and practical. Cruise the mountain and other trails with this model.
---
You May Also Like To Read
DB Overdrive Comp Hardtail Bike Review
DB Sync'r Hardtail Bike Review