How good is the Raleigh Kodiak 1-2?
Are you an entry-level rider searching for a full suspension bike without emptying your pockets? Try the Raleigh Kodiak 1 Mountain Bike. It is a full suspension, solid, entry-level mountain bicycle that comes with the latest 27.5 plus tires. This provides more traction on the trail, better handling and the ability to roll over anything in cushy comfort.

The bicycle isn't selective. It is a great choice for both riding amateurs and experts. Raleigh Kodiak has incredible features that make it a great performer. It is simple, very reliable, looks good and certainly a great ride. The Raleigh Kodiak 1 comes with a tried and true alloy plus frame with a tapered head tube. This provides great durability and lightweight.
The rear shock comes with 4 inches of travel, thru axles on both front and rear which are super responsive on trails. Other noteworthy features include Shimano shifters with 24 gear speeds, dual suspension and unforgiving 27.5" plus rims. If you want to know more about this incredible bike then check Raleigh Bikes Kodiak 1 review below.
Overview of Raleigh Kodiak 1 Dual Suspension Bike
| | |
| --- | --- |
| Frame Size | Medium – 17″ / Large – 19″ / X-Large – 21″ |
| Frame Material | Aluminium frame |
| Bike Type | Full suspension bike |
| Speed | 24 speed |
| Brakes | Hydraulic disc brake |
| Wheel Size | 27.5″ wheels |
| Rating | 9.1/10 |
| Brand | Raleigh |
| Pros | Partially assembled, Great suspension, Comfortable |
| Cons | Little bit heavy for some rider, No water bottle holder |
| Summary | Best for big drops, climb hills and ride on the road |
| Where to Buy | Check On Amazon |
Who is the Raleigh Kodiak 1 Designed For?
The Raleigh Kodiak 1 has all the features of an entry-level bicycle should have. However, it can perform better than this
The bicycle is designed for individuals looking to explore rough and tough terrains without feeling the hard riding effect or abusing the bicycle
The Raleigh Kodiak 1 comes in four size clusters. This enables you to find the perfect fitting bike. The small (15") and medium (17") are perfect for riders of height 5.3" – 5.6" and 5.6" – 5.9" respectively.
The large (19") and extra-large (21") models are a perfect choice for riders of height 5.9" – 6" and 6" – 6.4"
It comes with dual suspension mechanism which makes it cushier and perhaps more forgiving than hardtails. The fitted extra plus tires add more volume achieving a great overall suspension feel. With this, you can cruise over the tough terrains effortlessly
Feature Details Of Raleigh Kodiak 1 Full Suspension
Great Geometry Frame and Fork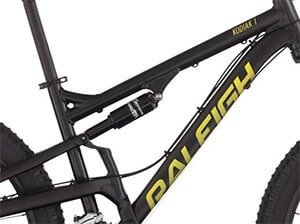 The frame and fork are perhaps the vital components of any bicycle. A bike with poor quality frame and fork won't surely perform. This is why Raleigh seeks to achieve a sturdy frame and good fork. This is brought along by the AL-6061 frame with 120mm of travel. The frame is lightweight and durable based on the fact that it is aluminum made.
However, riding amateurs can find this quite heavy. On the other hand, the fork suspension is the SR Suntour XCR 32 Coil 27.5+, also with 120mm travel fork. The suspension fork enables you to cruise easily over obstacles and other bumps in your ride with utmost comfort.
Great Suspension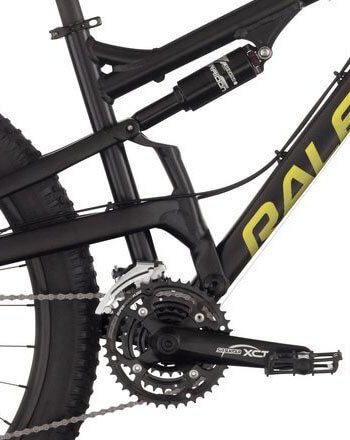 Suspension systems are an invaluable componentry to any bicycle. You can't imagine riding a bicycle without suspensions. You get to feel all the ups and downs of the trail. Without suspensions, even concentrating on the ride will be affected. This is why now most bicycles come with suspension systems.
The Raleigh Kodiak has dual suspension mechanism. This is the SR Suntour Raidon R air shock which offers 4 inches of travel. This absorbs even the heaviest of bumps. You'll comfortably sit and take on with the ride as the shocks do their part.
The Wheelset
As an amateur rider, you need a bicycle with great ground traction and stability. The Raleigh Kodiak 1 offers this. Note that great traction is impeccable for enhanced stability especially when the terrain isn't friendly. The wheelset of this bicycle consists of the rims, tires, and spokes.
That said, the Raleigh Kodiak 1 comes with Weinmann U28 rims, the latest 27.5 plus tires, and 14g stainless steel spokes. The wide surface areas not only offer more traction when on the trail but also promotes better handling and the ability to roll over an obstacle with cushy comfort.
Build and Ship Information
As mentioned before, the new Raleigh Kodiak 1 Mountain Bike will be delivered 85% assembled. Just to mention, many customers frequent visit manufacturers website inquiring about the due assembly process. It is a challenging process which requires quite some time and basic knowledge.
However, with the partial assembly, the remaining final processes are quite easy. From the directions provided in the owner's manual and user guide, you'll find it easy completing the process. Nonetheless, if you find this challenging as an amateur, employ the services of an expert. The final steps shouldn't take much of your time.
Customer Service
It is often refreshing and mind-settling to know that whatever you are buying is covered against any mechanical problems. For many companies, Raleigh included, achieving utmost client satisfaction is crucial. This is why the customer support among other after sale services of their bicycles. When you need to fix any issues related to your bike then just call them or visit their website or follow Youtube videos. You might get help from all of this supported media
Riding Comfortability
There is no better way to introduce riding enthusiasts to this field than by providing them with an overly comfortable bicycle. Entry level bikes are a form of introduction to the exploration of more riding aspirations. A bicycle's comfort can be achieved through various mechanisms. Raleigh specs work hand in hand to achieve this.
To begin, you need to sit comfortably to ride. This is provided by the Raleigh mountain saddle. The saddle has an Alloy dual bolt seat post. Other contributing components include the great suspension forks, sturdy frame and a perfectly built Raleigh 200 series 31.8 handlebar.
Pros & Cons of Raleigh Kodiak 1 Mountain Bike
Pros
Shimano high-quality drivetrain to climb uphill
Made of aluminum alloy frame for an extra cushy ride
Comes with 85% assembled. Easy to assemble the rest
Designed to conquer rocky trails with the dual suspension system
Hydraulic brakes for ultimate stopping power in all conditions
30.9mm adjustable seat post to adjust according to your height
Features an SR Suntour XCR 32 coil fork with 120mm of travel
Comes with Shimano shifters with 24 gear speeds to choose from
27.5" plus rims and tires which provide great traction and stability
Cons
No water bottle mount available
The frame is comparably heavy for beginner riding
Raleigh Kodiak 1 Specs 
at a Glance
Frame: High tempered 6061 aluminum frame
Suspension Fork: 120mm travel fork with XCR coil for smooths out the bump
Speed: up to 24-speed wide gear range
Shifter: Shimano SL M310 shifter to change gear smoothly
Drivetrain: Shimano front & rear derailleur to cover 24 speed
Brakes & Rotor: Hydraulic disc brake from Tektro with 180/160mm dual rotors
Chain & Crank: KMC chain with SR Suntour XCT 42 teeth crank
Wheels & Tires: 27.5″ wheels with 2.2″ Kenda tires
Rims & Spokes: Weinmann U28 rims with 14g steel spokes
Saddle & Seatpost: Raleigh saddle with 30.9mm alloy dual bolt Seatpost
Pedals: Test ride pedals. Replace for comfortable
Raleigh Kodiak 1 weight: 33.8 pounds
Extras: Assembly guide, Owner manual
Note: Specifications Subject to Change
FAQs & Answer
Question: Does the bikes Bike have an automatic seat post?
Answer:

No. You can manually adjust the seat post
Question:

How much assembly is required?
Answer:

The remaining assembly of the raleigh kodiak 1 isn't much work. You'll need to fix the pedals, seat post, handlebars and the front wheel.
Question: How much does the bicycle weigh?
Answer: Raleigh bikes Kodiak 1 weight is approximately 33.8 pounds
Question: What are the various sizes to choose from?
Answer: Raleigh bikes come in four varying sizes. They include the small, medium, large and extra-large models. Check our sizing section to know about that.
Question: What are the brake types on this bicycle?
Answer: The Raleigh Kodiak 1 uses Tektro hydraulic disc brakes for optimal stopping power.
Final Verdict on the Raleigh Kodiak 1
As a riding amateur, your future aspirations can be destroyed by purchasing a poor-quality bike. Therefore, it is imperative that you find a quality bike for your first ride. To experience this, you can try the Raleigh Kodiak 1 Mountain Bike. It comes with unbeatable features which will certainly make your first ride worth it.
Among the outstanding features include a smooth 24-speed gear shifter, wide 27.5-inch wheels, aluminum alloy frame, 120mm fork, powerful hydraulic disc brakes and Raleigh saddle. All are supported by complementary parts such as brake levers and seat post. With all these features, you will be able to enjoy your introductory sessions.
The suspension system ascertains a smooth ride. The size variations provide a wide field of choice for the perfect fit. It comes partially assembled; thus, you'll incur less time assembling and more time riding.
---
You May Also Like To Read
Raleigh Bikes Kodiak 1 Dual Suspension Bike
COMPONENTS -

9.5/10

PRICE -

8.5/10

WEIGHT -

9.0/10

SPEED -

9.0/10

DURABILITY -

9.3/10