Raleigh Tokul 1 Review | 27.5 inch Hardtail Mountain Bike
Raleigh Tokul 1 Overview
Get ready to dominate the ups and downs the local trails with the Raleigh Tokul 1 Mountain Bike. The bicycle comes with an aggressive geometry as well as threw in an irresistible hardtail. It is fun to ride, playful and provides a good riding experience. You can ride in rooty, mountain and trails you probably thought were impossible.
The Raleigh Tokul 1 is functional and perfect for all trails. This is perhaps due to the features it comes with. To begin, it comes with a roomy cockpit which makes it comfortable and easy to pedal. Its geometry and longer travel fork ease propelling of the bicycle down the trail. 650b wheels make it easy to roll over obstacles with ease.
Besides, they remain nimble even in hard to navigate trails. Manufacturers of the bike finished with a tough 120mm suspension fork which is why the bike can handle rough terrain. Overall, the bike is extra versatile and playful. If you would like to know more about this 27.5 hardtail mountain bike then check Raleigh Tokul 1 review below.
Overview of Raleigh Bikes Tokul 1 Mountain Bike
Who is the Raleigh Tokul 1 designed for?
Raleigh is designed for exploring rocky, rooty and all-mountain trail riding.
Designed to suit varied riders, the Raleigh Tokul 1 comes in four size clusters. This makes it possible to find a perfectly suiting bicycle for your height.
Therefore, since the Raleigh Tokul 1 can conquer all these situations, it is perfect for individuals with diverse riding aspirations. You can change your riding terrain without abusing the bicycle.
---
Feature Details of Raleigh Tokul 1 Hardtail Mountain Bike
Great Frame and Fork
A bicycle is often described by its frame and fork's appearance. This is why Raleigh bike invested in a good choice. A bicycle's frame guides a lot of features and components, including the size. That said, Raleigh Tokul specs feature a lightweight AL-6061 SL custom butted aluminum frame. This is the basis of its aggressive trail geometry.
Though quite heavy, the frame provides enough weight to cruise any situation. The frame is also strong and sturdy ascertaining durability. On the other hand, it comes with an SR Suntour XCM fork with a front fork suspension of 120mm travel.
Powerful Hydraulic Brakes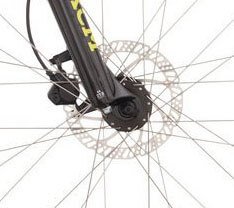 Riding safely on any trail requires that you have complementary brakes. This will ensure that the stopping power of the bike is beyond doubts. Note that the bike is a suitable ride for all terrains. Obstacles, bumps and other rough terrains may come along any time. Stopping or reducing the speed is therefore important. This is powered by the powerful Tektro hydraulic brakes with 160mm rotors.
The brakes are sufficient that stopping in any situation is overly possible. Regardless of the prevailing weather conditions or nature of the trail, stopping won't be an issue. The bikes are complemented with Tektro brake levers.
Build and Ship Information
Like any other quality bicycle, the Raleigh Mountain Bike comes partially assembled. Just to mention, completing the assembly process is usually quite daunting. It also requires some basic technical know-how. That said, having the Raleigh Tokul 1 85% assembled saves you a lot.
Depending on your location, the Raleigh Tokul 1 can take up to two days to be delivered once ordered. You're supposed to complete the assembly process before riding it. The remaining parts aren't challenging. They include fixing the front wheel, the seat and other few adjustments. Contact an expert if you find this difficult.
We've reviewed more
bikes from Raleigh
Tokul series. These bikes are also great performer on toughest terrain. So if you want then you can check more bike reviews below popular Tokul series.
Great Customer Service
Raleigh has maintained the good reputation of their company as among the best bicycle manufactures owed to their exceptional after-sale services. Client satisfaction is paramount. Once the Raleigh Tokul 1 is delivered, they will work for hand in hand with the client to ensure that they ride safely.
Some components are covered by manufacturers. Concerning customer support, they have an amazing and professional team. You can contact them anytime through online chats, email or calls. Their website is also stocked with lots of info.
Various Sizing Option
As mentioned before, most bicycles manufacturers come in varying sizes to suit different riders. Raleigh Tokul 1 hasn't been left out. The Raleigh Tokul 1 comes in four varying sizes. All are suited to riders of specific heights. Selecting your perfect size also depends on your body size and weight. Finding a perfect size is prudent as it ascertains a comfortable ride.
That said, the four sizes include small, medium, large and extra-large models. The small (15") and medium (17") models suit riders of heights between 5.3" – 5.6" and 5.6" – 5.9" respectively. On the other hand, large (19") and extra-large models (21") are perfect for riders of height 5.9" – 6" and 6" – 6.4".
Quality Wheel Set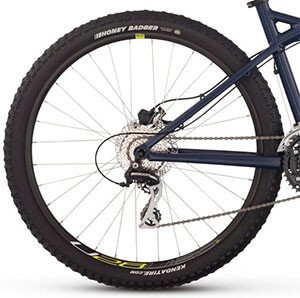 Riding on any terrain can be made easy by a great quality wheelset. The wheelset comprises of the rim, tire, and spokes. All work hand in hand to ensure that jumping over obstacles and cruising rough trails won't be difficult. Wide wheelset for Maximum road traction.
This is perhaps why Raleigh mountain bike comes with Weinmann u28, 27.5" wide rims, 14g stainless steel spokes and wide Kenda Honey badger wheels of 27.5" by 2.2mm. Equipped with this wheelset, cruising over any terrain is much easy. You can ride assured of great traction and maximum ground contact.
Pros & Cons of Raleigh Hardtail Bike
Pros
Have powerful Tektro hydraulic brakes
Suntour XCM 120mm fork to absorb shock
Easy to operate Shimano EZ shifters to cover 11 speed
Durable, great bike for rooty, rocky, mountain trail riding.
27.5mm wide rims fitted with wide Kenda 27.5 tires for stability
Unisex mountain bike under $500 for beginner to mid-level riders
Lightweight AL-6061 aluminum frames providing excellent frame geometry
Cons
The bike is quite heavy
Kickstand not available.
Raleigh Tokul 1 Specs at a Glance
Frame: 6061 SL butted aluminum frame
Suspension Fork: 120mm SR Suntour suspension fork
Speed: 11-speed gearing option
Shifter: Ez fire shifter from Shimano to cover 11 speed
Drivetrain: Shimano Acera drivetrain
Brakes: Tektro hydraulic disc brake with 160mm rotors
Chain & cogset: KMC Z51 with Shimano cogset
Wheels & Tires:  27.5-inch wheels with 2.2″ Kenda tires
Rims & Spokes: Weinmann 28m wide rims with stainless spokes
Saddle:140mm wide saddle with 30.9 mm adjustable seat post
Raleigh Tokul 1 weight: 31.4 pounds
Extras: Owner manual & installation guide
Note: Specifications Subject to Change
FAQs & Answer
Question: Is the Raleigh Tokul 1 good for beginners?
Answer:

It is a perfect bike for all trail riding. It comes with amazing features meant to conquer any terrain you plan on going. With this, it can be a good bicycle for beginners. You'll certainly enjoy the great features.
Question:

What is the bicycle's best use?
Answer: Roots, beams, jumps, drops, and dirt are the best recipe for the Raleigh Tokul 1. You can do absolutely anything with this bike. Explore wide without constraints to consider.
Question:

What is the suspension type of the bicycle?
Answer:

Mountain bikes often have suspensions to absorb impacts. They also maintain tire – ground contact. That said, Raleigh Tokul 1 is a hardtail bicycle. It has front suspension only.
Question:

What is the Raleigh Tokul 1's maximum number of speeds?
Answer:

The bicycle comes with 24-speed gears.
Question:

What is the price of the bicycle?
Answer:

To begin, Raleigh bicycles provide value for your money. This model costs approximately under 500 bucks
Final Verdict on the Raleigh Tokul 1
The Raleigh Tokul 1 Mountain Bike is an aggressive trail and all-mountain bicycle. The bicycle's geometry takes the hardtail bicycle through daunting lines you never thought. The components are amazing and best at performing. Tektro Auriga hydraulic disc brakes ascertain consistent or rather immediate stopping power on a dime. The rough Kenda Honey badger 27.5×2.2" tires level up even the toughest of trails. A fun and responsive ride is provided for by its aluminum 27.5-inch frame.
Other aspects to awe on this bicycle include the high-end Shimano drivetrain, comfortable seat with the supportive seat post, comfortable handlebars with Raleigh Closed-end grips, headset and the grippy Test Ride pedals. With the Raleigh Tokul 1, you're sure to enjoy your ride anytime, anywhere.
---
You May Also Like To Read
Diamondback Hook Hardtail Bike Review
Diamondback Overdrive ST Review
Raleigh Bikes Tokul 1 Mountain Bike
COMPONENTS -

9.0/10

PRICE -

9.5/10

WEIGHT -

9.0/10

SPEED -

9.0/10

DURABILITY -

9.0/10