Introduction to the Diamondback Catch 1
The Diamondback Catch 1 Complete Ready Ride Full Suspension Mountain Bicycle is the latest addition to the manufacturer's trail bicycles. It comes with great features which are a combination of the best. Manufacturers combined the new level link suspension system with some well-sorted geometry and outstanding componentry.
Don't mistake this as an evolution of the previous models or a subtle update! It is a whole new from-the-ground bicycle that puts back the Diamondback Catch series at the forefront of various mountain bike technology. Among the fantastic features include the 27.5-inch wheels with three-inch wide tires run at low pressure providing the grip that wasn't possible with traditional tires. The aluminum frame which features hydroformed tubes, 130mm of travel fork and SRAM hydraulic brakes are other awing parts of this high-end bicycle. In this Diamondback Catch 1 review, we will discuss the pro's & con's of this bike.
Overview of Diamondback Catch 1 Full Suspension
| | |
| --- | --- |
| Frame Size | S 15.5 " / M 17″ / L 19″ / XL 21″ |
| Frame Material | Hydroformed alloy frame |
| Bike Type | Hardtail Mountain Bike |
| Speed | 20 speed |
| Brakes | SRAM Level Hydraulic Disc |
| Wheel Size | 27.5 Plus |
| Rating | 8.3/10 |
| Brand | Diamondback |
| Pros | Comfortable ride,  Great suspension, ReadyRide feature |
| Cons | No dropper post, Toolkit |
| Summary | Great full suspension MTB for a ride on rocky trails |
| Where to Buy | Check On Amazon |
Who is The Diamondback Catch 1 Designed For?
This is a perfect choice for riding enthusiasts looking to go further. It is an ideal cycle.
Riders looking to explore rocky trails can also try this. The Diamondback Catch 1 comes with all the features compatible with rocky trail riding. Great suspension mechanism and wide tires are just but a few to mention.
The Diamondback Catch 1, like other Diamondback bicycles of this caliber, come in four size variations. They include small, medium, large and extra-large models. The size guide helps in finding a perfectly fitting bicycle.
---
Feature Details of Diamondback Catch 1 Bike
Suspension Mechanism
As the name suggests, the Bicycle has full suspension systems. Also known as dual-suspension, it is imperative to have such mechanisms especially for a bicycle you plan to take on a rocky trail. Suspensions are arguably the best thing that ever happened to bikes.
Being amongst the latest release, this bicycle takes advantage of the new level link suspension. This suspension platform makes use of the proverbial "next level" especially if coupled with the 27.5 plus wheel size. Riding on them feel overly comfortable. It handles chunky sandstones expertly.
27.5 Plus Wide Tires
Before going for such trails, it is imperative that you consider the wheel size of your bike. Note that the Diamondback Catch 1 wheel could be one of the three standard sizes. The 26", 27.5" and the largest, 29". Just like other mountain bikes perfect for conquering rocky trails, the Diamondback Catch 1 comes with 27.5 plus tires with 3-inch wide wheels.
Having your bike wear such tires ascertains more than just standard traction when riding. The 27.5" tires provide a great balance between 26" and 29". This is why they are perfect for trail riding. The tires are also wide enough to work well under low pressure.
SRAM GX 2×10 SP Drivetrain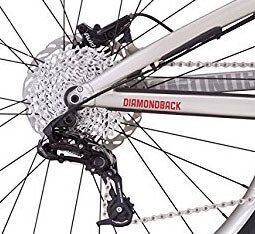 Once the suspension and tire systems are top-notch, your mind clicks on the bike's drivetrain. This mainly encompasses the speed and gear system of the Diamondback Catch 1. Rocky trails are not often associated with much riding speed. However, with the smooth ride provided by this Diamondback Catch 1, you will be tempted to increase quite a bit.
This is perhaps why the bicycle comes with 20 gear speeds. The SRAM 2×10 speed drivetrain includes the SRAM GX shifters which shift smoothly and crisply lets you adjust the gear to the right one for the terrain ahead.
Great Frame and Overall Geometry
A bicycle's frame and fork are arguably the vital role players in its overall geometry. This is why manufacturers, including Diamondback, invest and choose prudently, the type of frame installed on their bikes. The frame's size varies depending on the size of the bicycle. Long frames translate to large sizes and vice versa.
That said, the Diamondback Catch 1 comes with a hydroformed aluminum alloy frame. The frame features formed tubes that enhance durability and lightweight nature. The geometry of this bicycle reflects how adventurous focused the Diamondback Catch 1 is. The fork is slack enough to provide much-needed support.
Sizing Considerations
Before getting to purchase a bicycle, it is essential to get the right size. Imagine getting a bicycle too small to pedal or too large you can't reach the saddle. This is why a sizing guide is often available with every bicycle model. The guide takes into consideration the various parameters of the bicycle which are equated to individual height, body weight, and shape.
For this model, there are four size classifications. They include:
Small models (15") is perfect for riders of heights 5.4" – 5.7".
Medium (17") being perfect for those of height 5.7" – 5.10".
Large (19") sizes are a good choice for those of heights 5.10" – 6.3."
Extra-large (21") perfect for riders of height 6.3" – 6.6".
ReadyRide Option
Since bicycles are often ordered online, they come in various assembly stages. This is often done to facilitate easy packing and delivery. However, it leaves the remaining assembly process to you, the purchaser. It takes some time and know-how to complete this. For experts, this process isn't much challenging. Amateurs will certainly find it difficult.
Diamondback Catch 1 is a different one. The Diamondback Catch 1 comes with a ReadyRide option. This means that the bike is delivered 95% assembled. The remaining part doesn't require much time and skills.
Pros & Cons of Diamondback Catch 1 Mountain Bicycle
Pros
It has a 2.8-inch tire which provides more grip.
130mm RockShox Yari travel fork to absorb shock
ReadyRide features make easy to assemble the rest parts.
Hydroformed aluminum frame hence lightweight & durable
The SRAM GX 11-speed drivetrain to handle all types of terrain.
SRAM Level hydraulic brakes which maximize stopping power.
WTB volt comp saddle ensures that you keep in touch and control.
ReadyRide features which means the bike 95% assembled by the manufacturer
Cons
No toolkit
No Kickstand available
Despite having enough space, it lacks a water bottle cage in the front triangle.
Diamondback Catch 1 Specs  at a Glance
Frame: 

Hydroformed aluminum frame

Suspension Fork: Front & rear RockShox Yari 130mm travel fork
Speed: SRAM GX 11 speed drivetrain to run faster
Shifter: SRAM NX X-Actuation Trigger shifter
Drivetrain: Drivetrain comprises SRAM NX front & rear derailleur
Brakes:  SRAM Level Hydraulic Disc brake for great stopping power
Rotor: 180mm front & rear rotors
Chain: KMC X11EL chain to cover 11 speed
Cogset: SRAM PG1130, 11 Speed
Wheels: Diamondback Blanchard 27.5 Inches in size
Tires: SCHWALBE 2.8″ wide tire to run over obstacles
Rims: Diamondback Blanchard 38R tubeless compatible rims
Saddle: WTB Saddle for a comfortable ride
Seatpost: 31.6mm adjustable DB alloy Seatpost
Pedals: DB4l alloy platform pedal with replaceable pins
Diamondback Catch 1 weight: 33.4 lbs
Extras: Manual, Assembly guide
Note: Specifications Subject to Change
FAQs & Answer
Question: Which is the main use of the Diamondback Catch 1?
Answer:

The bike is an all-mountain bicycle. This means that you can take it to any ride without fear. The bike has all the features to handle the prevailing conditions expertly.
Question: How much does the bike weigh?
Answer: The Diamondback Catch 1 weight is about 33.5 pounds. The weight makes it a perfect bike for trail riding.
Question:

 What is the bicycle's brake style?
Answer: Disc brakes are arguably the best in current times. This is what Diamondback catch 1 bicycle is fitted with. Expect great and smooth stopping power.
Question: What are the general bicycle dimensions?
Answer: The bicycle size, as mentioned, varies with the size. However, there are specific standard measurements including the standover height which is 29.1 inches, 27.5 – inches wheel size and package height of 12.01×33.5×71.69 inches.
Question: Does the bike come with foot pedals?
Answer:

Yes. It is delivered fitted with the DB4L alloy platform pedals with replaceable pins.
Final Verdict on the Diamondback Catch 1
The Diamondback Catch 1 Ride Full Suspension Mountain Bicycle is the bike of choice for those afternoon technical climbs with insanely fun descent with friends. The bike feels like twice as good compared to bicycles of the same price range. Perhaps, this is due to its fair features.
There is a lot to enjoy and less to complain about the bike. With the quality componentry, cornering, mountain climbing, and descents feel natural with good speed and flow. With the new level link suspension, you'll certainly feel you are in control of the trail. It is undoubtedly a great choice for rocky trails.
---
You May Also Like To Read
Diamondback Bicycles Catch 1 Ride Full Suspension Mountain Bike
COMPONENTS -

9.0/10

PRICE -

7.2/10

WEIGHT -

8.2/10

SPEED -

8.8/10

DURABILITY -

8.5/10