Diamondback Tess 24 Introduction
Your growing daughter may need a bike to enjoy the beauty of nature. From the kid's bikes, the best way to graduate her to intermediate bicycles suitable for trail and street is through Diamondback Tess 24 inch mountain bike. The Diamondback Tess 24 comes with all your daughter needs an intermediate rider. This encompasses both upgraded features of kid's bikes and moderated components of adult bikes.
The bike's Jr mountain frame is not only strong but also durable. It provides the needed support. The XC suspension fork soaks all the bumps, uneven pavement, and rugged pathways. Its 2-panel seat, padded provides utmost comfort and the 24-inch wheels offer great traction for all trail riding. Go through this review to know more about this great 24 mountain bike for girls or women.
Overview of Diamondback Tess 24 Inch Bike for Girls
| | |
| --- | --- |
| Frame Size | 24″ |
| Frame Material | Steel frame |
| Bike Type | Hardtail |
| Speed | 21 speed |
| Brakes | Linear pull ( V brake ) |
| Wheel Size | 24 inch |
| Rating | 8.9/10 |
| Brand | Diamondback |
| Pros | Gear shifter, Well built, Easy assembly |
| Cons | No kickstand, Little bit heavy |
| Summary | Great bike for younger girls |
| Where to Buy | Check On Amazon |
Who is the Diamondback Tess 24 Designed For?
The Diamondback Tess 24 is an excellent choice for riders aged between 8 to 12 years.
Diamondback girls bike is designed for upgrading girl riding enthusiasts. The Diamondback Tess 24 comes with all the features making it suitable for a girl in need of this.
From the name, it is crystal clear that the Diamondback Tess 24 suits riders of a specific age range. Unlike other Diamondback bicycles, it falls into the fold of specific bicycles.
The Diamondback Tess 24 aims at such growing girls in need of nothing more than experiencing dirt riding. This is supported by its build, low-slung geometry and great componentry.
---
Review of Diamondback Tess 24 Mountain Bike
Durable Steel Frame
If there is anything you can't ignore when choosing a bicycle for your daughter is the frame. This determines not only the strength and durability of the bicycle but also the rider's safety and overall geometry. If you are a bicycle expert, you would expect some aluminum alloy frame.
However, for an intermediate bike, the high tensile steel frame is a perfect choice. Therefore, high tensile steel is preferred to regulate the weight. It is not as light to affect the durability of the Diamondback Tess 24 whereas not too heavy to make handling a problem. It is a perfect fit.
24 Inch Wheels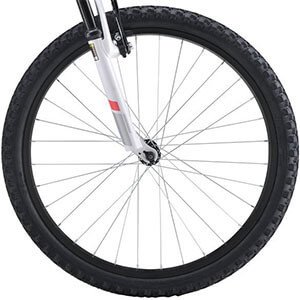 As your daughter is getting exposed to the new trails and mountainous terrains, it is imperative to find a bicycle with a wheel size that will accommodate her aspirations. This is what Diamondback Tess 24 mountain bike provides. As the name suggests, the Diamondback Tess 24 comes with 24-inch wheels.
The wheels are not only great for rolling over the anticipated obstacles in the trails but also provide great roll-over speed and traction. To make the wheels easily maneuverable, the Diamondback Tess 24 features 32h R-alloy rims and 14g stainless steel spokes. They provide great support, matching the required for such wheel size.
21 Speeds
Actually, kid's bicycles fall in the same fold as traditional bicycles. They all have a single gear speed. This makes riding overly difficult. However, as you girl graduates to this, exposing her to the wide gear choices to maneuver with is important. This will allow her experience the fun of riding mountain bikes.
With the Diamondback Tess 24, expect a 21-gear speed drivetrain. This will enable your girl to maintain her speed regardless of the terrain. However, such gear choices can be useless if there is no smooth-shifting system. This is why the Diamondback Tess 24  comes with Shimano M310 shifter. It provides smooth and easy gear shifts.
Strong Braking System
Exposure to new trails often triggers adventure. This is exactly what your daughter is bound to do. She will find a good trail and cycle like it's the last day riding. Coupled with the wide gear choice, she will hit high speeds without noticing. This is why getting a bicycle with a powerful, smooth and reliable braking system is prudent.
With this bicycle, regardless of the cruising speed, bringing the bicycle to a complete halt won't be a problem. The linear-pull brakes provide the needed braking power. Though not effective as the disc brakes, they work well for a bicycle of this caliber.
Great Suspension Fork
Trails and mountainous terrains never lack rough and bumpy sites. This is why riding through them can be quite uncomfortable. It may limit the extent to which you use a bicycle, especially if the suspension system is garbage. However, with a great suspension system, roughing such trails won't be a challenge.
That said, the Diamondback Tess 24 comes with the moderate suspension system, perfect for intermediate riders. This is the HL Zoom 24" suspension fork with 40mm of travel. With this, riding through slight bumps and simple obstacles in any terrain won't be a challenge. The fork absorbs bumps for a smooth ride all through.
Bike Assembly
Assembling the Diamondback Tess 24  once delivered is the most challenging part of owning a bicycle. Since the bicycles are ordered online and delivered through carriers, you'll find that the assembly process isn't complete. Therefore, it is upon you to finalize the remaining components. For sure, it is daunting, considering that time and knowledge is required.
However, manufacturers such as Diamondback deliver their bikes partially delivered. The Diamondback Tess 24 mountain bike, though not achieving the ReadyRide option, is assembled to a better percentage. This will leave less work for finalization. Besides, the Diamondback Tess 24 is given with an assembly guide and a toolkit to complete the installation process with ease.
Pros & Cons of Diamondback Tess 24 
Pros
Comparatively easy to assemble
21 speed Shimano drivetrain to rule the trail
24-inch wheels with alloy rims hence durable
Easy to change gear by Shimano trigger shifter
Comes with a reasonable price tag to make it affordable
Has a suspension fork to get comfortable on rough terrain.
Cons
The bicycle lacks a kickstand
The Diamondback Tess 24 is comparatively heavy because of the steel frame
Diamondback Tess 24 Specs at a Glance
Frame: High-Ten steel durable frame
Suspension Fork: 40mm travel zoom suspension fork
Speed: 21-speed wide gear range
Shifter: Shimano trigger shifter
Drivetrain: Shimano TZ series drivetrain
Brakes: Linear pull alloy brakes
Chain: KMC Z51 series chain
Wheels: 24″ wheels in size
Tires: 2.0 inch 24″ knobby tires
Rims & Spokes: Alloy rims
Pedals: Resin mountain pedals
Standover Height:
Diamondback Tess 24 weight: 28.05 lbs
Extras: Toolkit, Manual &Aassembly guide
Note: Specifications Subject to Change
FAQs & Answer
Question:

Does the bike have gears?
Answer: Yes. The bike comes with 3×7 gear options. This provides a wide array of gears to choose from.
Question: Can the bike be used by an adult?
Answer: Not sure. However, this depends on the height of the rider. From the size guide, it says that riders of heights up to 5.4" can use the bicycle.
Question: Does the bike come with a kickstand?
Answer: No. This is one of the drawbacks of this bicycle. There is no kickstand or hole to fit it. However, you can solve this problem by using a floor rack.
Question: Does this come assembled?
Answer: Not fully. Some assembly is required for front wheels, seat, handlebar, and pedals. However, the bike comes with an assembly guide and toolbox to ease this process.
Question: Does this Diamondback Tess 24 have a rear-wheel quick release?
Answer: Unfortunately, no. It lacks the rear quick-release feature.
Final Verdict on the Diamondback Tess 24
If you are looking for a good bike for your growing kids at a fair price, consider getting the Diamondback Tess 24 girls mountain bike. The bike has great features that your daughter will certainly enjoy. From the great bike componentry to the easy assembly process, this Diamondback Tess 24 will be the best transitional bicycle to gift her.
The bike remains steady despite all the abuse subjected to. The bike's frame, wheelset, handlebar, seat, and suspension fork are top-notch.
Diamondback Bicycles Tess 24 Mountain bike
COMPONENTS -

8.5/10

PRICE -

9.5/10

WEIGHT -

8.5/10

SPEED -

9.0/10

DURABILITY -

9.0/10