Raleigh Talus 2 Hardtail Mountain Bike Review
Introduction to the Raleigh Talus 2
Many riding enthusiasts anticipate riding mountain bikes, yet finding the perfect bike becomes a challenging task. Especially when it comes to finding one with all the qualities, getting to know where to start in your search can at times be confusing.
Well, the Raleigh Talus 2 can be a good startup bike for mountain riding aficionados looking for great MTB on a budget price. With the Raleigh Talus 2, you get to a new world where the adventure begins once the pavement ends. It allows you to be comfortable on dirt without breaking your bank. The bike is as easy and ready to roll on the daily commute as they are on hard packed gravel and dirt trails.
The bike's lightweight alloy provides a comfortable riding position for your lower back and neck. Its upright nature provides a better vantage point for spotting unexpected obstacles in your path. Shimano trigger shifters, SR Suntour suspension fork, and large wheels are just but a few features of this great entry-level mountain bike.
| | |
| --- | --- |
| Frame Size | 15″ – SM  / 17″ – MD / 19″ – LG / 21″ – XL |
| Frame Material | Aluminium lightweight frame |
| Bike Type | Hardtail |
| Speed | 21 speed |
| Brakes | V Brake |
| Wheel Size | 27.5 inch in size |
| Rating | 8.6/10 |
| Brand | Raleigh |
| Pros | Solid build, lightweight, easy assembly |
| Cons | Saddle & tires are not perfect |
| Summary | Tough worker for the money. |
| Where to Buy | Check On Amazon |
Who is The Raleigh Talus 2 Designed For?
The Talus 2 mountain bike is designed for riders looking to hit the road with utmost stability and an upright feel of a mountain bike.
Riding enthusiasts seeking to explore the less traveled paths will find much fun taking the Raleigh Talus 2 for a ride.
The Suntour suspension fork and 27.5-inch wheels handle every bump and pothole on your way expertly.
Unlike other mountain bikes, the  Raleigh Talus 2 model is available in five size variations.
---
 Feature Details Of Raleigh Talus 2 Mountain Bike
Super Front Suspension
Suspension in a bicycle is overly important, especially for rough and bumpy trails. Like most budget mountain bikes, the Talus 2 features a front suspension system that absorbs shocks and the toughness of the entire trail. A great benefit of suspension systems is that it absorbs the beating your body takes.
Unlike other models, individuals suffering from sore lower back and stiff neck during rides can tell the difference between the suspension systems. The Raleigh Talus 2 has only the front suspension, making it a hardtail bicycle. Such bikes are lightweight and more efficient compared to dual suspension bikes. They are also easy to clean and maintain.
Sturdy Frame Material
A bicycle's frame is often a major contributing factor to its overall sturdiness. This is why Raleigh doesn't take chances when it comes to the selection of frame materials for their bicycles. The bike is built with aluminum frame materials for utmost sturdiness and strength.
The resultant is an affordable, good-looking, strong and lightweight frame that doesn't rust easily. Additionally, the aluminum tube frames have more flex to conduct vibrations conveniently thus making a bumpy trail riding more comfortable. With such proper designs, aluminum frames provide solid rides for climbing and handling every tight situation.
Wonder Wheels
Mountain bikes are hugely judged on their ability to conquer rough trails and pass by obstacles. This is outrightly based on the size of the bike's wheels. Bearing that in mind, the Talus bike features strong wheels that can be fully depended on. Unlike other traditional mountain bikes, the wheels of this model are lighter as the reductions are noticeable on the trail.
Additionally, the bike comes with 27.5" wheels and 2" wide tires that easily roll over the rocks and roots with great confidence and efficiency. As you may know, the 27.5" wheels offer a good middle ground between the standard 26" and 29" wheels. This makes it the best of both worlds. Perhaps more rollover power than 26" and easy maneuverability than 29" wheels.
Powerful Braking System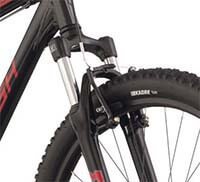 How would you make those emergency stops in mountainous trails? Of course by having a bike fully equipped with strong brakes. Note that mountain riding isn't similar to normal trail riding. There are a lot of unexpected obstacles such as roots and rocks due to the nature of the terrain. Besides, the hills and steep slopes dictate the need for strong brakes.
This is why the Raleigh Talus 2 features V-brakes. They are easy to use and lightweight. In mechanical dimension point of view, they have a lever, brake calipers, and a cable. They are more or less similar to cantilever brakes but have an addition of springs, which improves its progressiveness and braking power.
Seat or Saddle
Mountain riding experts will attest that the ride can't be fun and enjoyable without a proper and comfortable seat. Many riders who have established their preferred saddles often replace their bike seats once they receive the bikes. The seat should be wide enough to facilitate a comfortable riding power.
Saddles of the Talus 2, though not high-end, are excellent and designed in a way that fits the rider properly. However, being a mountain bike for the price, it is recommended that you give a try on the saddle and experience how it feels. If you don't feel comfortable, try installing other seat models.
Raleigh Talus 2 Sizing Option
As an amateur rider, you are still learning the bits of mountain riding. A perfect way to explore the mountainous trails is by finding the best and perfectly fitting bicycle size. This is often arrived at by considering various body parameters, including the body weight, height, bike's seat tube length, top tube length, stack height, chainstay length among other features.
Manufacturers are well aware of this, and perhaps the reason why they release bicycles with size guides. For the Raleigh Talus, there are five size clusters. They include the extra-small, small, medium, large and extra-large bike size. Verify the specific parameters to find your perfect size.
---
---
Pros & Cons of the Talus Mountain Bike
Pros
Perfect bike for teenage son.
Lightweight aluminum frame
27.5" wheels roll fast and smooth
Upright geometry for a comfortable riding
Very solidly built, light casual mountain bike
21-speeds makes it easy getting up and down hills.
Good for fun riding on light dirt trails and pavement
Cons
Low-quality tires
Quite a weak saddle
Raleigh Talus 2 Specs at a glance
Frame: Aluminium lightweight frame with upright geometry
Suspension Fork: SR Suntour 75mm travel suspension fork
Speed & Shifter: 21 speed with Shimano EZ gear shifter
Drivetrain: Shimano Atlus front & rear drivetrain
Brakes: Ally V brake
Chain & Cogset: KMC chain with Shimano cogset to cover 21 speed
Wheels & Tires: 27.5″ Wheels with 2″ Kenda tires to roll fast
Rims & Spokes: Double wall alloy rim & will installed 14g still spokes
Saddle & Seatpost: Mountain Plush Saddle with alloy Seatpost
Raleigh Talus 2 Weight: 30 lbs
Extras: Rack & Fender Mounts, Assembly Guide, Manuals
Note: Specifications Subject to Change
FAQs and Answers
Question: Does Raleigh offer warranty for their bicycles?
Answer: Yes. Raleigh believes that customer satisfaction is important. In line with standing behind the quality and craftsmanship of their products, they offer warranties for bicycle parts in case of primary problems.
Question: Is the bike assembled when delivery?
Answer: Yes. Like other Raleigh models, the Raleigh Talus 2 will be delivered 85 percent assembled.
Question: How much does the bike weigh?
Answer: The bike weight stands at approximately 30lbs.
Question: Is the bike delivered with a kickstand? Is not, what type will work for the Raleigh Talus 2?
Answer: The bicycle doesn't have a kickstand. You will have to find one on your own. The double-sided kickstand is a perfect choice to fix.
Question: If I'm 6ft, what size would be better for me?
Answer: Finding the perfect size will necessitate that you check the size guide chart. However, taking other parameters constant, the extra-large would suit your height.
Buying Advice
Based on the information above, the bike's tires, saddle, and shocks may not be reliable for riders. Therefore, it is prudent if you consider purchasing mountain-riding tires and strengthen the saddle depending on how you feel and body weight. This is especially important if you plan on riding on wet and slippery trails.
The final verdict on the Raleigh Talus 2
Without much doubt, the Raleigh Talus 2 is a reliable cheap mountain bike. It is a perfect way to kick-start your mountain riding aspirations. The bike certainly doesn't let you down when it comes to enjoying the wide componentry. It is well built, lightweight and most importantly, made with quality materials.
The bike's frame, drivetrain, wheelset, braking system and geometry cannot be compared to other models of the same price range. This is perhaps the reason why the bike is a good choice for the price. It works excellently on pavements as well as trails with an awesome front suspension. Tires are big but lightweight. Overall, it is a quality and affordable bike.
---
You May Also Like To Read