Introduction to the Raleigh Kodiak 2
Riding on a quality bike is perhaps one of the most satisfying moments of any cycling enthusiast. However, finding a good model can be quite a daunting task. If you have been looking for such bikes for quite some time, try the Raleigh Kodiak 2 mountain bike (or the Raleigh Kodiak 1).
To begin with, Raleigh bikes are well known in the market for their quality. They come with a myriad of features, all aiming to pass a revolutionary riding experience to the rider. That said, some of the basic features of this model include fully functioning rear suspensions, a front fork, and a lightweight aluminum frame. They not only make the Raleigh Kodiak 2 easy to ride but also provide maximum comfort. The Raleigh Kodiak 2 can conquer rough, hilly roads and expected bumpy rides. Thanks to its hydraulic disc brakes for instant stopping power.
Overview of Raleigh Kodiak 2 Full Suspension
| | |
| --- | --- |
| Frame Size | 15." – SM  / 17″ – MD / 19″ – LG / 21″ – XL |
| Frame Material | Aluminum frame |
| Bike Type | Full suspension |
| Speed | 11-speed drivetrain |
| Brakes | Hydraulic disc brake |
| Wheel Size | 27.5 + inch in size |
| Rating | 8.2/10 |
| Brand | Raleigh |
| Pros | Good quality parts, 85% assembled, |
| Cons | Quite heavy for some bikers |
| Summary | Great intermediate level bike for riding rooty, rocky, mountain trails with serious suspension |
| Where to Buy | Check On Amazon |
Who is the Raleigh Kodiak 2designed for?
The Kodiak is a bicycle for entry-level to Pro level rider.
The Raleigh Kodiak 2 performs best in rough and bouncy pathways. It is also a good bike for hilly terrains.
The powerful rear suspensions and front forks enable the bike to trample on rocks and manage elevated ground support.
Like other Kodiak bikes, this model comes in four different sizes. They include the small size (15") and medium (17") sizes which are suitable for people of heights 5'3"-5'6" and 5'6"-5'9" respectively.
On the other hand, the large (19") and extra-large (21") sizes are best for riders with heights 5'9"-6' and 6'-6'4".
Why Choose the Raleigh Kodiak 2 for Biking?
Rear suspensions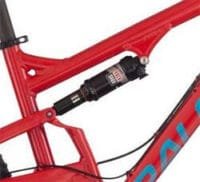 Suspensions, when looking for a bicycle should always be a deal-breaker. Especially for mountain bikes, you ought to ensure that the Raleigh Kodiak 2 is fitted with enough suspension for a comfortable ride, regardless of the trail. Being a mountain bike, the bicycle features rear suspension systems, which swallow bumps and provide utmost responsive handling.
That said, the bike has fully functional rear suspensions with 120mm travel. Its Rockshox Monarch R suspensions are also of a simple single pivot design but work expertly. This gives the bike the ability to withstand rough roads and rocky trails. You will barely feel the shocks.
Sturdy frame and fork
Bicycle's frames are perhaps the backbone of any bicycle. Without a strong frame, expect less of that bicycle. As you may know, the best bicycle frames are made of aluminum. Other materials could also be effective, but not as effective as aluminum-alloyed frames.
The AL-6061 frame is lightweight and sturdy, perhaps a good combination of the Raleigh Kodiak 2. They form a perfect trail geometry, especially for this mountain bike. Concerning the bike's fork, Raleigh Bikes Kodiak 2 features the SR Suntour Raidon 32 Air front forks with 120mm travel. Together with the supple frame, the bike becomes worth the price.
Hydraulic disc brakes
Braking power is all you need for mountain riding. Riding a bicycle with an ascertained stopping power provides much riding experience at peace, compared to risky brakes. Bearing this in mind, hydraulic disc brakes are the best bicycle brakes available in the market currently. This is perhaps why Raleigh chose these models.
The bike features the strong and powerful Tektro Auriga hydraulic disc brakes which facilitate immediate stopping in all weather conditions. The bike also has Tektro Auriga 2-finger brake levers that support the hydraulic brakes functioning. With this tandem, you are undoubtedly in control.
Rims and tires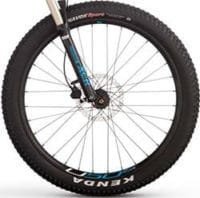 Mountain bikes ought to be fitted with strong and powerful rims and tires that enhance it to conquer the mountainous terrains. Besides being wide enough for great grip and traction, the tires should be made of good material.
That said, the Kodiak 2 mountain bike features the Weinmann tubeless rims that last long. They are 27.5" wide for good traction and grip in all terrains. The Kenda Havoc 27.5×2.8 tires tramp over rocks easily providing for an easier ride. The tires and rims are also strong enough to last long.
Easy to assemble
Bicycle assembly is one of the most daunting tasks riding enthusiasts often come across after receiving their bike delivery. For easier delivery, bicycles are often packed with their parts separated. However, some come pre-assembled to some percentage to ease completion as well as reduce assembly time thus increasing the riding time. This also makes it possible for amateurs with no prior assembly knowledge to assemble their bikes.
With the Kodiak 2, the Raleigh Kodiak 2 comes 85% assembled. This means that you will not have to start from the basics when setting the bicycle together. It also makes the process hands free and free of tools. This procedure is quite easy, especially with the help of an attached guide.
Depending on proficiency levels, assembly time could take between 30 and one hours. However, if you still don't feel confident to accomplish this, you can simply visit a nearby local bike shop for assistance.
Customer service
Riding is certainly spiced by purchasing your bicycle from a company that shows some care for you as the customer. Customer service is perhaps the reason why some companies flourish as others drop. Raleigh isn't any different from this. The best reward you will enjoy putting your faith in this company is undisputable customer service.
The company fronts various customer service techniques, all aiming to keep their customers satisfied. Some of the techniques include a guidebook that is delivered with the Raleigh Kodiak 2 and an interactive online platform to present your concerns.
Easy to ride
Evaluating if any bicycle is easy to ride requires a clear understanding of the various crucial bike components. This may include the frame, the drivetrain, the handlebars, and braking power. Raleigh Bicycles Kodiak full suspension bike specs make it an easy ride. It has powerful instant brakes, and this has you regulating the speed at which you move. The pedals and SRAM PC1130 chain work hand in hand to give you the forward motion.
The frame gives it a hard geometry. You will also not have to ride in an uncomfortable sitting position because the saddle has a good shape and has an adjustable seat post. To top it up, the rear suspension and front fork enable you to cruise without feeling the bumps. They absorb the shocks, in conjunction with the wide tires and tubeless rims.
Pros & Cons of the Raleigh Kodiak 2 Full Suspension
Pros
When delivered, the Raleigh Kodiak 2 is 85% assembled
The aluminum frame makes the Raleigh Kodiak 2 strong & lightweight
An 11-speed drivetrain with trigger shifter to go uphill easily.
Great full suspension bike for the intermediate level rider
Hydraulic disc brakes discs provide the ability to stop instantly
Rockshox suspensions & 120mm travel fork ensure a comfortable ride
Strong Kenda Havoc tire with Weinmann U50 rim role over anything
Cons
It lacks a position to hold a water bottle.
The frame is slightly heavy for neophyte riders.
Raleigh Kodiak 2 Specs In Short
Frame: 6061 aluminum frame
Front Suspension Fork: SR Suntour 120mm travel fork
Rear Suspension: RockShox Monarch R with air spring
Number of Speed: 1×11 speed for a faster ride
Shifter: SRAM NX trigger shifter for smooth gear changes
Drivetrain: SRAM NX 11spd drivetrain
Brakes: Hydraulic disc brake by Tektro Auriga with
Rotors: 180/160 mm both front & rear rotors
Chain: SRAM PC chain to cover 11 speed
Wheels: 27.5+ inch alloy wheels
Tires & Rims: 27.5 plus Kenda Havok Sport tires
Rims: Durable double-wall Weinmann U50 Rims
Saddle:  Raleigh MTB saddle
Seatpost: 30.9 mm adjustable Seatpost
Raleigh Kodiak 2 weight: 33.3 pounds
Extras: Instruction Manual & Guide
Note: Specifications Subject to Change
FAQs & Answer
Question: How much does the Raleigh Kodiak 2 weigh?
Answer: This bicycle weight is 33.3 pounds, inclusive of the frames and saddle.
Question: Is it pre-assembled?
Answer: Yes. The Raleigh Kodiak 2 when sold is 85% assembled. It is up to you to fix the rest or seek help from an expert around. It is very easy to assemble.
Question: What are the available sizes?
Answer: There are four available sizes, small (15"), medium (17"), large (19") and extra-large (21").
Question: What type of brakes does it have?
Answer: The bike has hydraulic discs brakes.
Question: Are the rims tubeless?
Answer: Yes. They are of the Weinmann U50 model and are tubeless.
Buying Advice
If you plan to buy the Raleigh Kodiak 2 then please be informed about few things. As you noticed the Raleigh Kodiak 2is a little bit heavy for some riders. This bike doesn't have kickstand installed & water bottle mount. You can solve these issues by spending a few dollars. Also don't forget to get essential accessories for bike riding like a helmet, bike lock, bike shoes, etc.
Final Verdict
At the end of Raleigh Kodiak 2 review, You may agree with me that its a good intermediate mountain bike for your riding aspirations, consider the It is the best intermediate bike for exploring harsh roads and elevated grounds as well as various trail escapades. The various features brought along by the Raleigh Kodiak 2 are enough to conquer the rough trails and mountainous terrains.
With the varied size availability, you can always find a bike that suits your size for comfort. Make a choice between the small, medium, large and the extra-large model based on the size guide and your heights a mentioned before.
---
You May Also Like To Read
Diamondback Recoil 29er Review
The best bike rack that you can use for your car
Raleigh Bikes Kodiak 2 Mountain Bike Review
COMPONENTS

PRICE

WEIGHT

SPEED

DURABILITY