34
Introduction to the Genesis V2100
Are you tired of riding your road bike on city roads or the suburbs just to get away from things? You can try mountain bike to fill the gaps.
If you want a durable bike that is both easy on the wallet and up to the task of off-roading in comfort, then I have the solution for you: the 26 inch Genesis V2100 Mountain Bike for Men's with Full Suspension.
This mountain bike is cost-friendly, able to take on rough riding terrain, and contains quality components such as Shimano. Go through this Genesis v2100 review to know more about specs, features, etc.
Overview of Genesis v2100 Mountain Bike for Mens
| | |
| --- | --- |
| Frame Size | 26 inch |
| Frame Material | Aluminium frame |
| Bike Type | Dual suspension |
| Speed | 21-speed drivetrain |
| Brakes | Disc brake & V brake |
| Wheel Size | 26 inch wheel |
| Rating | 8.5/10 |
| Brand | Genesis |
| Pros | Aluminum frame, Durable, Easy maintenance, Great value |
| Cons | V brake in the rear part. Little bit heavy |
| Summary | Great recreational bike for beginners. Not for high-level mountain biking or trail riding |
| Where to Buy | Check On Amazon |
Who is the Genesis v2100 Designed for?
This Genesis v2100 mountain bike is designed for:
Mountain and off-road terrain
Men weighing up to 150 pounds
Men up to 5 foot 11 inches in height
Any mountain bike rider on a budget
Adventure seekers and those wanting to stay fit outdoors
Main Features of Genesis V2100 Mountain Bike
This blue, full suspension 26″ men's mountain bike has a range of features that combine to form a very respectable mountain bike that will give you a smooth and controlled ride. Some of these features include the 21-Speed Shimano derailleur, 2.1-inch wide mountain bike tires, a rigid MTB aluminum frame & fork, as well as a unique front disc brake and rear v brake setup for optimal stopping power.
You will see how the combination of components creates an excellent performance out of this Genesis V2100 bike.
Strong, Rigid Frame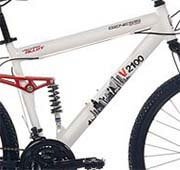 This Genesis v2100 bike features a very strong, full-suspension aluminum MTB (mountain bike) frame. While the bike can weigh anywhere from 36 to 37 pounds, this aluminum frame keeps the weight down and offers the durability that is needed for mountain biking. This sturdy frame is made of an aluminum alloy and has a 4 bar linkage. Similar to the MTB frame, the suspension fork is also made of this lightweight but durable aluminum alloy.
The bike frame can adjust to fit each rider based on their height. The maximum height for comfortable riding is around 5 feet 11 inches.
Powerful Braking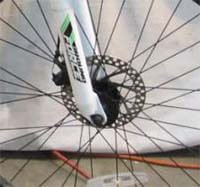 Braking is a huge deal when it comes to any bike. Bikers typically look at the frame construction first, and second is nearly always the type of braking system used.
The front features a disc brake by Promax while the rear features a very reliable linear-pull brake (v brake). The V2100 has plenty of stopping power for flat ground, hills, dirt trails, and more rocky terrain. As a robust mountain bike, Genesis made sure to equip the Genesis v2100 with the appropriate parts to ensure that this bike could navigate, handle, and brake without incident.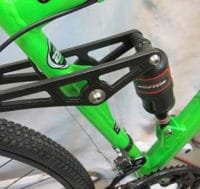 The dual-suspension featured in the Genesis v2100 is great for when you want to hit the trails. The effectiveness of the coil spring suspension of the bike often takes riders by surprise. Offering 80mm (that's around 3.14 inches) of travel fork by Genesis, in reality, you don't get more than an inch of travel. While the suspension is soft, the compression and rebound are what you would expect from a spring and does well enough over bumps, roots, and rough terrain.
Riders have commented that the suspension is great for absorbing bumps on the road and the trails.
Quality Shimano Derailleurs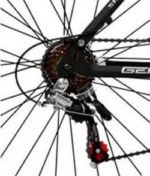 When it comes to the rear and front derailleurs, the Genesis v2100 mountain bike gives you quality for your money. With a Shimano front derailleur and a Shimano Tourney (TZ40 SIS) rear derailleur, with the right adjustment upon assembly, you will get a nice and smooth clicking between the 21 speeds this Shimano delivers.
Precision Drive Train
The Genesis has a 21 Speed drivetrain that offers smooth changing of gears as you ride on the road, up hills, and on rocky terrains. Shimano drivetrain is great for precision shifting when going up and down off-road biking situations. While not the highest of quality, for the excellent price, this drivetrain will get the job done.
MTB Tires to take on the Mountain
Tires: MTB, 26 inches x 2.1 inches wide
Rims: Black Alloy, 1.5" wide
Brake Levers: Shimano EF40 integrated aluminum
The 26-inch MTB tires on this Genesis are made especially for bumps and uneven ground. With stock tires 2.1 inches wide, these are thicker than your typical road bike tire and are perfectly suited to take to the trail. Sitting on 1.5-inch black alloy rims, these tires will allow you to take tight corners and run over rocks and bumps due to the more aggressive tread on the tires. This bike also comes with a set of pedal, wheel, front, and rear reflectors, which will keep you visible on the road and off.
Benefits
The MTB tires are 26 inches and 2.1 inches wide, which is ideal for trail and made for the hills, dirt, and roots you will encounter. The handlebars are steel riser MTB, which means you can take control of your bike on different off-road terrains. Combined with the full suspension MTB frame, this combination was a good call by Genesis.
The front and rear derailleurs consist of Shimano and Shimano Tourney (TZ40 SIS), respectively, which makes the 21-Speed drivetrain run surprisingly nice even in the craziest of conditions.
As for the brakes, the V2100 is quite surprising as it contains a front disc brake by Promax when most bikes don't feature disc brakes until you spend a few hundred dollars. However, this is a great call because the 2016 year saw huge trends towards cross-cycling, fatter tires, and disc brakes becoming standard. The combination of this front disc brake and rear v brake makes for an even stopping experience and versatile handling.
Drawbacks
One drawback is the pedals are made of light plastic and seems an unlikely option for a mountain bike. It may be best to invest in 5 or 10 dollars in a new set of pedals if you find that these are inadequate for your riding experience.
Also, riders have been 50/50 on the quality of the seat provided with the bike. You may already have your seat that you plan on switching the stock out for, but if you plan on using the stock seat, some riders have found it comfortable and some don't — it's simply a matter of preference.
Overall, this men's off-road cycle by Genesis features a 2.1-inch wide 26-inch wheel, a dual suspension, front disc braking, and a rigid frame — all at a great price — this is a tempting option for our next off-road adventure.
Pros & Cons Of Genesis V2100 Bicycle
Pros
Easy maintenance
Disc brake on the front
Aluminum sturdy frame
27 speed with Shimano drivetrain
Front disc brake for superior braking power
Great beginner mountain bike at an affordable price
Front and rear shocks absorb impacts quite well
Cons
V brake on the back
Low pedal clearance
The seat may not be comfortable
The little bit heavy for some rider
Beyond the frame, one of the most important aspects of any bike is its functionality specific to the intended usage. Essentially, what is the Genesis v2100 used for and do the parts support the rider's needs?
In this case, the Genesis v2100 full suspension bike specs match the needs of the off-roading rider.
Frame: 26″ full suspension aluminum frame
Fork: Alloy Fork with 80mm travel suspension fork
Speed: 21 speed with Shimano EF40 shifter
Drivetrain: Shimano Tourney (TZ40 SIS)drivetrain
Brakes: Front disc brakes & rear V brake
Wheels: 26-inch wheels
Seat post: 27.2mm micro-adjustable seat post with quick release
Bike weight: 37 pounds
Stem: A-Head TDS63K-8 EXT: 100mm 15D
Handlebars: Steel Riser MTB
Note: Specifications subject to change
FAQ's & Answer
Question: How much does the bike weigh?
Answer:

This v2100 weighs 37 pounds. The shipping weight is 45 to 50 pounds.
Question: What tools required to set up the bike?
Answer:

Definitely, simply some common tools: Allen keys, Phillips head screwdriver, adjustable wrench or even open and also cable cutters and even box end wrenches.
Question: What is the maximum recommended weight for the Genesis v2100?
Answer:

The maximum weight is stated by the manufacturer to be 250 pounds.
Question: Is the seat adjustable?
Answer:

Finally, the seat post is adjustable plus it features a fast release facility as well.
Question: Does the Genesis v2100 have a mount for a rear disc caliper?
Answer:

No, this bike model has a front disc brake but cannot have rear disc brakes as it does not have the mount. You would have to adapt the bike to attach disc brakes to the rear.
The Final Verdict on the Genesis v2100
When looking at this attractive blue and a black mountain bike by Genesis, we can see all of the individual parts come together to create not just a good looking bike, but a fully functional ride that is ready for some tough riding. With the great dual suspension, shock absorption, and safe components, you are in good hands with the V2100 bike.
As you can see in this comprehensive review, the Genesis V2100 Mountain Bike is a great choice for entry-level riders, men on a budget, adventure seekers, and those looking to leave the pavement of the streets and head off-road for a more exciting ride.
---
You May Also Like To Read
Gravity FSX 1.0 Dual Suspension Review
26″ Schwinn Protocol 1.0 Dual Suspension Bike Review
26" Genesis V2100 26" Dual-suspension Men's Mountain Bike
COMPONENTS -

8.0/10

PRICE -

9.0/10

WEIGHT -

8.2/10

SPEED -

8.8/10

DURABILITY -

8.5/10