Diamondback Option Review | Pro's & Con's
What is the Diamondback Option?
Diamondback bicycles don't need much introduction. This is perhaps due to the vast spread of Diamondback bikes, with best performing models in every category. Be it on trail, sport, all-mountain, women's, downhill and kid's categories, DB reigns with their series.
When it comes to the trail, Diamondback has three series clusters. They include the hardtail, fat bike, and full suspension bicycles. The Diamondback Option is a full suspension, trail bicycle with great features.
The Diamondback Option is a great choice for riding enthusiasts looking to conquer mellow single tracks to more aggressive and technical trails. The bicycle is built around quite a simple and dependable single pivot suspension design making it a great do-it-all bike. It comes with high-quality components making it among the best bike in its price range. It certainly meets every expectation riding enthusiasts have.
Overview of Diamondback Bicycles Option 27.5 Mountain Bike
| | |
| --- | --- |
| Frame Size | 16″ – Small / 18″ – Medium / 20″ – Large |
| Frame Material | Aluminium frame |
| Bike Type | Dual suspension |
| Speed | 11 speed |
| Brakes | Hydraulic Brakes |
| Wheel Size | 27.5″ |
| Rating | 8.8/10 |
| Brand | Diamondback |
| Pros | Can climb up almost anything, Quality drivetrain, Tubeless tire compatible |
| Cons | Rear derailleur needs some tuning, No chain guide |
| Summary | Excellent all-around bike |
| Where to Buy | Check On Amazon |
Who is the Diamondback Option designed for?
The bicycle is a great bike piece for the money. Therefore, it is a great bicycle of choice for individuals looking to ride a top-notch bike at a friendly or rather affordable price.
Being a full-suspension bike, those seeking maximum comfortability as they ride should also prioritize this choice.
Diamondback bicycles often come in four size clusters. However, this Diamondback Option also comes in three size categories.
That said, small models (16") and medium model (18") suit riders of heights 5.4" to 5,7" and 5.7" to 5.10" respectively.
On the other hand, large (20") suits riders of heights between 5.10" and 6.1".
---
Feature Details of Diamondback Option Dual-Suspension Bicycle
Powerful Drivetrain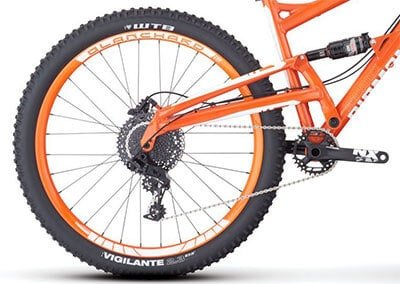 A bicycle's drivetrain is perhaps one of the main aspects. Especially for riders with speed in mind, you ought to ensure that your bike has an excellent drivetrain. To begin, a bicycle's drivetrain is composed of a chain, shifter, rear derailleur, and the cogset.
That said, the bicycle is fitted with a SRAM NX X-horizon rear derailleur, SRAM PC 1130 Powerlink chain, SRAM PC1130 cogset and a SRAM NX X-actuation trigger shifter all supporting 11 pace speeds. Besides, the drivetrain is durable and much more reliable. This provides some peace of mind as you ride, allowing you to focus on what matters, the ride ahead.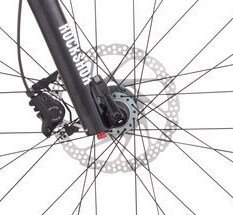 Faulty brakes are a receipt for potential accidents. They could ruin your bike as well as end your riding ambitions. Therefore, it is prudent to go for a bike, like the Diamondback Option Full Suspension Mountain Bike, which has a powerful and undoubted braking system. So to say, being a trail bicycle, the Diamondback Option comes with the renowned Shimano hydraulic disc brakes with 180mm front and rear center lock rotors.
This provides plenty of stopping power regardless of the riding condition or terrain. Bearing in mind the nature of this bike's suspension, you could find yourself cruising at higher speeds. Don't worry as stopping is on a dime.
Excellent Tires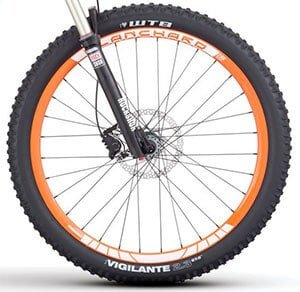 Sliding or skidding off your terrain when enjoying your ride is probably the last thing you would want. Exploring diverse trails requires that you have a proper grip on the ground. This is facilitated and dictated by the nature of the bike's tires. The tires should also be quite durable to reduce the cost of frequent replacements.
In support of this, the Diamondback Option is fitted with WTB vigilante comp 27.5 by 2.3 tires. This model of tires is well known for being aggressive tires that provide immense stability regardless of the riding terrain. Enjoy your riding experience both in loose or wet terrain. Be certain of excellent grip even in corners.
ReadyRide Option
Assembling the Diamondback Option is one of the most daunting activity for many people. Whereas some models come without any prior assembly, the bicycle comes 95% assembled. This is what the ReadyRide option refers to. This eliminates the hassle of a normally tedious home bike assembly.
This is a process that takes quite some time and requires basic technical know-how. However, with such a program, you will be relieved of such processes. You'll spend much less time completing the remaining parts and of course more time riding it. You only need to fix the front wheel, seat, and pedals.
Customer Service
This is perhaps what many online buyers look into before clicking on that checkout button. After ensuring that the bicycle or any other product meets your requirements, you often inquire about a lot. Shipping details including the cost, variety of color among other questions are just but a few to mention. With this bicycle, build and ship DB are solidly behind this product. They ascertain the bike's comfort and craftsmanship.
The company's primary goal is to get you back safely on the Diamondback Option. Their interactive website makes this easy. Simply contact them for any questions, maintenance schedules or warranty problems.
Weight and Quality
Weight is one of the main determinants of the bike's stability, especially at high speeds. Riding a light bike at high speed directly affects its stability. It also limits the terrain you can explore. Therefore, for utmost steadiness and sturdiness, the bike is made to 31.8 lbs. This is a perfect weight to enhance steadiness as well as maintaining its portability.
Once you sit on the saddle, your weight adds to the bike's weight making it extra stable. Concerning the quality, the Diamondback Option is made of quality materials and alloys of metal for extra durability.
Pros & Cons of Diamondback Option 
Pros
Hydraulic braking system and subtle speed finesse
Tubeless compatible durable rims for tough terrain

S

RAM drivetrain with trigger shifter to cover 11 speed
Full suspension lightweight frame with aggressive geometry
Comes 95% assembled. So take less time to add the rest parts
Great wheels and vigilante tires that keep you planted on the climbs
Rockshox rear & front suspension fork to absorb shock on a bumpy train
Diamondback Option Specs at a Glance
Frame: 6061 – T6 butted aluminum frame with aggressive geometry
Suspension Fork: RockShox Monarch 190mm rear & 150mm travel front fork
Speed & Shifter: 11 speed with SRAM trigger shifter
Drivetrain: SRAM NX drivetrain for a smooth ride on a rough train
Brakes & Rotor: Shimano BR M447 with 180mm dual rotors
Chain: SRAM power link chain with 11-42T cogset
Wheels & Tires:  27.5″ wheels with 2.3″ WTB vigilante tires
Rims & Spokes: a Tubeless compatible wheel with 14g steel spokes
Saddle & Seatpost: DB saddle with 30.9mm adjustable seat post
Pedals: Equipped with DB4L alloy pedals
Diamondback Option weight: 31.8 lbs
Extras: Toolkit, manual & installation guide
Note: Specifications Subject to Change
FAQs & Answer
Question: What determines the bike's size?
Answer:

Manufacturers often estimate several parameters before concluding the bike's overall size. The parameters include the reach, stack, head tube angle, seat tube angle, bottom bracket height, standover height, head tube length, chainstay length, wheelbase and fork offset among other dimensions.
Question: Is the bicycle durable?
Answer: Definitely yes! The Diamondback Option is made of the quality and durable aluminum frames and other alloys to ascertain durability and sturdy geometry.
Question: How much does the Diamondback Option cost?
Answer: Depending on the online retailer you purchase from, expect to incur approximately under $2K including shipping fees.
Question: Is the rim tubeless compatible?
Answer: Yes. The rims of this bicycle type are tubeless compatible.
Question:

What are the accessories that come with the bike?
Answer: The bike comes with a lot of accompanying components. Worth noting is the assembly guide, toolkit, and an owner's manual.
The final verdict on the Diamondback Option
Designed and prepared for any terrain, the Diamondback Option Full Suspension Mountain Bike certainly meets its expectations. With Diamondback Option, cruising various simple tracks to more aggressive and technical terrains won't be a challenge. The Diamondback Option has all the necessary components to accomplish this. Among the key features include the 6061 T-6 aluminum single picot frame which is an integral aspect of the bike.
Other features worth noting include the RockShox Monarch R rear shock and the RockShox Sektor Gold fork with 150mm travel. They are great contributors to the bike's sturdiness. When it comes to ground grip, the WTB Vigilante comp 27.5 by 2.3" tires won't let you down. Stop the Diamondback Option on a dime with the help of the Shimano BR-M447 hydraulic disc brakes that come with 180mm front and rear center lock rotors. The brakes are complemented by the Shimano BR-M506 hydraulic lever with reach adjust brake levers.
---
You May Also Like To Read
Diamondback Mason Hardtail Bike Review
Diamondback Overdrive Pro 29er Review
Diamondback Bicycles Option 27.5 Mountain Bike
COMPONENTS -

9.0/10

PRICE -

8.2/10

WEIGHT -

9.0/10

SPEED -

9.0/10

DURABILITY -

8.8/10