Diamondback Overdrive Pro 29er introduction
Diamondback is a company with a good reputation when it comes to bicycle manufacture. Since venturing into the market in the early 1970s, the company has come a long way in establishing and maintaining its brand's reputation.
Actually, awesome bikes cost money. Such bikes are not only expert rated but also expert priced. That said, Diamondback Overdrive Pro 29er bike is an expert bike with price ranges.
Diamondback bikes aren't just loved and liked by many. They have outstanding and unbeatable features. Mountain bikes are known to wear out, break or simply work badly. This is perhaps due to the renowned perception of the suspension including the forks upfront and shocks outback. Nonetheless, overdrive pro is a hardtail bicycle. It is a hardtail design with damping capability and rebound adjustment. Go through Diamondback Overdrive Pro 29er review to know more about valuable features.
Overview of Diamondback Overdrive Pro 29er Hardtail
| | |
| --- | --- |
| Frame Size | Small – 16″/ M – 18″/ L – 20″ / XL – 22″ |
| Frame Material | Butted aluminum frame |
| Bike Type | Hardtail Bike |
| Speed | 20 Speed |
| Brakes | Hydraulic disc brakes |
| Wheel Size | 29 inch in size |
| Rating | 8.6/10 |
| Brand | Diamondback |
| Pros | ReadyRide,  Shimano components, 100mm suspension fork |
| Cons | The saddle is not comfortable |
| Summary | An excellent choice for light and medium mountain riders |
| Where to Buy | Check On Amazon |
Who Is The Bicycle Designed For?
Diamondback Overdrive Pro 29er is designed for riders seeking utmost precision and efficiency.
It is a great choice for light to medium mountain biking. From the name, it is a hardtail mountain bike thus suitable for moderate mountain riding aficionados.
Like other quality bikes, there are four size guides for the Diamondback Overdrive pro 29er
Small size (16") is perfect for rider heights ranging from 5.4" to 5.7". Medium (18") is fit for 5'7" to 5'10" riders.
On the other hand, large (20") and extra-large (22") are a perfect choice for riders of heights ranging from 5'10" to 6'1' and 6'1" to 6.4" respectively.
---
Feature details of Overdrive Pro 29 Hardtail
The Frame and Fork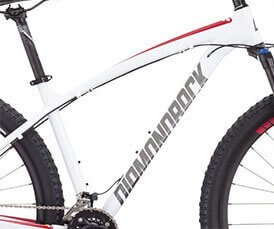 Frames certainly define the physique of any bicycle. This is why getting a bike with not only good quality frame material but also with a good design is prudent. That said, the Diamondback Overdrive Pro 29er bike's geometry is really impressing. Frames define any bicycle type.
Most bicycles in this realm have riding positions quite lower. However, with this model, the riding position is much lower than other models. This leaves you nicely stretched out and well centered over the wheels. As mentioned, the frames are 29" butted 6061-T6 forged dropouts with a replaceable hanger.
Concerning the fork, this mountain bike has top-class fox fork. The fork details are Rockshox Reba RL 29" solo air with 15mm thru-axle 1.5" taper steerer tube.
Powerful Breaking
Breaks define the safety of any bicycle. Riding a bicycle with a good brake system gives you confidence when maneuvering any terrain. That said, always look into a bike with undisputed braking type and system. Compared to other aspects of this bicycle, the hydraulic brakes of this bike are the ultimate winner.
The bicycle uses disc brakes which are among the best brake models currently. To be specific, they are the Shimano hydraulic disc brakes w/180mm front and 160mm rear rotors. With these features, you have plenty of stopping power at hand regardless of the riding conditions.
Sturdy Wheelset
The wheelset of any bicycle comprises of the tires, rims, and spokes, Understanding the specifics of a wheelset is prudent when making a purchase. Bicycles with hard-built sets are good for mountain and rocky escapades. As mentioned, the Overdrive Pro models spokes are 14g stainless steel. This ascertains quality and durability. Tires type are the quality Kenda Honey Badger 29 x 2.2".
Finally, the rims are Diamondback Blanchard 25 tubeless compatible. Compared to other models, these dimensions are quite wider. However, they are good as they provide extra stability especially in corners and technical terrains.
Shimano Drivetrain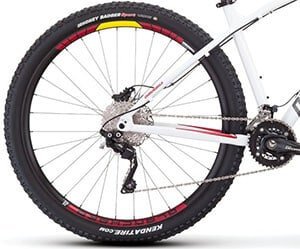 A bicycle's drivetrain includes all the systems developed to collect the rider's power. This uses various methods. Cranksets and pedals on the legs, handcycle (if any) from arms, hand and foot from the body and much more. Without saying much, This hardtail bikes drivetrain features a Shimano 2×10 drivetrain with an XT derailleur, SLX M670 shifter, FSA NO.42 headset, DB4L alloy platform pedals and Shimano Deore M617 cranks. Other economic parts included in the mix provides a consistent and smooth shifting all through the miles.
ReadyRide Feature
Most bicycles often come with minimal assembly once ordered. However, your new Diamondback Overdrive pro 29er bike will be partly 95% assembled on arrival. As a biker, you need to experience or at least get a chance of using little elbow grease. This lets you learn your new bike from the start. Building the Diamondback Overdrive pro 29er can be quite a daunting process. Nonetheless, assembly often varies with individual experience.
That said, you can spend anywhere between 30 to 120 minutes in building the Diamondback Overdrive pro 29er. Note that the bike comes with an owner's manual and assembly toolkit to aid you. However, if you find this quite a hustle, take the bike to your local bike shop for assistance.
Customer Service
Diamondback is an excelling company due to effective customer service. The company stands for quality and craftsmanship in all their products. That said, the company's goal is to get the rider back on his/her bike safely when problems arise.
Concerning the customer care service, Diamondback has a dedicated customer experience team eager to help customers from all channels. You can report any Diamondback bicycle problem through online live chat, exclusive video library or direct calls.
Pros & Cons of Diamondback Overdrive pro 29er
Pros
The Diamondback Overdrive pro 29er has a well-built and sturdy design
Shimano quality drivetrain to cover 20 speed
Equipped with Tubeless compatible durable rims
According to ReadyRide feature, its 95% assembled
100mm RockShox suspension fork with a lockout feature
It has Shimano Rapidfire shifter hence easy to shift gear
2.2″ Kenday Honey badger tires to roll over on a rough train
It is an excellent choice for light and medium mountain riders
Hydraulic disc brake powered by Shimano to stop immediately
Has an excellent aluminum frame with high-quality components
Cons
The bike's saddle isn't much encouraging
Handlebars are quite wide thus can clip roadside trees on a narrow trail.
Diamondback Overdrive Pro 29er Specs at a glance
Frame: Butted 6061 T6 aluminum hardtail frame
Suspension Fork: 100mm RockShox travel fork with lockout
Speed: 20-speed wide gear range
Shifter: Shimano SLX Rapidfire shifter
Drivetrain: Shimano SLX 2×10 speed drivetrain
Brakes: Hydraulic disc brake from Shimano
Rotor: 180mm/160mm dual rotors
Chain: KMC x10 to cover 20 speed
Wheels & Tires: 29″ large wheel with Kenda 2.2″ tires
Rims: Blanchard 25 tubeless compatible rims
Seatpost: 30.9mm alloy seat post with the adjustable option
Pedals: Plattform aluminum pedals
Diamondback Overdrive Pro 29er weight: 28.0 lbs only
Extras: Toolkit free as usual with manual & assembly guide
Note: Specifications Subject to Change
FAQs And Answer
Question: Which suspension system is added to the bicycle?
Answer:

As the name suggests, the bike is a hardtail mountain bike. Factually, hardtail bicycles are often associated with front suspensions. This is perhaps what makes them a good choice for mountain riding.
Question:

Is that this hardtail bicycle easy to use?
Answer: This is an absolute yes. Like other Diamondback bicycles, the controls of this model are pretty simple.
Question:

What are the dimensions of this bicycle?
Answer: The bicycle comes in four varied measurements like – S/M/L/XL. This is dependent on your height and choice.
Question:

Is the bicycle's fork a coil or air model?
Answer: This Overdrive pro bicycle is an air model.
Question: Are the pedals sturdy and stable?
Answer: Yes. Diamondback's bicycle pedals are made from DB4L alloy platform which provides a great grip.
Final Verdict on the Diamondback Overdrive Pro 29er
After coming into Diamondback Overdrive pro 29er review you may find that what makes the Diamondback Overdrive pro 29erpopular. The bike shines in ride quality and responsiveness, especially in precipitous terrains. Equipped with 29" Blanchard wheels, Shimano 2×10 drivetrain and powerful hydraulic brakes, this is all you need for a light to the medium hilly terrain. The Diamondback Overdrive pro 29ergets to your anticipated speed yet stops on a dime.
The front end of the bike is kept steady by the Rockshox Reba RL 100mm fork whereas the aggressive Kenda tires keep them in constant contact with your path. Riders seeking utmost efficiency and precision should try the Diamondback Overdrive pro 29er. The bikes are a ready ride as they are shipped 95% assembled.
---
You May Also Like To Read
Diamondback Overdrive 29er Review
Diamondback Bicycles Overdrive Pro 29er Hardtail Bike
COMPONENTS -

9.3/10

PRICE -

8.0/10

WEIGHT -

8.8/10

SPEED -

8.5/10

DURABILITY -

8.5/10