Diamondback Mason Review – Pro's & Con's
Introduction to the Diamondback Mason
Since its debut, the Mason hardtail mountain bike from Diamondback has applied a unique approach, with regards to shredding single tracks that are more technical. The Diamondback Mason 27.5 hardtail mountain bike has managed to dominate some of the singletracks where full-suspension bikes were known to rule. To achieve this, the manufacturer mated slacked-out hardtail MTB geometry to a 120 mm travel suspension fork at the front.
As a result, the bike is capable of smoothing out rough terrain and sustaining comparatively bigger hits without jolting the rider out of the saddle. With the use of the comparatively large wheels on this mountain bike, the company took mountain biking to the new level. The larger wheels are easier to roll over obstacles with ease, an environment that the bike was built for. In this Diamondback Mason review we will discuss the pro's & con's of this mountain bike.
Overview of Diamondback Mason
| | |
| --- | --- |
| Frame Size | SM – 15.5″ / MD – 17″ / LG – 19″ / XL – 21″ |
| Frame Material | Aluminum frame |
| Bike Type | Hardtail |
| Speed | 11 Speed |
| Brakes | ADD |
| Wheel Size | 27.5+ |
| Rating | 8.4/10 |
| Brand | Diamondback |
| Pros | Perfect geometry, Plus-sized tires, SRAM drivetrain |
| Cons | No water bottle mount, Handlebar not wide enough |
| Summary | Great for beginner to intermediate bikers to ride on trails |
| Where to Buy | Check On Amazon |
Who Is the Diamondback Mason Meant For?
Do you love riding your bike on mountain trails, or just prefer biking uphill and downhill? You need a bike that is built to smooth out the roughest of bumps on your trail and does not lose traction on challenging trails; you need the Diamondback Mason Hardtail mountain bike.
Speaking of aesthetical value, Mason will not frustrate you as it features a rather beautiful frame design. Throughout this review, you will learn why the Diamondback Mason is rated as one of the best hardtail bikes for this price range.
Why Would You Buy the Diamondback Mason Hardtail Bike?
Quality and High-performance Tires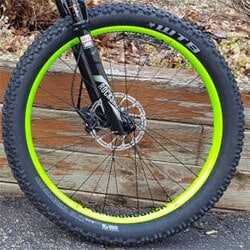 Regardless of how effective the drivetrain on your bike is, you will still need performance tires to transfer that pedaling power to the ground, hence propel the bike forward. Just as is the case with the other components on the Mason 27.5 hardtail bike, the tires are high-quality.
The high-performance, 2.8" wide tires are designed to offer optimal traction in all terrains. Additionally, the tires are made of quality rubber that is strong enough to take the abuse on challenging terrains for a long time without getting damaged.
Rugged Durability Frame
Experienced bike riders can tell you that the frame is one of the most important considerations that you need to make while shopping for a new bike. Well, the problem is that producing a frame that is both functional and aesthetically appealing is not an easy task. However, Diamondback is renowned for its outstanding craftsmanship. When it comes to producing some of the high-performance, yet beautiful mountain bikes.
This being the case, the manufacturer uses a 6061-T6 Weapons Grade Aluminium frame on the Mason trail bike. The beautiful frame design features a tapered head tube and a butted down tube. These give the bike a rugged appearance, which is comparatively appealing for riders today. The frame used on the Diamondback Mason is lightweight, has a low center of gravity and is tough enough for rough terrains.
Quality Suspension Fork
Since this is a hardtail mountain bike, hence does not have suspension for the rear wheel, it is fitted with a very efficient and practical suspension fork on the front wheel. The manufacturer uses a Rockshox Sektor RL 27.5+ suspension fork on the Diamondback Mason hardtail bike. This suspension fork has 120 mm of travel and features Solo Air Spring.
As a result, the bike is capable of absorbing bumps as well as the comparatively big hits on your trail and still be comfortable to ride. To make the bike even more convenient, the front suspension of the bike has an External Rebound Adjust feature in the form of a Turnkey Lockout.
Just as is the case with other mountain bikes, the Diamondback Mason needs powerful and efficient braking power for it to be considered to be safe. Whenever you are riding down a steep descent are speeding on level terrain or are just trying to maneuver your way through obstacles on your trail. The SRAM Level Hydraulic Disc brakes on the hardtail bike come in handy.
Just as you can imagine, the use of 180 mm centerpiece rotors on both the front and the rear wheels allow this braking system to deliver a powerful and reliable braking force. Regardless of the terrain and weather condition. Additionally, the manufacturer uses SRAM Level Hydraulic brake leavers that are responsive and have a Tooled Reach Adjust feature for added convenience.
Precise Gearing Experience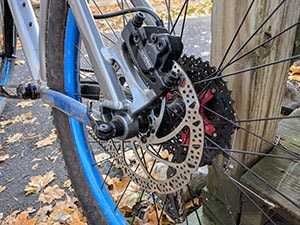 Diamondback did not compromise on the quality of parts they used on the Diamondback Mason. As such, the drivetrain features some of the best MTB gearing components in the industry today. In this regard, the gearing system on the Diamondback Mason comprises of an 11-speed rear derailleur by Shimano, X-Actuation Trigger shifter by Shimano and a matching SRAM PG1130, 11-42T 11-speed cogset.
With this innovative X-Horizon, 11-speed gearing system installed on your bike, you can shift between gears with ease and more precisely. So it is easier to accelerate to high speeds and conquer otherwise impossible terrains with this 27.5 mountain bike.
Pros
85% assembled hence easy to assemble the rest part
Schwalbe wider tires for improved grip on all terrains
DB Blanchard 38 rims, along with the 14g Stainless Spokes
120mm RockShox front suspension for the comfortable ride
Hydraulic brakes for powerful braking in all weather conditions
Also, the wider tires prevent the bike from sinking on sand or dirt
SRAM drivetrain offers 11-speed gears to tackle almost any terrain.
30.9mm Micro Adjust DB Alloy seat post for improved convenience
Lightweight aluminum frame for better performance on rough trails
Cons
No place for a water bottle
For some rider, the handlebar used on the Diamondback Mason  is not wide enough
Diamondback Mason Specs at a Glance
Frame: Weapon grade aluminum frame
Suspension Fork: 120mm RockShox travel suspension fork with lockout
Speed: 11-speed drivetrain
Drivetrain & Shifter: SRAM drivetrain with trigger shifter
Brakes & Rotor: SRAM hydraulic brakes with 180/180 mm dual side rotors
Chain & Crank: KMC 11 speed chain with  28T crankset
Wheels & Tires: 27.5+ wheels with Schwalbe tires
Rims & Spokes: DB Blanchard 38 tubeless compatible wheel
Seatpost & Saddle: 30.9 mm adjustable seat post with DB M series saddle
Pedals: Alloy platform pedals with replaceable pins
Diamondback Mason weight: 28.22 lbs
Extras: Toolkit, DB Mudguard & Instruction manual
Note: Specifications Subject to Change
FAQs And Answer
Question:

Does the bike have a lockout feature?
Answer:

Yes, this bike has a lockout feature, a Turnkey Lockout to be precise, on its front suspension for added convenience.
Question: Is the bike delivered in parts and if so, is it easy to assemble?
Answer: You will get your hardtail mountain bike 95% assembled by the manufacturer. The remaining assembly and adjustment of the bike is comparatively easy to carry out.
Question: what about the Diamondback Mason weight?
Answer:

This bike is one of the lightest hardtail mountain bikes in this price range, weighing only 28.22 lbs.
Diamondback Mason Review
Looking at the various high-end features and components offered by the Diamondback Mason bike, you can deduce that the price is actually worth its price. While shopping for a new mountain bike, going cheap is not always the right course of action. Instead, you should get the bike that offers the best value for your money.
with regards to the quality and performance of the components used. With such a consideration in mind, you can clearly see that the Mason Hardtail Mountain Bike is the winner in this category. In addition to these, the bike is also very comfortable and safer for use on various terrain and weather conditions.
---
You May Also Like To Read
Diamondback Option Hardtail Bike Review
DB Overdrive Pro 29er Hardtail Bike Review
Diamondback Bicycles Mason 27.5 Hardtail Mountain Bike
COMPONENTS -

8.5/10

PRICE -

8.0/10

WEIGHT -

8.8/10

SPEED -

8.2/10

DURABILITY -

8.5/10