What is a Stowabike?
A stowabike is simply a bike that folds and is also an MTB.
How do you spice up your city riding escapades during the weekend?
Nothing feels good more than spending your leisure time enjoying your favorite physical activity. Did you know that Stowabike 26 MTB V2 Folding Mountain Bike takes less storage space and can fit in your car's trunk?
It is rare to find a bicycle and is both a folding bike and a mountain bike.
Having a bike in your home is vital especially if you want to stay fit. Cycling is an aerobic activity that boosts metabolism in your body. Additionally, biking is a pleasurable activity that reduces stress in your body.
Even though there are many bicycle models in the market, we added Stowabike folding mountain bike review on our site because of its outstanding features.
Its materials are of high quality and manufactured by Shimano (a leading manufacturer of cycling components). Moreover, it is a prowess bike with a gear system of 18 speed. You can effortlessly ride this mountain bike both on the road and off the road.
The Stowabike is well known for its lightweight and its ability to economize storage space. If you live in a small apartment, you don't have to worry about space.
Overview of Stowabike Folding Mountain Bike
| | |
| --- | --- |
| Frame Size | 26 inches – Full-size adult bike. |
| Frame material | Durable Steel frame [ 20 sec to fold ] |
| Type | Dual suspension folding mountain bike |
| Speed | 18 Speed |
| Brakes | Steel V brakes |
| Wheel Size | 26 Inches |
| Rating | 8.5/10 |
| Brand | Stowabike |
| Pros | 90% assembled. heavy-duty, and inexpensive bike |
| Cons | Little bit heavy, No manual included |
| Summary | Good for exercise/additional transportation |
| Where to Buy | Check On Amazon |
Who is this bike designed for?
This Stowabike can save your money on transport.
You can use this Stowabike on the road and off the road without any mishaps.
This bike has a design for people interested in leisure and some exercise
Those interested in carrying their bikes in their cars while going for a vacation can use it too.
Great for people less than 200 pounds weighty. It can withstand a weight of 200 pounds or less.
The average height of a rider should be 5'3'' and 5'10''. If you are a bit tall, you might need a longer seat for a comfortable ride.
After reading this Stowabike review, there is no need to worry about your small apartment. You can fold this Stowabike for storage purposes.
---
Stowabike 26 MTB V2 Folding Mountain Bike Features
Easy Folding Ability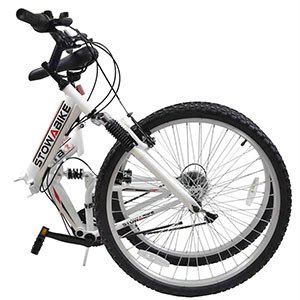 Are you worried about the little space in your apartment? It is evident from Stowabike 26 MTB V2 Folding Mountain Bike that this Stowabike has a unique ability to fold. This bike is famous due to this exceptional feature. However, if you want to fold it, you have to unlock its safety handle located in the rear seat. You can bend the frame of the bike in half after lifting the pin-up. It is a simple task that takes barely 20 seconds.
A Strong Steel Frame Body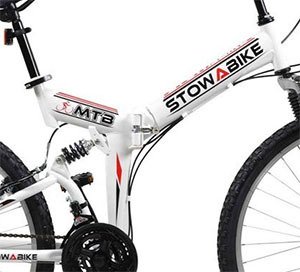 Don't you think a durable bike is all need? From this top-rated mountain bike review, we can see that it is made out of sturdy materials. The manufacturer uses the steel to make its body which makes it durable.
Even though it might cause it to be slightly thick, it is likely to last long. Also, its frame can resist scratches and corrosion. Compared to other brands, this bicycle has outstanding quality.
Excellent Gear and Shifter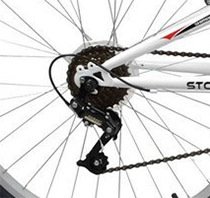 Are you tired of low-quality gears that are hard to control? This Stowabike has first-rate gears of 18-speed. On the other hand, its wheels are 26 inches. It is easy to shift the gear and control your bike according to your wish. If you love aerobatics, this bike could help you perform them confidently. The high-quality pedals and chain enable you to maneuver smoothly even if you have a passenger at the back.
Comfort and Safety
Don't you love to sit comfortably on your bike and have the pleasure you deserve? The model of a bike determines your safety and comfort on the bike. With the pedals of this Stowabike, you can adjust your feet quickly. Besides that, its handlebars offer a comfortable grip while cycling. Even in off-road cycling where the terrain isn't uniform, be assured of stability and comfort. A beginner can also use this bicycle due to its outstanding safety features.
How does it feel to stay on a bike without balance? It is unsafe and kills your morale of biking. With, Stowabike 26 MTB V2 Folding Mountain Bike, there is no fear of falling off the bike due to lack of balance.
It has dual suspension forks that ensure proper balance. Be sure to survive jerks and bumps on a rough landscape. No need to worry while cycling on the road full of obstacles. The dual suspension reduces the odds of tumbling over on off-road adventures by fostering traction.
Unique Design
Would you like to test the best deal for the full-size folding bike with a simple layout? That is what you would get from this bike. It has not only an attractively simple design but also excellent performance. This simple model fits bikers who love cycling both in wild areas and in the city.
This bike is strong and can be used to explore any uneven floor. As much as it is a mountain bike, it can be utilized on other terrains too. Even though this bike is designed using moderate components, it is a refined, unique model that offers you all it promises. The Shimano manufacturers use rugged components to manufacture it yet it still has a striking outward appearance.
Easy to Fold
What comes to your mind when you think of folding a bike? It might sound like a hard and tiring task. However, that is not the case. It can take as first as 20 seconds to fold it. Whether you plan to store it in the house or a space in the garage, it takes very little space. The ease of use is an essential element while purchasing a bicycle.
Speed Range
Would you love to comfortable ride as first as possible? A sluggish bike can be tiring and annoying. From this cheap mountain bike review, we can see that the bike has 18 speeds. Its shifter has a grip of six-speed on the right side.
Nevertheless, the left side has shifter of three grips. Due to the strategic location of the shifters, you can ride comfortably even on a mountain version of this Stowabike. Stowable bicycles are becoming popular due to their speed and ability to move smoothly on different topography.
Pros & Cons of Stowabike Folding Bike
Pros
You can fold it in 20 sec only
Its rear shocks make you enjoy riding.
It is durable due to its sturdy steel frame
Good for exercise/additional transportation
Best unisex mountain bike with folding option
It has a spring shock absorber that works efficiently.
It economizes space thanks to its folding mechanism.
You can easily break it down and store it in a small room.
Well made. It is easy to operate. Even a beginner can use it.
90% assembled just need to install handlebar & pedals that's it
Note: Specifications Subject to Change
Cons
It is quite bulky.
No Assembly guide included.
Stowabike 26 MTB Specs
Frame: Sturdy steel folding frame which enables it to last long
Sock: It has spring shock, you can comfortably cycle on a rough terrain
Number of Speed: 18 speed
Gear shifter: Shimano shifter
Drivetrain: Sunrun front & rear derailleur
Brakes: Steel V brakes
Wheels: 26 inches in size
Tires: Wanda 26 by 1.95 inches thick tires
Rims: Single aluminum rim
Saddle: Mountain bike comfortable saddle
Pedals: NECO WP-391 installed
Bike Dimensions: 67.3 by 23.2 by 55.1 inches
Size when folded: 38.2 by 12.6 by 29.5 inches
Stowabike 26 MTB Weight: 38.5 lbs
Extras: Kickstand installed
FAQ's & Answer
Question:

Can both men and women use this Stowabike?
Answer: Yes, anybody can use this bike
Question: How can I fold this Stowabike?
Answer: Make the fastener in front of the bike's seat is loose. You can then wrap the handlebars, the front wheel and the forks back. Make sure that you loosen and fold the handlebars sideways. Either remove the seat clamp or let it be lower than it is.
Question: How long will I take to fold it?
Answer: It takes 20 seconds only
Question:

 Can it fit on my carrier rack after using it?
Answer: Yes, it can fit in your carrier frame since you can fold it in half.
Final Verdict on the Stowabike
Consequently, Stowabike 26 MTB V2 Folding Mountain Bike review shows that this bike is versatile and gives you satisfaction. You get not only the bliss of a mountain bike but also a folding bike. We realized that its exceptional full range of features make it stand out the rest in spite of its low price. While it may be hard to trust a low-priced bicycle, the features of this bike demonstrate that it is one of the much sorted after brands in the market.
Stowabike Folding Mountain Bike
COMPONENTS -

8.8/10

PRICE -

9.0/10

WEIGHT -

8.0/10

SPEED -

8.2/10

DURABILITY -

8.5/10