79
Introduction to the Diamondback Sorrento
There have been improvements in different features that everyone can get when searching for a mountain bike.
This is due to the increase in the popularity of mountain biking and the number of people who just want to get some adventure.
The Diamondback Sorrento Hardtail bike is a result of improvements in design, features and also a consideration of those who wish to take the first step into the world of mountain biking.
This Diamondback Sorrento review gives an in-depth look into some of the improved features which everyone finds exceptional on this bike.
Overview of Diamondback Sorrento Hardtail Mountain Bike
| | |
| --- | --- |
| Frame Size | S – 16 Inches / M – 18 Inches / L – 20 Inches / XL – 22 Inches |
| Frame Material | Aluminum frame |
| Bike Type | Hardtail Mountain Bike |
| Speed | 21 Speed |
| Brakes | Linear pull |
| Wheel Size | 27.5 in sizes |
| Rating | 9/10 |
| Brand | Diamondback |
| Pros | 85% assembled, Shimano parts, Great value |
| Cons | No kickstand, Seat & Pedal need to be replaced |
| Summary | Excellent bike for trail & downhill ride |
| Where to Buy | Check On Amazon |
Who is the Diamondback Sorrento designed for?
The Diamondback Sorrento mountain bike is specially designed for use by male bike riders. It does not imply you can't try it out as a female. There are four sizing options available, and you should get one that is suitable for your size to get the best performance of the bike. Available frame sizes include;
The small, S, 16 inches for people within the heights of 5'3″-5'6″,
If you are between the height of 5'6″-5'9″, the recommendation for this is the 18-inch medium, M
The large, L for heights from 5'9″ to 6′ and the frame measures 20 inches
For the much taller riders, the 22-inch extra-large, XL will be suitable for heights 6′-6'4″
---
Significant Features of Diamondback Sorrento
There are certain features of the Diamondback Sorrento Hardtail bike that stands out, and we give a full evaluation of these features.
Frame and Fork
Made from a 6061-T6 aluminum alloy, the frame on the Diamondback Sorrento mountain bike offers excellent durability and lightweight. This weight gives you great control over the bike while riding. With the heat-treated frame, you are sure of great strength. This means you don't have to worry about the frame bending under your weight and that the bike can take individuals who are a bit weighty without any issues whatsoever.
When you consider the suspension forks, you have the front suspension of 75-mm travel fork. This is great when you go riding on rough terrains where a lot of bumps. The suspension fork lets you ride long distances without experiencing any discomfort both during the ride and after. This is a great addition to a bumpy terrain that can make your ride seem tedious especially if you have terrible suspension forks.
Wheel size
This Diamondback hardtail uses a 27.5-inch tire. Also known as a 650B, the tire offers a balance between the features of a 29 inch and a 26-inch tire. The 650B is easy to use on a trail with its combination of strength, traction, and agility. When you compare the 650B to the 29-inch wheel size, you notice you get better acceleration, improvement in stability and also a greater feel while handling the bicycle.
With a lot of developers looking towards the 27.5 inches as they are the latest wheel sizes, you are sure to get more enhancements in performance, and it also gives you the opportunity for more flexibility when riding.
Suggested sizing
One great area where the Diamondback Sorrento meets every rider's expectations is the variety in which you can get the bike frames. With up to four different frame sizes, you will get a size to fit your height. The bicycle frames come in four different sizes which are small which measures 16 inches for a rider with a height of 5'3″-5'6″.
The medium 18 inches for heights 5'6″-5'9″, the large, 5'9″-6′, which is 20 inches, and the 22 inches XL for 6′-6'4″. Finding a frame that suits your height allows you to go on a ride where your arms and legs are at comfortable positions, and you do not feel pains after your ride.
Gear and shifters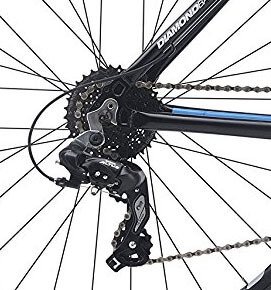 Good gears are important for any mountain bike since they will be going through rough terrains. Using a bike with unreliable gear through a rough terrain could end in disaster.
The Diamondback Sorrento uses a Shimano gear with a 7-speed derailleur, and a Shimano Easyfire 7 speed shifter provides up to 21 gear ratios with a smooth transition between each gear. Controlling your speed and maintaining balance all through the ride is quite easy on any terrain. Replacing the derailleur hangers makes for a customizable use of the bike to suit your preference.
Impressive Performance
If the performance of the Diamondback Sorrento is put under the spotlight, you find out you get a great bike with lots of features that give enhancements in performance. Sprinting downhill or going uphill, you can do this easily with the different speeds available for selection using the Shimano Easyfire 7 speed shifter. This feature makes it less stressful since you can change speed when you feel like using less energy.
The durable 6061-T6 aluminum frame also provides a lightweight feature that gives better performance by offering better control over the bike. It is also very strong and can tough it out through rough terrains without any damage. The linear brakes on the Diamondback Sorrento are very simple to perform maintenance on and also easy to tune.
Sturdy Construction
Construction of the bicycle is one great feature we can't overlook. The aluminum frame makes it a long-lasting bike, and the heat treatment of the aluminum also gives it good strength. The 32h Diamondback XC 260 27.5″ Doublewall rims make it comfortable to ride on and also promote the stability of the bike. Shimano EF-51 brake levers are used with the Tektro linear brakes so you can get the bike to stop when necessary effectively.
Pros
Built with Shimano quality parts
Lightweight makes it easy to control
It is a great beginner bike for the trail ride
A more stable ride with the 650B wheel size
Made of aluminum frame hence lightweight
Frames built to last long with aluminum material
SR Suntour 75mm travel suspension fork to absorb shock
Assembly of the bicycle is very easy because its 85% assembled
Shimano Easyfire trigger shifter to shift 21-speed gear smoothly
Cons
No toolkit included
Uncomfortable saddle
There is no kickstand added.
Cheap plastic pedals installed.
Diamondback Sorrento Specs at a Glance
Frame: Lightweight 6061-T6 heat-treated aluminum alloy frame
Suspension Fork: SR Suntour 75mm travel front fork
Speed: Shimano 21 Speed
Shifter: Easyfire trigger shifter from Shimano
Drivetrain: Front & Rear gears equipped with Shimano derailleur
Brakes: It uses a Tektro alloy linear-pull brake
Chain: KMC – z51 to cover 21 speed
Cogset: Shimano 7 speed freewheel
Wheels: 26 Inches in size
Tires: Chaoyang Hornet 27.5×2.1 tire
Rims: It comes with XC trail 260 double-wall alloy rims
Saddle: Diamondback  ATB Men's
Seatpost: Alloy Micro 27.2mm Adjustable Seatpost
Standover Height: 33.3 Inches
Diamondback Sorrento weight: 30 lbs
Extras: Manual & Assembly Guide
Note: Specifications Subject to Change
FAQ's & Answer
Question: Is the bicycle suitable for women?
Answer: The Diamondback Sorrento is built as a men's bike, but women can also ride it without any hassles, as long as it is legal to ride a men's bike in your area.
Question: I'm looking to try out mountain biking, will this bicycle be a good option?
Answer: It's a great option when starting out mountain biking. You should consider changing the pedals though.
Question: Can I lock the front suspension?
Answer: No, there is no feature to lock the suspension
Question: Can I trust the brakes?
Answer: The linear brakes are quite effective in stopping the bike
Question: How is the assembly?
Answer: The Diamondback Sorrento comes with a user manual with the info you need
Final Verdict
The Diamondback Sorrento hardtail mountain bike is great for riders who need a bike which provides all the necessary features of a mountain bike at a beginner level and a budget mountain bike.
Finding a durable bike that is the right size can sometimes be difficult, but with the adjustable sizes and aluminum alloy frame, the Diamondback Sorrento efficiently sorts these issues. The bike is certain to meet your requirements on a mountain bike regardless of what they are. It is certain to provide you with value for every penny spent.
---
You May Also Like To Read
Diamondback Overdrive Sport Review
Diamondback Hook Hardtail Review
Diamondback Sorrento 27.5
$$