Diamondback Release 2 Review : Pro's & Con's
What is the Diamond Back Release 2?
According to Diamondback, the manufacturer of the renowned Release 2 full suspension mountain bike, building an exceptional mountain bike takes more than just a new suspension platform. The manufacturer has been a trendsetter, in this regard. In addition to benefiting from the manufacturer's state-of-the-art craftsmanship, the Diamondback release 2 dual suspension 27.5-inch mountain bikes pack an array of superior quality components and specs.
As a result, this mountain bike is comparatively stable at high speeds, is excellent on climbs and rather fast on corners. Just like the rest of the bikes in the Release series, the Release 2 offers the innovative Level Link suspension design. This alone makes the bike one of the best pedaling trail bikes in the industry today. You will also realize that the design of the bike reflects the 'current state of mountain biking' geometry, which enhances its visual appeal.
Overview of Diamondback Release 2 Dual Suspension Mountain Bike
| | |
| --- | --- |
| Frame Size | SM – 15″ / MD – 17″ / LG – 19″ / XL – 21″ |
| Frame Material | Hydroformed tubing aluminum frame |
| Bike Type | Full suspension frame |
| Speed | 11 speed |
| Brakes | SRAM hydraulic disc brakes |
| Wheel Size | 27.5 inches |
| Rating | 9.5/10 |
| Brand | Diamondback |
| Pros | Quality components, Lightweight, ReadyRide, Saddle |
| Cons | Tire isn't tubeless |
| Summary | Great Choice for a Versatile Full Suspension Trail Bike |
| Where to Buy | Check On Amazon |
Who is the Release 2 designed for?
Do you know the kind of mountain bike that is ideal for your riding needs? Well, it is always good to buy a bike that is your right fit. In this regard, the release 2 full suspension bike by Diamondback is specifically designed for riders who desire to conquer bumpy and challenging terrains and go where no mountain bike has gone before. If you want to take your mountain biking experience a notch higher and to the extremes, this is the bike you should be thinking about.
Equipped with one of the best full-suspension systems available today, the bike is one of the most comfortable bikes to ride in rough terrains today. Additionally, the bike can take on technical climbs and not lose momentum or traction.
What Makes the Release 2 Worth the Price?
For this price, you will get high-end and superior quality mountain bike components. As a result, the Release bike offers some of the best features and even performance, as compared to the other bikes within this price range.
Owing to the unmatched craftsmanship, design, and technology used on the Diamondback Release 2, it worth every penny. As you will learn in this Diamondback release 2 review, the Diamondback Release 2 offers some of the best features and specs for bikes within this price range.
Innovative Level Link Suspension Platform
As mentioned earlier in this Diamondback release review, building an exceptional mountain bike takes much more than just a new suspension platform. However, for bikes built to conquer impossible terrains, the suspension platform is still an integral component. With this understanding, the manufacturer of the Diamondback Release 2 offers one of the best MTB suspension platforms in the industry today, the Level Link Suspension Platform.
The new suspension platform features four suspension bars that isolate the drivetrain on the bike from its suspension inputs. This effort has paid off in providing riders with the most efficient pedaling platform in the market today. Additionally, this platform allows for an efficient transfer of power to the rear wheel, while preventing feedback through the drivetrain; very innovative, isn't it?
Beautiful and Functional Aluminium Frame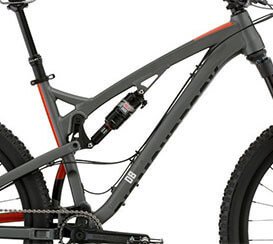 If you are not informed on the Diamondback Release 2, you will end up thinking that its frame was solely designed for beauty. The frame design of the Release 2 is the embodiment of the exceptional craftsmanship that the manufacturer is known for. However, this design is also functional.
To begin with, the use of aluminum as the frame material makes it lightweight, which improves the performance of the bike as well as its handling. The modern geometry of this frame, combined with the Level Link suspension platform, lowers the center of gravity of the Diamondback Release 2 and makes the bike easy to accelerate, even when cornering.
Performance Front Suspension Fork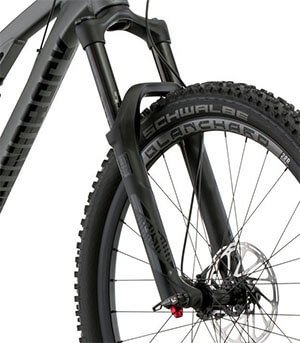 The full suspension Level Link frame may be the most important component of the suspension system on the Diamondback Release 2, but without a quality suspension fork to match, it would not be as effective as it is meant to be. In this regard, the manufacturer uses a RockShox Pike RCT3 suspension fork on the front wheel.
This suspension fork has 150 mm of Travel and is very efficient, with regards to absorbing shocks on your trail. The long travel offered by this fork means that the bike can take the roughest of trail conditions and still be comfortable to ride.
Powerful Hydraulic Brakes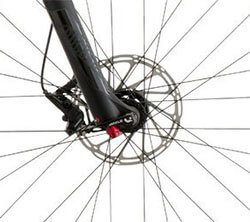 When not taking on the steep climbs or steep descents, you will find yourself speeding with your bike. As you have seen on this release 2 mountain bike review, the Diamondback Release 2 has all the features to facilitate this. However, the bike would be dangerous to ride without powerful and efficient brakes. This is particularly why the manufacturer uses hydraulic disc brakes on the mountain bike.
The SRAM Level T Hydraulic Disc braking system with 180 mm centreline calipers for the front and rear wheels, is renowned for offering an efficient and powerful braking experience in mountain bikes. This is mated with SRAM Level Hydraulic brake levers that are responsive and comfortable to operate. The leavers also have a Tooled Reach Adjust feature, which makes them more convenient.
Benefits and Drawbacks
Basically, all mountain bike models and makes today have their strong areas and weaknesses. However, the Release bike offers all the great features and components an experienced rider would need to conquer any challenging mountain biking trail today.
On the other hand, the Diamondback Release 2 is also very comfortable and easy to ride and control for the entry-level bikers. For the period that the Diamondback Release 2 has been in production, various users have expressed their views about its components and performance. Here are some of the pros and cons of the Diamondback Release 2, based on user reviews.
Pros & Cons of the Diamondback Release 2 Bike
Pros
SRAM 11 speed drivetrain to change gear easily
Comes with ReadyRide features hence 95% assembled
Durable aluminum dual suspension frame for the sturdy ride
150 mm travel front fork, allowing you to take on big drops
Race Face crankset for chain retention & easy maintenance
Strong rims that can take the extensive abuse of rough terrains
SRAM Level T hydraulic brakes for maximum stopping power
Schwalbe 2.35″ tires for optimal traction, even on loose grounds
27.5″ wheels used on the Diamondback Release 2 to roll over obstacles and accelerate.
Cons
The Schwalbe HD tires aren't a tubeless model
Diamondback Release 2 Specs at a Glance
Frame:  Sturdy 27.5 aluminum frame.
Suspension Fork: 150mm travel suspension fork by RockShox
Speed: 11-speed gear range
Shifter: SRAM X Auction trigger shifter
Drivetrain: SRAM GX series drivetrain
Brakes: Hydraulic disc brake from SRAM DB5 with  180/180mm dual rotors
Chain: KMC X11EL chain to cover 11 speed
Wheels & Tires: Tubeless compatible 27.5 wheels with Schwalbe 2.35″ tires
Rims & Spokes: DB Blanchard 28R rims with 14g stainless spokes
Saddle: WTB volt race saddle
Seatpost: 31.6mm adjustable dropper seat post
Pedals: DB4L CNC platform pedals with replaceable pins
Diamondback Release 2 weight: 31.3 lbs
Extras: Shock pump, Tubeless valves, Mud Guard, Toolkit
Note: Specifications Subject to Change
FAQ's & Answer
Question: Is the Diamondback Release 2 worth the price?
Answer:

Absolutely yes, the bike has a horde of high-end and quality components to offer. As a result, the performance, exceptional control and unmatched comfort offered by the Diamondback Release 2 justify its price.
Question: What about the Diamondback release 2 weight?
Answer: Weight is an important consideration that you need to make while shopping for the right mountain bike as it enhances the performance as well as the ease of handling of the bike. As such, the bike is comparatively lightweight, weighing about 31.3 lbs.
Diamondback Release 2 Review
Why would you buy Diamondback Release 2 dual suspension mountain bike? If you are looking for a bike that is capable of conquering the toughest of mountain terrains, is comfortable and safe to ride on steep ascends and descends, this one should be your dream bike. Fitted with Schwalbe Hans Dampf tires for enhanced performance and grip.
A sturdy aluminum full-suspension frame that incorporates the innovative Level Link suspension platform by the manufacturer. Conveniently positioned and responsive SRAM Level Hydraulic brake leavers that have a Tooled Reach Adjust feature for enhanced convenience. High-end and efficient DebonAir, RockShox Monarch RT3 suspension fork for the front wheel & A comparatively comfortable WTB Volt Race seat.
---
You May Also Like To Read
Diamondback Bicycles Release 2 Full Suspension Mountain Bike
COMPONENTS -

9.5/10

PRICE -

8.0/10

WEIGHT -

8.5/10

SPEED -

9.5/10

DURABILITY -

9.0/10