Diamondback Mission 1 Review – Pro's & Con's
Introduction to the Diamondback mission 1
Are you looking forward to being an all-mountain rider, capable of riding a bike where other riders fear trending? Then you will need a tough, high-performance and the enduring bike that can take on such a challenge.
The Diamondback mission 1 complete all mountain full suspension Bike is one of the few bikes you should consider, in this regard.
This mountain bike was specifically designed to be as tough and capable as the comparatively expensive mountain bikes today. With this in mind, this entry-level mountain bike can take on almost any riding condition you can think of, including rocky trails, single tracks, and hilly mountain trails.
Additionally, the bike features an appealing design, is fast and very comfortable. Throughout this Diamondback mission 1 review, you will learn that it is the all-mountain bike that may be used to conquer any trail conditions. Again, you can't ignore the fact that this hardtail mountain bike offers the comfort benefits of a full-suspension bike as well.
Overview of Diamondback Mission 1
| | |
| --- | --- |
| Frame Size | S – 15.5″ / M – 17″ / L – 19″ / XL – 21″ |
| Frame Material | Aluminum frame |
| Bike Type | Full suspension |
| Speed | 11-speed drivetrain |
| Brakes | Hydraulic disc brake |
| Wheel Size | 27.5 in size |
| Rating | 8.9/10 |
| Brand | Diamondback |
| Pros | Hydraulic brake, 27″ WTB tire, SRAM drivetrain |
| Cons | No kickstand, No water bottle mountain |
| Summary | Great for all-mountain, bike park, enduro and downhill racing |
| Where to Buy | Check On Amazon |
Being the best enduring mountain bike within its price range, the bike is meant for serious riders who ride through difficult trails frequently. Do you happen to like uphill biking? If yes, you will find the Diamondback mission 1 bike by Diamondback very helpful in your life. As compared to other mountain bikes within this category, this bike is easier to ride and handles well on fast rides, single tracks and even on most of the challenging biking trails today.
---
What Makes the Diamondback Mission 1 the Best Enduro Bike?
What will make me know that this is the right bike for me? In addition to the pros and cons of any mountain bike, you also need to consider the features any bike model has to offer before choosing the best one for your riding needs. As mentioned earlier in this review this is one of the most enduring bikes, within this price range. In this regard, it is equipped with quality and highly beneficial features for its riders. Here are some of the aspects you will love about this bike:
Link-Level, KnuckleBox Suspension Design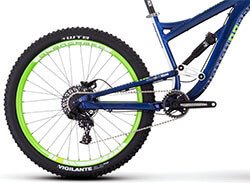 One of the things you will love about the Diamondback bicycles mountain bike is that you won't need to worry about traction whenever you are riding. Instead, the Level Link system will be activating the suspension system, whenever it is needed. This will, in turn, enhance both pedaling control and traction on your bike. This being the case, current owners of this bike will tell you that they can pedal as fast as they like, without worrying about how they will maintain control and traction of their bikes.
Additionally, the patent Knucklebox suspension design by Diamondback will ensure that your center of gravity is stable, especially when riding downhill. This implies that the bike can move fast downhill and still be stable and safe for the rider.
Improved Handling and Control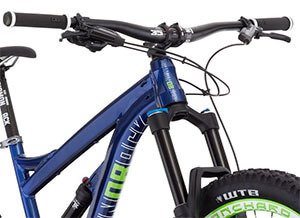 The core of the four-bar, single pivot suspension system by Diamondback is the KnuckleBox. In this case, the optimally positioned pivots result in a relatively low leverage ratio. This, in turn, results in small-bump compliance and improved pedaling efficiency on your Diamondback Mission 1 bike. Again, this feature reduces pedal-induced motion, hence allows the shock absorbers on the bike to work more efficiently.
You will also notice that the KnuckleBox is positioned low on the frame of the bike. This positioning lowers the bike's center of gravity. As a result, you will have improved control over your bike and find it easier to handle around corners.
An Efficient Drivetrain
As you may have noticed already, the manufacturer uses an array of tested workhorse components on this mountain bike. The result of this effort is a rather effective pedaling platform that is capable of shredding as hard as you push it. The drivetrain in this mountain bike comprises of an HG50 11-42 T speed cassette, SRAM NX Trigger shifter and an 11-speed rear derailleur by SRAM.
The efficiency offered by this simple drive train may be attributed to its ability to cut the fluff, whenever necessary. By so doing, it leaves only the hard-wearing and reliable drivetrain intact. As such, this drivetrain is at the heart of the practicality and remarkable performance offered by this bike.
Highly Functional Hydraulic Brakes
Is the bike safe for use on the more challenging trails? Yes, this bike was specifically designed to conquer challenging terrain. Despite the comparatively low weight, the bike still needs to have a powerful braking system in place for it to be safe. In this regard, the manufacturer uses SRAM Level T hydraulic disc brakes on this bike. The braking system on this bike offers smooth, powerful and consistent braking experience, regardless of the weather or terrain.
Pros and Cons of the Diamondback mission 1
If this is your first time shopping for a bike, you will discover that choosing the right bike for your riding needs is not easy. To begin with, there are numerous bike models and makes to choose from today. Each of the available mountain bikes today has its own set of benefits and drawbacks. Based on these, you will have an easier time choosing the most suitable bike, within any budget.
Owing to the many benefits the Diamondback mission 1 has to offer, it is rated as one of the best and most enduring mountain bikes priced below $2,000. However, the bike also has its drawbacks, as you will see in this review.
Pros
27.5 wheels which great for small & tall riders
27.5″ WTB Vigilante Comp tire for great traction
Trigger shifter from SRAM to change gear smoothly
6061-T6 weapons grade aluminum frame hence durable
Tubeless compatible Diamondback Blanchard 27.5″ wheels
Knucklebox suspension to absorb shock on rocky terrain.
SRAM level T hydraulic disc brake for instant stopping power
Cons
No place to install water bottle mount
Bike does not handle so well when riding uphill
Diamondback Mission 1 Specs at a Glance
Frame: 6061-T6 All Mountain aluminum frame
Suspension Fork: 

FOX 34 Float front and rear suspension

Speed: 11 speed gear
Shifter: Equipped with SRAM NX trigger shifter
Drivetrain: 

SRAM X7 drivetrain

Brakes: Hydraulic disc brake from SRAM
Rotor: 180/180 mm front & rear rotors
Chain: KMC x11 EL cover 11 speed
Cogset: SRAM 42T cogset
Wheels: Blanchard  27.5″ wheels from Diamondback
Tires: WTB Vigilante Comp tires
Rims & Spokes: Tubeless Compatible Blanchard rim
Saddle: WTB volt comp saddle
Seatpost: 30.9mm adjustable alloy Seatpost
Pedals: Aluminium platform pedals
Diamondback Mission 1 weight: 31.8 lbs
Extras: Owner manual, instruction guide
Note: Specifications Subject to Change
FAQ's and Answer
Question: What sizing options are available for the Diamondback mission 1?
Answer: Medium, small, large and extra-large size options. When choosing the right size, you should get the size option that is ideal for your overall height and can accommodate your leg inseam.
Question: Is the Diamondback mission 1 shipped in parts or comes fully assembled?
Answer: This full-suspension bike is partially assembled, up to 95 percent. The parts should be easy to piece together. However, you should consider having your bike assembled in your local bike shop if you are not comfortable assembling it on your own.
Final Verdict on the Diamondback Mission 1
Are you looking for a bike that will offer you optimal downhill performance and is capable of conquering almost any challenging trail? Then, you will find the Diamondback mission 1 complete all mountain full suspension bike a solid contender. Although priced below $ 2,000, the rigidity, durability, and performance of this bike may be compared to those of the more expensive mountain bike options today.
---
You May Also Like To Read
Diamondback Bicycles Mission 1 Mountain Bike
COMPONENTS -

9.2/10

PRICE -

8.2/10

WEIGHT -

8.8/10

SPEED -

9.2/10

DURABILITY -

9.3/10